Hey, you sit your five dollar ass down before I have to make change. It's two start pitchers, Week 13 edition and we're all about the immortal Wesley Snipes. Let's think about this for a minute, this is a man who's trained in five different disciplines of fighting, a man that revolutionized the flat-top, a man that played not only a hero-vampire but also Nino Brown. I pretty much live my life by Nino Brown quotes from New Jack City. In other words, I'm an awful brother. I also use Mother****** as a noun, verb, and adjective. My neighbors frown on the crack sales 364 days a year, but they love when I hand out turkeys on Thanksgiving. They're nice folks, and I can't blame them for their judgments. This sort of behavior is a bit out of place in Audi-driving Suburbia, but it's my self expression. What's the old saying? Trap or die? So our theme this week is Wesley Snipes movies because Wesley Snipes is awesome and he should be celebrated for his contributions to the craft.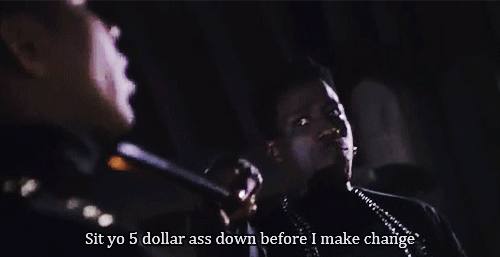 White Men Can't Jump (Aces) – No playing around, this flick was awesome. Not only is it the best Wesley Snipes movie it might be the best Woody Harrelson, basketball, and buddy movie ever. Gray, Hamels, and Miller are it this week. Gray and Hamels you expected, Miller I'm guessing you didn't. He begins the week with a tough start against Washington, tough tough game. It's a shame really he's been pitching so well too. So close to being an ace, maybe another week…. But wait! Oh that's right he just went 7 against those Nats on Wednesday allowing 1 run on 3 hits and a walk. Maybe we should just trust Shelby, while we still can. You see me hedgin? You hatin?
Sonny Gray, (vs. COL, vs. SEA); Cole Hamels, (vs. MIL, @ATL); Shelby Miller, (vs. WAS, vs. PHI)
New Jack City (Great Starts) – Nino Brown, Crack-head Chris Rock, a new jack swing soundtrack, and buck-negged woman making crack. Pretty standard example of loss prevention gentleman, it's called risk management take a business class? Is this the week Carlos Carrasco makes all of our dreams come true and performs to his peripherals? I don't care either way I own him no where. I like the player too just didn't seem to nab him. Don't know why I told you that. Do you really care who's on my team? Anyway, for those of you that do own him it's got to be maddening. His ERA is 4.16 while his FIP/xFIP are 2.95/2.88. Pair that with his 9.85 K/9 and a 1.93 Bb/9 and you have a guy you can roll out against anybody. His opponents this week are Tampa Bay and Pittsburgh, each of them rank about 20th in most stats vs. RHP. Should be a good week for Carrasco…. Jordan Zimmermann gets the thumbs up this week with solid matchups vs the Braves and Giants. I'll be nice and only say good things about Zimmermann, nothing about him being overrated…. Gerrit Cole probably shouldn't be in this tier this week, especially with a tough matchup vs the Tigers in the D. The K's have been down the last few starts and he was hit hard by the Reds on Wednesday. He's been so good though…. Start Jaime Garcia, he's been pretty solid and he faces the worst lineup vs LHP (White Sox) and another that's in the bottom 3rd (Padres)…. I love Lance McCullers, he's keeping both the walks and homers in check which were major thorns in his side last year. Good for him thorns are uncomfortable and can scar. He faces Kansas City and the Sawx, I have no idea if either of these lineups scare me. The Sawx have been all apple pie and awesome the last month and Royals have been slumping. Here's my logic the Red Sox typical stink the first time they see a young pitcher. This is a statement with no data behind it. I'm basing this off close to 2,000 observed hours of Red Sox baseball over the last 5 years. I think McCullers has a good week hits close to 20 K's combined and gives you a couple of quality starts…. You know who's been pretty good lately? Ian Kennedy!! Shocking right? Four of his last 5 have been good and I wouldn't hesitate to start him vs Seattle or St. Louis. He's available in some leagues still good pickup if just for this week… Kyle Hendricks had a couple of bad starts and y'all forgot about him, huh? It's cool I'm not off the bandwagon. Check it, dudes 25 has a 1.72 Bb/9 and will get you some strikeouts (7.21), he's ownable in most 12 teamers IMHO…. Three good streamers to finish us off. Wait what?… Anyway I love the way that both Graveman and Montgomery have pitched of late. Graveman had more upside ROS but Montgomery is a solid ratios guy, those are useful. Mike Leake is a crapshoot but his opposition is weak so he's worth a flier if you're looking for starts.
Carlos Carrasco, (@TB, @PIT), Jordan Zimmermann, (@ATL, vs. SF); Gerrit Cole, (@DET, vs. CLE); Jaime Garcia, (vs. CHW, vs. SD); Lance McCullers, (vs. KC, @BOS); Ian Kennedy, (vs. SEA, @STL); Kyle Hendricks, (@NYM, vs. MIA); Mike Leake, (vs. MIN, vs. MIL); Kendall Graveman, (vs. COL, vs. SEA); Mike Montgomery, (@SD, @OAK)
Mo' Better Blues (Why Can't I Sit You?) – I want to be clear this tier is not the third best guys out there. These are guys that are owned everywhere that you want to sit but can't bring yourself to do it. Hence the title why can't I sit you. Capiche? I'm sitting Clay Buchholz and Eduardo Rodriguez this week. I'm sorry but at Toronto and vs. Houston are more than I can take. The shines off Eddie a bit, not saying he can't be great but he's not the rebirth of Clayton Kershaw. Clay's a different story over his last 9 starts he sports an ERA of 2.48/7.44 K/9/1.90 Bb/9. Still don't trust him in these matchups. The Eddie pick is rational the Clay pick is instinct….Danny Salazar's last two starts made me puke in mouth as I watched them. He's been good and his matchups are fine but he still scares me a bit. Instinct thing again, oh who am I kidding his K/9 is 11.47 none of us are sitting him…. I hate C.J. Wilson, always have, no idea why. He's been blown up 3 of his last five and I'm staying away from him against the Yankees for sure and maybe against his old team the Rangers.
Clay Buchholz, (@TOR, vs. HOU); C.J. Wilson (vs. NYY, @TEX); Danny Salazar, (@TB, @PIT); Eduardo Rodriguez, (@TOR, vs. HOU)
Blade (One Good/One Bad) – I have to admit I saw all of the Blade movies in the theater I'm a huge Wesley fan what can I say. Are these movies good? Yes. Are they bad? Yes. Sort of simple, same concept here all of these guys have one start I like and another that I don't. [Jay's Note: I have to say, the third one is probably the best out of the three and really underrated. Could be because it's less campy, but the tone and direction really did it to me. Well, Dracula being some sort of metro-sexual euro model was kinda weird…. but everything else was great.]
Mike Bolsinger, (@ARI, vs. NYM); Marco Estrada, (vs. BOS, @DET); Erasmo Ramirez, (vs. CLE, @NYY); Miguel Gonzalez, (vs. TEX, @CHW); Justin Verlander, (vs. PIT, vs. TOR); Mike Pelfrey, (@CIN, @KC); Nate Karns, (vs. CLE, @NYY); Wandy Rodriguez, (@BAL, vs. LAA); Danny Duffy, (@HOU, vs. MIN); Rubby de La Rosa, (vs. LAD, vs. COL); Jimmy Nelson, (@Phi, @CIN)
Demolition Man (Sit These Guys) – Just sit'em, listen to me, do it!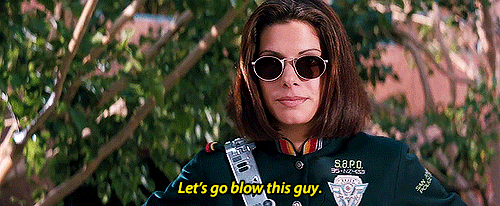 Phil Hughes, (@CIN, @KC); Mat Latos, (vs. SF, @CHC); Ryan Vogelsong, (@MIA, @WAS); Taylor Jungmann, (@PHI, @CIN); Bud Norris, (vs. TEX, @CWS); David Hale, (@OAK, @ARI); Allen Webster, (vs. LAD, vs. COL); Sean O'Sullivan, (vs. MIL, @ATL)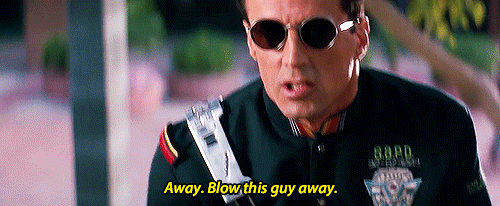 As always these clowns are all subject to change due to moving up, being skipped, weather, and hot air balloon accidents.