(NOTE: THIS POST WAS RELEASED EARLY YESTERDAY ON OUR PATREON. IT'S $5/MONTH.)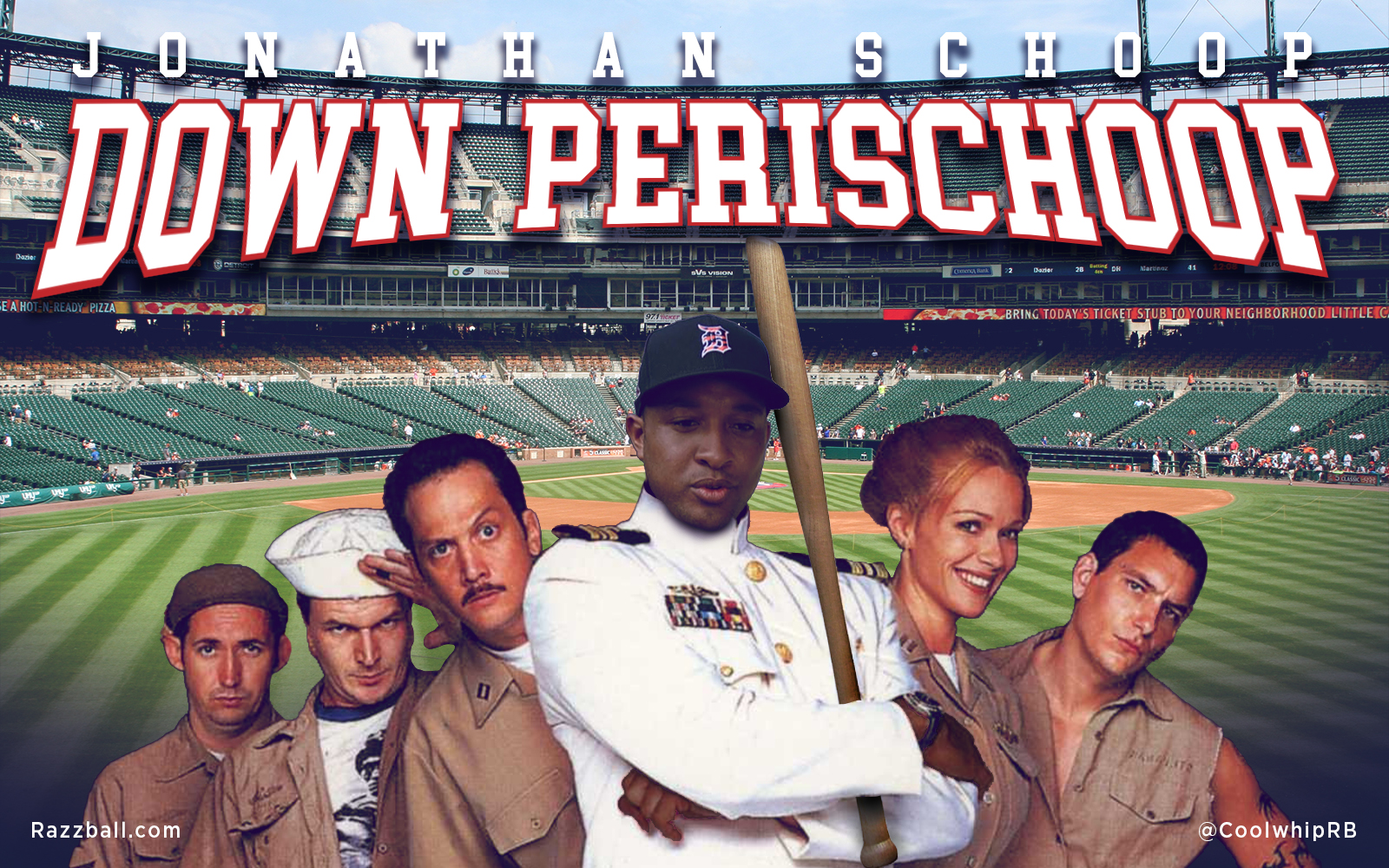 Is it already time for my Jonathan Schoop pickup post this year? Geez, time does fly. Like your mother! What does that mean? I thought I heard she was a flight attendant. If not, I'm so sorry. Like your mother! What? I thought I heard she was very polite and always said sorry. Guess she's a terrible person. My bad, was trying to be nice. So, Schoop, rhymes with dope, not Shoop, Shoop-e-doop. Uh, here I go, here I go, here I go again. Five girl readers, what's my weakness? Men (who play baseball)! Damn it! I promised myself I wouldn't make any allusions to Salt-N-Pepa. By the way, George Clooney has really nice hair. What color is it? SALT AND PEPPER! God damn it! Okay, so Schoop has cut his Ks (minimally), but is hitting better than usual with a much flatter swing. Considering how much he would loft the ball vs. now? I think he can get power and average with his new swing. Maybe call it the New Jonathan Swing — Tony! Toni! Tone! says Feels Good! If nothing else, Schoop is worth rostering because he's A) Not rostered in nearly enough leagues. B) Showing off a new swing that's working for him, and is around a top 10 2nd baseman on our Player Rater. C) There's no C. D) There was no C, why would there be a D? E) Grumbles F) Me, stop listing letters! Anyway, here's some more players to Buy or Sell this week in fantasy baseball:
BUY
Joey Bart – I wanted to list Austin Nola here. Oh boy did I! (You buying that enthusiasm? Yeah, might've laid it on too thick.) But Nola is owned in 70% of leagues, and, hey, Joey Bart isn't a bad consolation prize. Like when you won a fishbowl and guppy and turned that into a lovely fish dinner and a toilet to empty your bowels later.
Ryan Mountcastle – People seem more on top of adding and dropping players this year. Jake Cronenworth? Over 50% owned. Tommy La Stella? You La know it. Wilmer Flores? Yeah, brings a tear to my ear. Any hoo! Mountcastle has looked great so far, actually better than I expected from him on plate discipline. Orioles aren't a straight L either on offense (their pitching still sucks dog balls).
Brandon Belt – There's been no one hotter over the last few games, and I was thisclose to making him my lede buy, but, holy crap, Belt is boring. It's like wearing a belt with sweatpants. Enjoy your prom, loser! What the hell are you going to say exciting about Brandon Belt? He had two great games. *makes farting noises with hand in armpit*
Mitch Moreland – Bit surprised he's not getting a ton of people more excited, but maybe it's his platooning. If he's traded, that might become more pronounced. Pronounced, by the way, like how I say Castillo. Very authentic.
Luis Garcia – I've often wondered about guys with super boring names. If they were named something like Julio McBlast, if they'd be owned in more leagues. But Mountcastle is a pretty cool name (especially if you're into BBC detective shows — yo, is Olivia Colman on Mountcastle? David Tennant?). Luis Garcia sounds more boring than his stats say he will be. He should get the ABs too.
Cesar Hernandez – Cesar's a hot table-setter like a salad with anchovies wrapped in a toga. Yum!
Jon Berti – Everyone seemed excited about owning Berti in the preseason when they thought he was going to play. Then when it seemed like he wasn't going to play, everyone rightfully cooled on him, but now that he's playing again, people haven't warmed on him again. Jon's Berrrrrrti, Berrrrrrti good, at least for steals.
Brendan Rodgers – This isn't — thisn't? — to actually pick up Rodgers or think he's going to get ABs. This is just a troll of Bud Black.
Jose Garcia – Here's what I said the other day, "(Garcia) was called up for the Reds to be their starting shortstop. Prospect Will wrote back in December, "Jose Garcia already broke out in 2019, everyone else just didn't notice. He's not the player we thought he was, people just haven't realized yet. For one, despite being listed at 6'2" 175 lbs., Garcia is likely closer to 6'4" 205, partially due to misinformation and partially due to the amount of work he's done to add strength. He's also added all of this strength while maintaining his elite athleticism, helping him steal 15 bases this year. Garcia had a big power breakout this year, adding over 20 feet to his fly ball distance, but it went almost completely unnoticed due to the pitcher friendly conditions of the FSL. My biggest issue with Garcia is that he rarely walks, and my biggest problem with Grey is everything." And that's me quoting me quoting Will! My Blink takeaway for a player comp is Alex Gonzalez — power/a bit of speed/no walks/good glove.
Sam Haggerty – Could be what you thought you were getting from Dee Gordon this year. Absolutely nothing and some steals? Yeah, pretty much.
Willy Adames – If I had a chance with the Rays or Rockies, I would totally pull a Karen and insist on speaking to their manager. Is Adames really a cleanup hitter? Guess we should be happy Cash isn't using him as his closer.
Evan Longoria – Fresh off his appearance at the DNC endorsing 'using spoons for every meal,' Longoria has been hot.
Raimel Tapia – True story! I ping our writer, Coolwhip, before writing up this post to discuss with him the image that will accompany this post. This week I said I was thinking about Tapia, but worried that if I focused too much on him, and how awesome Tapia was, then all weekend he would be inexplicably benched. Bud Black has me so shook.
MacKenzie Gore – You might've heard me ask Podcaster Ralph this week, where's MacKenzie Gore, and PR sounded as unsure as I am. I love Gore — horrorcore! Rawr! I legit don't like gory movies at all, and can't lie. — but I don't know where Gore is. I'm hoping we see him soon.
Ian Anderson – Just gave you my Ian Anderson fantasy. It was written while enjoying a Yoo-Hoo.
Tanner Roark – This is a Streamonater call like the call it makes to hotline on the side of the Mobil 1 synthetic oil bottle.
Jordan Montgomery – This is also a Streamonator call. "Yes, I just chugged a full bottle down. No, I don't need emergency assistance. I just wanted to talk."
Taylor Williams – Not sure what the term is to describe closers this year, but I think it's polysyllabic and German. One bright spot has been Taylor Williams. No, this makes no sense.
Gregory Soto – Could've also listed Jose Cisnero, and, you're not gonna believe this, I just did. Don't *uck with Farmer, which is also what my bumper sticker says on my tractor.
Diego Castillo – In the immortal words of anyone trying to figure out who the Rays' closer is, "Good freakin' luck," but you can give Castillo a shot. Nick Anderson, if he was dropped, should be rostered too, since he's due to return.
Richard Rodriguez – It's not a pissing contest to see who can own the worst closers, but, if it were, grab Dick-Rod.
Daniel Bard – Does your autocorrect change Bard to Barf? That's not a mistake.
SELL
Mike Yastrzemski – Okay, confession alert! In this insanely goofy season, for Sells, I am going to the Player Rater, looking at guys who are in the top 25 or so and seeing who doesn't seem like they belong. In a short season, there's no rhyme or reason to who is doing well vs. poorly. Is Arenado a guy who should be around 150th most valuable? No. Is Yaz Jr. Jr. a top 15 overall hitter? C'mon. This is likely the last week I'm doing "sell high" vs. just drops because trade deadlines are about to pass. Am I trading Yaz Jr. Jr. for a bucket and mop used by the world's heaviest man? No. But I would look at our Fantasy Baseball Trade Analyzer and explore options.