Every once in a while Grey and Rudy will head down to the local Jewish bakery and buy bagels for everyone at Razzball Headquarters. Special occasions, birthdays, Earth Day, or just to let us all know we're loved. (Note from Grey: it's not a bakery, it's a dumpster, and it's not 'buy,' per se.) Of course there's always that one bagel, whole wheat or multigrain (Note from Grey: those aren't multigrains) or something equally boring, which sits untouched until all the other bagels are demolished.
I do have to admit, once you toast that circle of whole wheat dullness and lather it with excessive amounts of cream cheese (NfG: it's not cream cheese either), it's still pretty damn tasty. While it's not an onion or sesame or, the Holy Grail, asiago cheese bagel, it's still a bagel which someone will end up devouring.
For me, head to head points leagues are the whole wheat bagels of fantasy baseball. While it's not a roto league or even a head to head categories league, it's still a form of fantasy baseball, which can satisfy my incurable fantasy baseball addiction until the next dose arrives. So when Scott White of CBS Fantasy Sports became desperate enough to invite someone with the name "Donkey Teeth" into his industry points league mock draft, I pounced on that drug-filled wheat bagel like the starving fiend I am.  (NfG: I could've sworn I removed all syringes from the bagels prior to bringing them back)
Here's the points scoring system and roster positions used for this particular mock draft: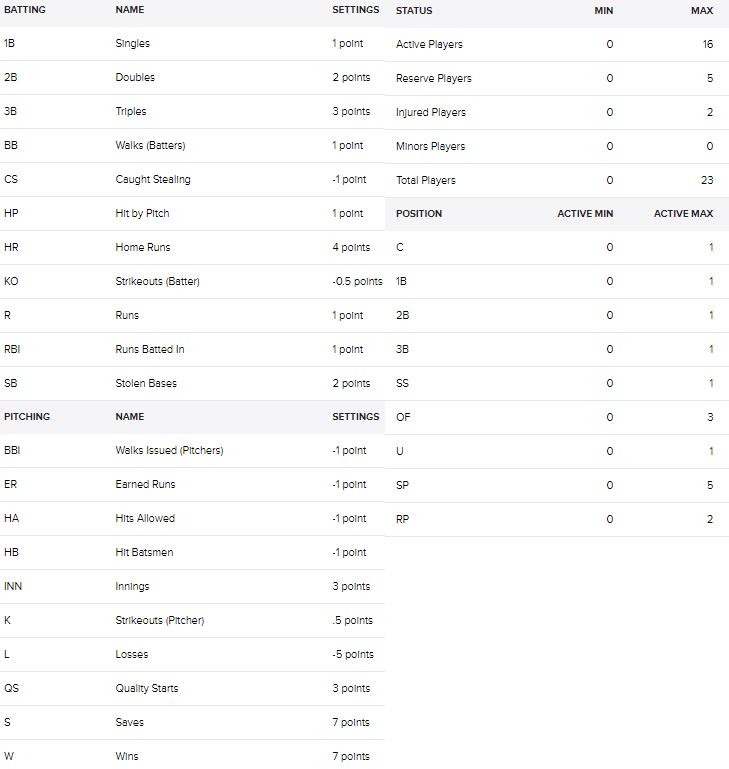 General Wheat Bagel Consumption Strategy
Sometimes even a mountain of plain cream cheese isn't enough on a wheat bagel. I recommend grabbing some veggie schmear or maybe an onion and chive to really cover up that whole wheat flavor.
Winning is the ultimate cream cheese. With points leagues, my typical winning approach is pitching heavy, and this mock draft was no different. As you can see above, in most cases, points league scoring is very friendly towards pitching statistics. Last year 5 of the top 8 scoring players in this format were pitchers: Scherzer 722.6, Verlander 679, Jose Ramirez 676, deGrom 655, Kluber 654, Nola 649.3, Betts 645.5, and Lindor 638.5.
Along with the friendly scoring for pitchers, the tables above show minimal offensive positions [only 3 OF, 1 C, 1 UTIL, & no CI/MI] which are fairly standard positions used in points leagues. Also, with only 276 total players drafted in this 12-team league and only 108 hitters started, there will be great offensive options via free agency throughout the season. While the top bats are still very valuable and they're worth a premium, this only applies to about the top 20-30 hitters, in my opinion, because of this shallowness.
As far as offensive statistics go, high OBP players are usually worth a premium as well with points awarded for walks, while players who rely heavily on steals for value and guys who strikeout a lot are docked by this scoring system.
Rounds 1-4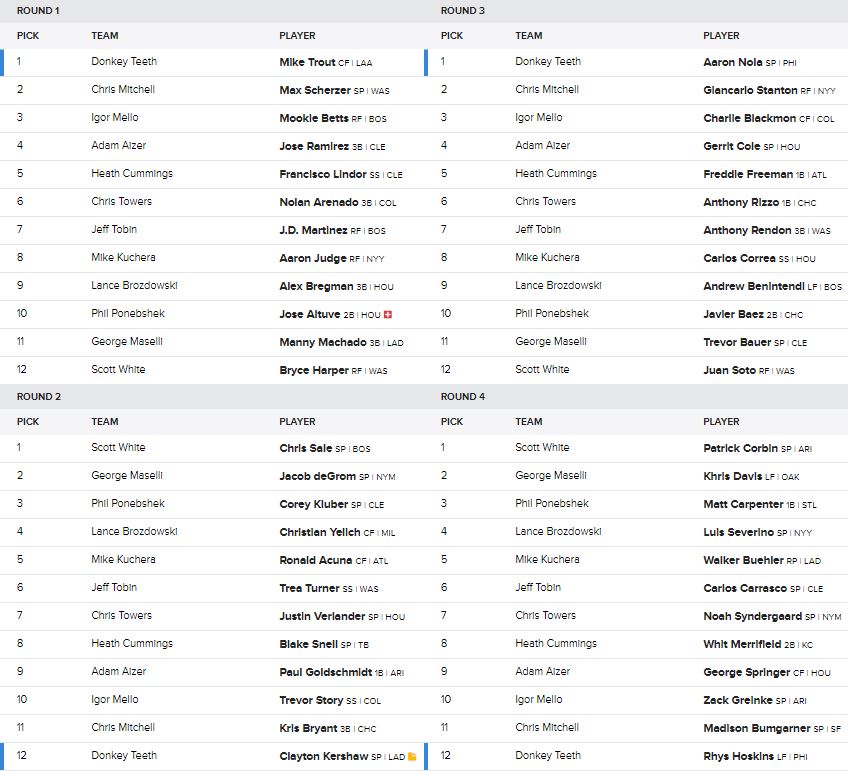 Donkey Picks
Drawing the 1st overall pick I had a major internal struggle between the asiago cheese bagel and the cheddar jalapeno bagel. Oh right, the mock draft!
Trout vs. Scherzer was a tough call with pick 1. The decision to take Trout was based on my expectation of snagging two really good arms at the round 2/3 turn, it worked according to plan.
While I've been fading Kershaw for the past two seasons, he's still a points stud and will produce when healthy [don't bank on more than 150 innings], pick 24 is decent value. Nola is coming off a major breakout season and while I don't fully trust him to repeat, I still think he returns value at pick 25 in this format. Rhys Hoskins is points league gold with his elite OBP potential and, if he takes a step forward, could return first round value in this league; yes, please at pick 48.
Other Thoughts
Mad Max as the only pitcher taken in the first round was a real surprise to me; Sale, deGrom and Kluber were #4, 5 & 6 on my board for this draft.
I love the turn of Harper and Sale for Scott White. He landed my #4 & #8 ranked players in points leagues at 12/13. Even in down seasons, Harper still scores plenty of points because of all the walks.
Yelich, Acuna, and Soto at 16, 17, & 36 respectively are great bets to return value, and Snell going at 20 was the arm I was hoping would fall to me at 24; I like Snell over both Kershaw and Nola. Also, if push comes to shove, there's a decent chance I'll snatch up Walker Buehler [pick 41] over Kershaw or Nola in a real draft, but I wanted to see if Walker L.A. Dodger might make it back to me at 48.
The full draft board can be found in this link.
Below is my entire draft.

Recap
I wasn't kidding when I said pitching heavy! 6 of my first 9 picks were arms.
You'll notice I chose to invest in many risky assets; this is a luxury I recommend taking full advantage of in leagues with 12 teams or less. If players like Kershaw, Strasburg, Price, Mondesi, Castillo, Robles and Miguel Cabrera get hurt, or just bust, there will be plenty of solid replacement options available in the player pool. The reward is enormous if these players come close to their ceilings.
I'd like to highlight a few picks in particular:
7.73 Jameson Taillon — Eno Sarris came on our podcast recently and gushed over Taillon. JT threw 191 innings this year improving in terms of virtually every metric. If you're searching for this year's Aaron Nola, look no further.
8.96 Adalberto Mondesi — The player formerly known as Raul Mondesi, and also currently known as the son of Raul Mondesi, is one of those speedsters with a low OBP who takes a value hit in points leagues. That said, his numbers over 75 games this year extrapolate out to 30 home runs and 69 [nice] steals. I don't care what kind of league it is, I'll gamble on a kid who could fall backwards into a 20/50 season around pick 100 all day.
11.121 Victor Robles — The great Tim McLeod also came on our podcast recently and he gushed over Robles. I know what you're thinking: Donkey bashes speedsters in points leagues then goes and builds his offense around two of them. It's true, but Mondesi and Robles both have a chance to be more than just steals guys and the price here is too tempting.
12.144 Miguel Cabrera — This little Miggy is getting older and more injury prone with each trip to the market/liquor store. Maybe I'm naïve, but I don't see Miggy just fading off into irrelevance. Banking on him to play 150 games is silly but 130 games of elite OBP is still possible, and shallow points leagues are the perfect format to take a shot on Miggs.
15.169 Shane Bieber — Oh you know I'm a Belieber! I've been ogling this kid since he was just a little guy. Not like that! Sicko! Anyway, he's getting way overlooked in early mocks. Biebs's command is beyond impressive; I won't be surprised if he posts top 20 SP numbers THIS SEASON. Shane will also be available after pick 200 in most leagues; I reached for him a little in this points mock because I just had to have my baby.
And that about does it, feel free to express your undying love for points leagues and/or whole wheat bagels in the comments section below. If you have any thoughts or questions about this mock draft or my amazing team, those are welcome as well. Only 99 days until pitchers and catchers report, hang in there!
Find Donkey Teeth on Twitter @DonkeyTeeth87. Subscribe to his podcast with @DiktaSausagePod: Ditka, Sausage, and Fantasy Sports on Itunes, Stitcher, or wherever you get your podcasts.