Will Grey poop on?  Not this DeJong!  But, c'mon, we just have to look at Paul DeJong for one brief moment: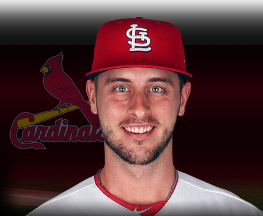 Dude looks like he owns a pair of Opti-Grab glasses.  Some things that sound like they'd be said to the guy in that picture:  "Um, Paul, why are you walking a lizard on a leash?"  "Paul, you shouldn't sit three inches from the TV."  "So, you say you've been frozen in that gaze for six months?  Hmm, have you tried a cup of coffee?"  "Paul, are you wearing those glasses with open eyes and are really sleeping?"  "Paul, I'm happy you got laid, but that was two months ago, can you lose the shit-eating grin?"  Seriously, I can go on all day.  "Paul, buddy, you've been out of the water for twenty minutes and the shark is still biting your arm."  Okay, done now.  This week Paul DeJong had four homers and has 14 homers in 50 games.  That's almost as goofy as his grin.  Buy him right now!  Anyway, here's some more players to Buy or Sell this week in fantasy baseball:
BUY
Manny Pina – I hear March Grey is still waiting for Andrew Susac to get some at-bats.  *doorbells rings*  Hey, March Grey, what are you doing here?  *March Grey punches July Grey in the nose*
Wilmer Flores – 1st base waivers was stacked early in the season.  Then we pulled out Matt Adams, Mark Reynolds, Travis Shaw, Smoak, Bellinger, Bour, Morrison, Thames and now we're left with a pile of Jenga blocks on the table, while holding a block that reads, "Wilmer."
Cesar Hernandez – Too bad Roman Quinn has been out all year.  A Roman-Cesar platoon would've been colossus, except when facing Arquimedes Caminero.
Cory Spangenberg – Is it just me or when you see his last name do you think of the girl from Bosom Buddies and Back to the Future?  She's dead, twelve years now.  Wow, this is a Wendie Jo bummerberg.
Rafael Devers – I just gave you my Rafael Devers fantasy.  There was a nice balsamic over that word salad.
Maikel Franco – Something I don't mention enough that I have mentioned before, in deep leagues, there's an actual benefit to having guys on terrible teams.  Sure, Maikel's been struggling on and off for four months, but the Phils have all but no choice to play him.
Matt Chapman – This guy is one middle name away from killing a national icon and pleading not guilty by reason of insanity.
Yoan Moncada – He's fun to watch.  No foolsies, watch him sometime.  His first home run off Arrieta was a shot to deep center that looked effortless.  I'd GIF you right here, but I'm being lazy.
Amed Rosario – The Mets said they were going to call up Rosario in the next week or two, then they licked a giant postage stamp and put it Asdrubal's head.
Marcus Semien – Instead of licking the postage stamps, they could've just used Semien.  Oh, like you haven't!
Harrison Bader – Just gave you my Harrison Bader fantasy.  It was calmly written while standing on the antenna on top of the Empire State Building.
Lewis Brinson – Of course, I've given you a Lewis Brinson fantasy, but rather than link to it, I'll give you this other thing I just said, "'Hey, Grey, all-knowing, sayer of soothes, Brinson, Bader, Devers, Moncada, rookie diarrhea, blabba, blabba bloo.'  Devers has upside, but has Nunez; Bader may be gone when Fowler or Piscotty return; Brinson's likely here unless he bombs out, though could split time with Phillips.  Though, Part II:  Really Though, Phillips looks completely lost; finally, Moncada has the most upside, downside and least playing time concerns."  And that's me quoting me!
Randal Grichuk – He's burned us before with his strikeouts, and he will burn us again, because he's about as all or nothing as they come.  It's a shame he can't correct that part of his game even in the slightest, because he could be a 35-homer, 10-steal guy if he struck out less than 30% of the time.
Manuel Margot – I realize it's a sickness that has me already dreaming about drafting Margot super late next year.  They say admitting the problem is the first step, though, I'd argue having a problem is the first step.
Derek Fisher – Just now realizing that Fisher wasn't included in my rookie vomit above in the Brinson blurb.  There's a simply reason for that, I don't see the Astros playing Fisher a lot unless there's some serious injuries.  Too much on the line right now for the Astros.  Their time is now.  Hey, if I included some F-bombs in that, I'd sound like the coach in Last Chance U.  I don't watch football, but I will say football has better TV shows than baseball.  Friday Night Lights vs. Pitch?  Oy.
Sam Dyson – The best Rangers reliever this year has easily been Dyson.  Unfortch, he didn't do it until he was on the Giants.
Brad Hand – Too bad she's spoken for by a different major league pitcher, because a match of Brad Hand and Kate Upton would be a match made in swimsuit cover heaven.  Of course, with Brad Hand, the first D would be silent, while you can't ever silent Kate Upton's Ds.
Blake Treinen – The guy who drafted Treinen and Dyson in March and then fell into a coma, just woke, "Hey, I'm getting saves from both of these guys still?  Awesome!  How's the Syndergaard, Bumgarner, Tanaka, Gausman, Cueto pitching staff treating me?  Guys?  Why won't anyone answer me?"
Tyler Clippard – Seems the likeliest candidate for saves on the south side of Chicago.  At least that's the way Rick Renteria seems to be leaning.  By the way, if I owned a cheap hotel that allowed long-term renters, I'd call it a Renteria.
Jerry Blevins – In a couple of leagues, I have Blevins stashed in case the Mets trade Reed and take the 9th inning and "Leave it to the Blevins."
Sean Doolittle – He's been a mess so far for the Nats, and I'm not even sure why Ryan Madson isn't getting saves.  Why don't we have a concrete answer on who their closer is?  I'll give you one reason, rhymes with Crusty Maker.
Jharel Cotton – Stream-o-Nator calls are sad this weekend, kinda like the calls it made last week to the Chamber of Commerce, trying to get its home designated a landmark so tourists will come by to say hi.
Charlie Morton – Stream-o-Nator is basically saying over the next few days that streamers will give you Bobby Brown jaw.
SELL
Clayton Kershaw – Okay, hear me out.  We know he's going to be out for a few weeks.  How many weeks?  Well, there's the pickle, Vlasic.  The Dodgers are cruising with the top down, Puig catcalling honeys, A-Gon saying, "Hey, guys, can we put up the roof?  I'm getting tan and looking more Hispanic than I like," Seager's bedding the honeys Puig's calling and just an overall swell time.  Why are they pitching Kershaw?  To get him ready for the playoffs, that's the only reason.  At no point am I saying Kershaw won't be good when he returns, but he might throw all of 30 innings here and there just to prepare for the 'offs.  Would I trade Kershaw for a tour of Bud Selig's toupee closet?  No, but I would explore options.