Alert the trolls!  Plaster up the bulletins under the bridges!  Because I'm biased.  I hate the Cardinals.  They're just so good against my Brewers!  And yeah, that's pretty much all I got… Ummm, also… because McGwire did steroids?!  Yeah that doesn't work from a Brewers fan… Ummm, because Lance Lynn is a porker and dominates us every time out?  Dammit, Wily Peralta is listed 5 pounds heavier!  I have no rational basis…
And with said caveats, I've never been a Jaime Garcia fan.  I actually picked him up in that redonk rookie year in 2010, and sold him mid-season which didn't really work out.  As he returned from a rash of shoulder injuries plaguing the past few seasons, he was further off my radar than the Red October.  Can you believe he's never had a WHIP under 1.30 in ANY Major League season?  And that includes only 9 starts last year and 10 appearances in 2008.  Then after seriously considering him for my top 100 SP ranks last week, he got rocked at KC Tuesday.  But followed it up with a gem yesterday at Toronto!  What is going on here?!  I feel like I'm taking crazy pills!  So I decided to break down Sunday's start and re-address my ill-conceived biases – and Garcia – for this week's re-ranks:
First Inning: Garcia's first pitch of his fifth start this year is a great sinker at 91 on the outside corner to Jose Reyes.  Then goes two-seam on the fists, and it's a routine grounder to short to start the game.  Another switch-hitter from the right side – Melky Cabrera – takes a fastball just high and outside, then a two-seamer is just inside, another fastball low, then a sinker stays outside, and it's a four-pitch walk.  In his first four starts, Garcia actually had a 22:0 K:BB going.  Streak broken!  First walk on the year.  So up is Jose Bautista who takes a solid sinker right on the inside lower black.  Great movement there.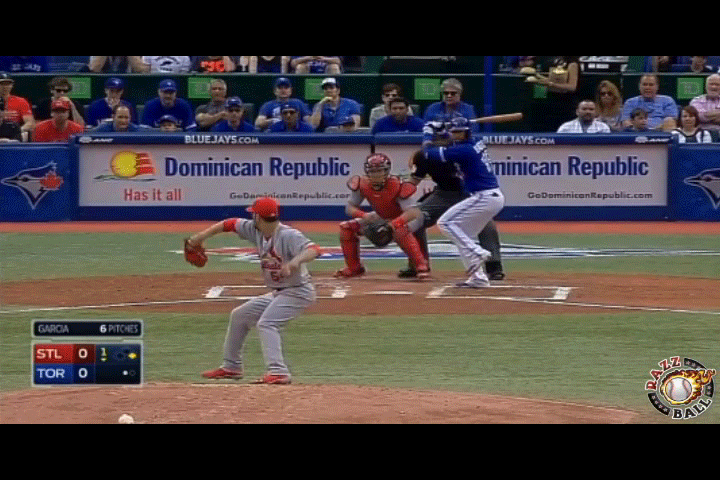 Then an 84 MPH change-up outside and low gets a huge hack, 0-2.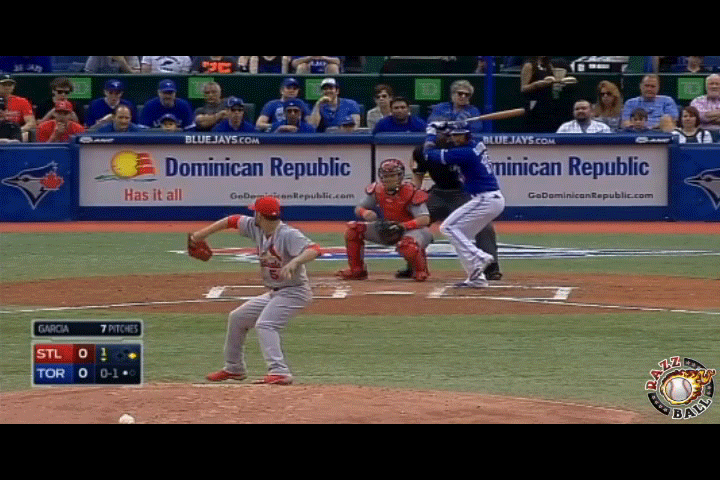 Pretty nasty combination there.  A fastball is emergency hacked foul, then Garcia's first slider bends on the hands and gets a lazy pop fly to left, two down.  Again a tough righty matchup with Edwin Encarnacion up, and change-up is in the dirt, a sinker gets swung over and missed, then a sick slider that just dies going 11-5 and almost gets E3 on the foot gets a huge whiff, 1-2.  Man, it gets past backup C Tony Cruz for a passed ball too, fooled everyone!  Probably just crossed up signs.  Slider again in the same spot is laid off, Garcia spikes a change-up, change-up is fouled, a heater fouled, another fastball tapped foul, still a full count.  And the 9th pitch of the AB is a sinker in the dirt, another walk.  Runners on first and second, and a two-seamer gets the call on the inside edge to Brett Lawrie, a dandy of a sinker is in the zone, then a slider just falling out of the zone is swung over, and it's a three-pitch K to get out of the inning.
Second Inning: Man, a brutal inning for Drew Hutchison giving up four runs, giving Jaime a big 4-0 lead.  He starts Steve Tolleson with a cutter high, another cutter is in there at 89 MPH, a 90 MPH two-seamer somehow missed but looked good, but a 90 MPH four-seamer right down the middle is laced to left for a single.  Dioner Navarro takes a sinker just outside, then a fastball is grounded right down the third base line, and Matt Carpenter makes an unreal play to get the slower Navarro at first.  Runner moves to second, and sinker is low to Erik Kratz, then a fastball is hit hard to short, and they get the lead runner at third.  Good defense.  Garcia starts the 9 hole hitter Kevin Pillar with a cutter in the top of the zone strike one, change-up is in the dirt, a cutter low and on the hands is nipped foul, and a huge bending slider that starts at  Cruz's right shoulder and ends up in the dirt by his left foot is whiffed on, and it's gone gone chasin' waterfalls!
Third Inning: The Cards put another tally on the board, 5-0 redbirds, and Garcia is back to the top of the order and Reyes fouls it off, 0-1.  A change-up hangs high, another change down Broadway is fouled, but he sticks with it a third time and gets a bloop pop-up, luckily Jhonny Peralta is able to make the basket catch, one down.  Sinker is low to Melky, another is a tad higher but still out of the zone, gets in there with a 92 MPH cutter, another sinker at 92 is perfect on the lower inside black, 2-2.  All pitches low and inside.  Then another sinker low – closer to the middle of the plate – is tapped to third and it's an easy out as Melky fell out of the box.  Two down, and a change is on the inside edge, curveball just inside, then a cupcake fastball down the middle – a tad towards the outside – gets grounded to short to end the inning.  Bautista yells in frustration right after he hit it – he knew he shoulda crushed that one.
Fourth Inning: Garcia opens the fourth with that sinking fastball in the zone to Edwin, then a two-seamer breaks Edwin's bat for a very easy groundout to short.  Change-up is low to Lawrie, a slider bends in the top of the zone to even it up, a fastball gets the call high in the inner zone, then a slider that hung a bit is golfed to left, but it's an easy catch.  Two down, and Garcia gives Tolleson a two-seamer outside, a perfect change-up at 83 gets a swing-and-miss, 1-1.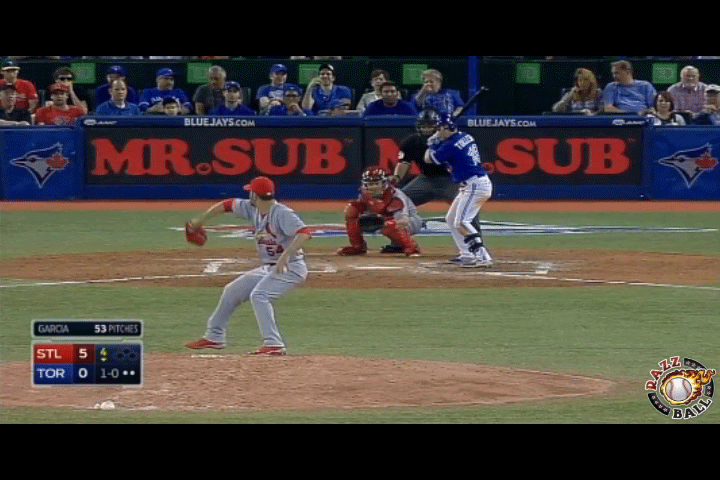 That one started like it was right down the middle, then the string is pulled.  Jaime follows it up with a 75 MPH curveball that loops into the zone, 1-2.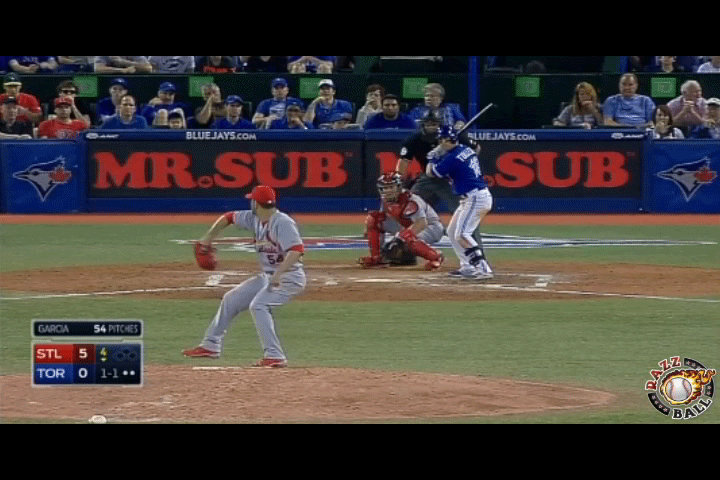 Great pitching and another back-to-back sequence I wanted to highlight.  After missing a change low, Tolleson saw that pitch floating way up there and took all the way.  Awesome stuff.  Garcia sails a hanging change, fastball is high, then barely high with a fastball again for his third walk.  Well, I jynxed it!  But he's right back in the zone to Navarro, then gets a weak grounder to third, and Matt Carpenter has all day to throw out the tortoise that is Dioner Navarro, inning over.
Fifth Inning: Well the fifth starts off with a fastball that looked way outside getting the call, 0-1 to Kratz.  Nice help there.  Two-seamer is low, then a change-up outside is fouled back, 1-2.  Might not have swung at that one after that first call.  A hanging curveball is looped foul, then a two-seamer on the hands is grounded to third, one down.  Fastball is in there at the knees, Pillar then chops one foul, and the 0-2 92 MPH sinking fastball is popped to right, but Allen Craig has it go off his glove in foul territory while sliding.  Still 0-2, and a solid curveball gets an emergency tip foul, then a change-up is spiked, and a sick change-up in a perfect spot on the outer black gets swung through, third K for Jaime.  Pillar looks overmatched.  Reyes takes a cutter in there, sinker is just low, two-seamer outside, four-seam inside, then another heater on the hands jams him, but even with a great Carpenter barehand play, Reyes beats it to first for an infield single.  A perfect throw gets him, but great effort.  Melky takes a sinker low, and it's right through the wickets for a passed ball.  Tony Cruz having trouble.  Another fastball low, yet another sinker went low, but Melky swung at a ball there.  2-1 is a hanging two-seamer, looked pretty easy to hit, and Melky grounds it routinely to Carpenter… But, Carpenter boots it for an error and the inning continues.  Runners at first and third, and rough defense behind Jaime.  Big at bat here with Jose Bautista up, and a cutter is just inside, then a two-seam paints the inner low corner, at the behest of Joey Bats and the crowd.  Looked inside.  A 1-1 change-up is in the dirt but blocked well, 2-1.  Another fastball on the inside corner at the knees gets a strike called, and all of Toronto hates it.  Looked inside again.  Garcia then goes change-up, and Bautista is way in front and over top it, whiffing for Garcia's third K.  Garcia got two calls and took advantage.
Sixth Inning: At 85 pitches – a lot have been fouled off thus far – Garcia is looking at only one or two more innings of work, and loops a slow 70 MPH curveball that looked like a strike, but is called high, 1-0.  So the umpire giveth and the umpire taketh away.  Change-up drops in there, then a fastball fouled off, a change that hung a tad fouled back, then a fastball at the knees is rocketed to third, but Carpenter makes the play this time for the out.  That was the hardest hit all day.  Lawrie takes a two-seamer low, then a slider gets routinely hit to short, two quick outs, just what Jaime needed.  And even better is a first-pitch groundball hit by Tolleson and another very easy play for Peralta to end the inning.
Seventh Inning: Back-to-back innings with a first-pitch curve, but this time it's in there from Jaime, Navarro takes another curve low, two-seam low, and a heater down the middle is a routine grounder, one down.  First-pitch two-seamer down the middle is hit up the gap by Kratz for a quick single.  Only Jaime's third hit given up, and Pillar takes a two-seamer on the inside edge, 0-1.  That looked inside too, but Garcia has been getting that inside corner all day.  Jaime goes further in with the cutter, and a dribbler to Carpenter gets the out made at first, two down.  Another benefit of the call there, Pillar probably doesn't swing at that if that inside corner call isn't made.  Of course that's conjecture… Reyes takes a curveball low, a two-seamer is way high, 2-0.  Cruz comes out for a quick chat and a cutter is in there, then a fastball very high, 3-1 is a sinker that looked to stay high, but gets the call to go full.  Yet again the ump helps him out.  And the payoff pitch is a cutter in the zone hit pretty hard towards the gap, but Peralta is on it and makes the play.
Final Line:  W  7 IP  108 Pitches (68 Strikes)  0 ER  3 Hits  3 Walks  4 K  Gamescore: 72    Gamescore+: 70.2
Final Analysis: To be honest, I really don't know what to make of this start.  Home plate umpire Manny Gonzalez had a very liberal strike zone, and Garcia looked like the Jaime of old with the three walks.  My Gamescore+ doesn't figure in lucky calls at the plate, but with the lower strikeout total and a few walks, his Gamescore+ came out just below his Gamescore.
Garcia's arsenal starts with the sinker, well it's called a four-seamer on Fangraphs and in play-by-plays – but with his over-the-top motion, it sinks regularly.  He also mixes in a two-seamer and cutter, with the latter at varying speeds.  Fangraphs lists his cutter with an 82.1 average velocity, but I think they lump sliders in there.  They're similar and/or he is able to vary the speeds greatly.  Then to the off-speed where along with those occasional sliders/slower cutters, and some curves, is the devastating change-up – his best pitch.  He'd only gone to it 13.7% of the time before this past start, but imagine – well, hope – that creeps closer to 20% as the season wears on.  His stuff has tons of movement and a lot of sink, reflected by fantastic GB rates – a career 55.4% mark and 52.8% this year prior to yesterday.
I had a lot of trouble figuring out where to rank Garcia…  After mentioning that 1.30 WHIP barrier he hasn't overcome yet in his career, he's rock-n-rollin' with a 0.95 WHIP right now.  And while commendable what he did at Toronto, no Adam Lind or Juan Francisco (since he's a lefty) and the 6 through 9 hitters of Tolleson, Navarro, Kratz, Pillar is about as bad a 6-9 you'll see in the Majors, even the NL!  *Cough*, except maybe the Padres, *cough*.  But I saw enough of this start to slide him in at 86.  I decided to keep him just under last week's Pitcher Profile subject Roenis Elias, since I don't really see big K potential from Jaime unless he really gets that change-up going.  That's his main putaway pitch.  Plus Jaime has been victim to the big inning, giving up multi-run frames in all four prior starts including the 5th inning 6-run disaster last start against the Royals.  That said, the velocity looks good, gotta love the ground ball rate, and he pitches in a good park.  Worth an add in anything deeper than 12-team and a good streamer option otherwise.  Next two are at home with the Nats and Phillies coming to town.  We likey those!
JB's Updated Top 100 SP
(rankings based on 12-team Roto – green for risers, red for fallers)
| | |
| --- | --- |
| RANK | SP, TEAM |
| 1 | Adam Wainwright, St. Louis Cardinals |
| 2 | Clayton Kershaw, Los Angeles Dodgers |
| 3 | Yu Darvish, Texas Rangers |
| 4 | Stephen Strasburg, Washington Nationals |
| 5 | Felix Hernandez, Seattle Mariners |
| 6 | Chris Sale, Chicago White Sox |
| 7 | Masahiro Tanaka, New York Yankees |
| 8 | Madison Bumgarner, San Francisco Giants |
| 9 | Johnny Cueto, Cincinnati Reds |
| 10 | Max Scherzer, Detroit Tigers |
| 11 | Zack Greinke, Los Angeles Dodgers |
| 12 | Michael Wacha, St. Louis Cardinals |
| 13 | Cole Hamels, Philadelphia Phillies |
| 14 | Julio Teheran, Atlanta Braves |
| 15 | Hisashi Iwakuma, Seattle Mariners |
| 16 | Anibal Sanchez, Detroit Tigers |
| 17 | David Price, Tampa Bay Rays |
| 18 | James Shields, Kansas City Royals |
| 19 | Mike Minor, Atlanta Braves |
| 20 | Corey Kluber, Cleveland Indians |
| 21 | Jeff Samardzija, Chicago Cubs |
| 22 | Scott Kazmir, Oakland Athletics |
| 23 | Homer Bailey, Cincinnati Reds |
| 24 | Gio Gonzalez, Washington Nationals |
| 25 | Jon Lester, Boston Red Sox |
| 26 | Jordan Zimmermann, Washington Nationals |
| 27 | Sonny Gray, Oakland Athletics |
| 28 | Mat Latos, Cincinnati Reds |
| 29 | Andrew Cashner, San Diego Padres |
| 30 | Alex Cobb, Tampa Bay Rays |
| 31 | Cliff Lee, Philadelphia Phillies |
| 32 | Matt Cain, San Francisco Giants |
| 33 | Chris Archer, Tamp Bay Rays |
| 34 | Hyun-Jin Ryu, Los Angeles Dodgers |
| 35 | Justin Verlander, Detroit Tigers |
| 36 | Tim Hudson, San Francisco Giants |
| 37 | Jered Weaver, Los Angeles Angels |
| 38 | Gerrit Cole, Pittsburgh Pirates |
| 39 | Rick Porcello, Detroit Tigers |
| 40 | Nathan Eovaldi, Miami Marlins |
| 41 | Yordano Ventura, Kansas City Royals |
| 42 | Ian Kennedy, San Diego Padres |
| 43 | Ervin Santana, Atlanta Braves |
| 44 | C.J. Wilson, Los Angeles Angels |
| 45 | Andrew Heaney, Miami Marlins |
| 46 | Wily Peralta, Milwaukee Brewers |
| 47 | Dallas Keuchel, Houston Astros |
| 48 | Doug Fister, Washington Nationals |
| 49 | Jason Hammel, Chicago Cubs |
| 50 | Kyle Lohse, Milwaukee Brewers |
| 51 | Zach Wheeler, New York Mets |
| 52 | Shelby Miller, St. Louis Cardinals |
| 53 | Francisco Liriano, Pittsburgh Pirates |
| 54 | Jesse Chavez, Oakland Athletics |
| 55 | Ryan Vogelsong, San Francisco Giants |
| 56 | Lance Lynn, St. Louis Cardinals |
| 57 | Tony Cingrani, Cincinnati Reds |
| 58 | Marco Estrada, Milwaukee Brewers |
| 59 | Tyler Skaggs, Los Angeles Angels |
| 60 | Trevor Bauer, Cleveland Indians |
| 61 | John Lackey, Boston Red Sox |
| 62 | Drew Pomeranz, Oakland Athletics |
| 63 | Jon Niese, New York Mets |
| 64 | Hiroki Kuroda, New York Yankees |
| 65 | Garrett Richards, Los Angeles Angels |
| 66 | Mike Leake, Cincinnati Reds |
| 67 | Tyson Ross, San Diego Padres |
| 68 | Josh Beckett, Los Angeles Dodgers |
| 69 | Aaron Harang, Atlanta Braves |
| 70 | Mark Buehrle, Toronto Blue Jays |
| 71 | Taijuan Walker, Seattle Mariners |
| 72 | Justin Masterson, Cleveland Indians |
| 73 | Collin McHugh, Houston Astros |
| 74 | Yovani Gallardo, Milwaukee Brewers |
| 75 | Matt Garza, Milwaukee Brewers |
| 76 | Jake Odorizzi, Tampa Bay Rays |
| 77 | Tanner Roark, Washington Nationals |
| 78 | Kevin Gausman, Baltimore Orioles |
| 79 | Roenis Elias, Seattle Mariners |
| 80 | Marcus Stroman, Toronto Blue Jays |
| 81 | R.A. Dickey, Toronto Blue Jays |
| 82 | Chase Anderson, Arizona Diamondbacks |
| 83 | Drew Smyly, Detroit Tigers |
| 84 | Danny Duffy, Kansas City Royals |
| 85 | Henderson Alvarez, Miami Marlins |
| 86 | Jaime Garcia, St. Louis Cardinals |
| 87 | Phil Hughes, Minnesota Twins |
| 88 | Dan Haren, Los Angeles Dodgers |
| 89 | Bartolo Colon, New York Mets |
| 90 | Tim Lincecum, San Francisco Giants |
| 91 | Travis Wood, Chicago Cubs |
| 92 | Drew Hutchison, Toronto Blue Jays |
| 93 | Rubby De La Rosa, Boston Red Sox |
| 94 | Jose Quintana, Chicago White Sox |
| 95 | Jake Peavy, Boston Red Sox |
| 96 | Jorge De La Rosa, Colorado Rockies |
| 97 | A.J. Burnett, Philadelphia Phillies |
| 98 | Archie Bradley, Arizona Diamondbacks |
| 99 | Ubaldo Jimenez, Baltimore Orioles |
| 100 | Jason Vargas, Kansas City Royals |
Dropped Out: Liam Hendriks, Toronto Blue Jays (I really thought he'd earned a chance), Robbie Erlin, San Diego Padres (DL – only had him 100 anyway), Chris Tillman, Baltimore Orioles (you can rest now Cram It :) ), Michael Pineda, New York Yankees (not gonna wait anymore), Tom Koehler, Miami Marlins (walked 4 in two straight, not striking guys out, BABIP show further regression likely in hits as well)
Thanks again to all you commenters!  Helped me look back on my Drew Smyly, when I said this in my preseason ranks: "When you see what he did out of the bullpen last year, it's eye-popping numbers. But don't forget he's a lefty and was used in a lot of lefty-lefty situations, giving him 129 lefties faced last year to 174 righties. You're not going to have that close a ratio as a starter. Compare it to 127 to 289 the previous season as predominately a starter." (https://razzball.com/2014-top-100-starting-pitchers/).  Even after a bounceback start last Friday, .138 with 1 homer in 61 lefty PAs, .300 7 homers in 169 righty PAs.  Yikes.  K:BB 49:20… Eh it's all looking like I should've heeded my own advice…
Did you know that Homer Bailey only has 2 non-QS since April 20th?  I think we all know what has fueled his turnaround…
Keeping the trend of Reds being the top two risers this edition, Latos looks set to return the rotation later this week if his final rehab start tonight goes well.  Let's hope he's not pitching in San Antonio so he can avoid further cramping…
I told you to hold strong on Archer!  What would they have to title his show if he was also on FX?
Yordano Ventura had great velocity and looked good in his first game back after the elbow issues-layover (the results weren't really there – only 1 K – but 6 IP QS), but I'm worried they'll cap his innings earlier than they would've beforehand.  It hurts his ROS outlook.
I'm absolutely all-in on Heaney.  After one rough outing @Colorado Springs (PCL in thin air), bounced back with 6 IP 9 Ks 1 BB – 5 hits (all singles) and one run allowed.  Must-own in all leagues.
All-in on Jason Hammel.  That slider is filthy this year – he's using it 30.9% of the time and hitters are .162 against it and an absolutely obscene .076 ISO on it.  Let's just hope his arm doesn't fall off throwing all those sliders!
I watched Phil Hughes against the Astros, and just stuff wise – ignoring the result – not impressed at all.  Looks so hittable.  At home he should get away with it somewhat since he's a fly ball pitcher, but the Astros murdered those three homers.
Still cautiously optimistic Cingrani can keep his rotation spot and improve.  We'll see how it hashes out when Latos is back – if Cingrani gets the boot, Alfredo Simon will waddle his way back in.
What say you on Jaime?  And do I have all the teams correctly listed next to the pitchers this week, Dusty Baker?  I can show you what to do with that toothpick if so!  Hah!  Happy pitching this week!