It's the beginning of a new year.  Time to reflect on the year that has passed.  Time to make resolutions in the new year.  Time to hope the Baseball Hall of Fame voters make a resolution to vote better.
Last year's nomination was a mixed bag for us.  Only one of our 5 nominations made it in (Rickey – the other four were Bert Blyleven, Tim Raines, Mark McGwire, and Tommy John) and one of our 'nays' made it in (Jim Rice).  For those who missed our HOF analysis from last year, we do our best to create objective parameters for measuring success at a specific position/role.  Rather than focus on just a player or just those that are on the ballot, we look at all players that filled a specific type of role and analyze everyone outside the Hall of Fame to unearth any perceived injustices.  Last year's analyses were on (with returning nominees in parentheses):
This entry is going to focus on middle infielders since there are two prominent middle infielders that are on the ballot for the first time (Roberto Alomar, Barry Larkin) and one returnee for review (Alan Trammell).  We'll review Fred McGriff and Edgar Martinez at another time (betting they're not going to make it this year).
In all, there are 32 middle infielders who are in the Hall of Fame as players. We're defining 'Middle infielder' as anyone who played 2B or SS for over 50% of their games – Robin Yount sneaks in (54% at SS) while Ernie Banks doesn't (45%).  If you scan through the offensive stats of these 32 players, you'll find a number of head scratchers.  Great defense and a momentous HR aside, Bill Mazeroski had a .299 OBP.  Joe Posnanski has already expounded plenty on the poetic injustice of having Joe Tinker and Johnny Evers in the Hall (get it – they were in a famous baseball poem and it's a statistical injustice…).  Even several players who played at HOF levels have dubious counting stats – Lou Boudreau, Tony Lazzeri, Joe Gordon, Travis Jackson, Bobby Wallace, and Phil Rizzuto all fall below 2,000 hits (less than such HOF afterthoughts as Phil Garner and Jay Bell).
The point of this prologue is twofold:
Middle infielders shouldn't be reviewed for the Hall of Fame using standard thresholds like 3,000 hits or 500 HRs.  Guess how many middle infielders passed the 3,000 hit barrier?  Three.  Eddie Collins (a phenomenal 2B for the A's and White Sox from 1906-1930), Cal Ripken, and Robin Yount.  You can argue Collins is the only true Middle Infielder in the Hall of Fame to reach the mark since Ripken and Yount required position changes to reach the mark.  (Note:  Craig Biggio finished with 3,060 hits and Derek Jeter is at 2,747 by end of 2009).  As for HRs, Ripken has 431 HRs and no other HOF middle infielder has more than 301 (Rogers Hornsby).
Middle infielders shouldn't be reviewed for the Hall of Fame using the statistics of the weakest enshrined players at the position as the 'floor'.  The bar has to be set higher.  For this post, we'll generally use the 40th-60th percentile for thresholds (e.g., the 60th percentile for a stat means that only 40% of the enshrined middle infielders met these thresholds).
Below represents a quintile analysis of the stats across the middle infielders.
A couple of quick notes:
OPS+ – On-base percentage + slugging percentage adjusted for park and era with the average being 100.  This provides a good baseline for a player's offensive value.  This is not weighted by position and, as you can see from the above chart, a good 30% or so of enshrined middle infielders are BELOW average vs. the average hitter (e.g., Ozzie Smith had an 87 OPS+).
H+BB+HBP – Counting stats are important for measuring a player's longevity.  While 3,000 hits is the standard of HOF counting stats, factoring in walks and hit-by-pitches is a better reflection of a player's ability to get on base.  Even adding in Walks and HBPs, you can see that only about 60% of the enshrined middle infielders passed the magic 3,000 number.
MVP Shares = This stat from Baseball-Reference.com sums the MVP vote percentages over a player's career.  I find this more useful than focusing just on MVPs as it rewards players who had a number of seasons that are MVP-worthy.  Good example:  Ryne Sandberg has more MVP Shares than Robin Yount (1.98 vs. 1.8) despite winning one less MVP as he had one more top-5 finish and one of Yount's MVPs was far from unanimous (1989)
Below are all middle infielders retired as of Dec 2009 that got on base more than 2,500 times and had at least a 100 OPS+ (the 'excepcion' made for Dave Concepcion).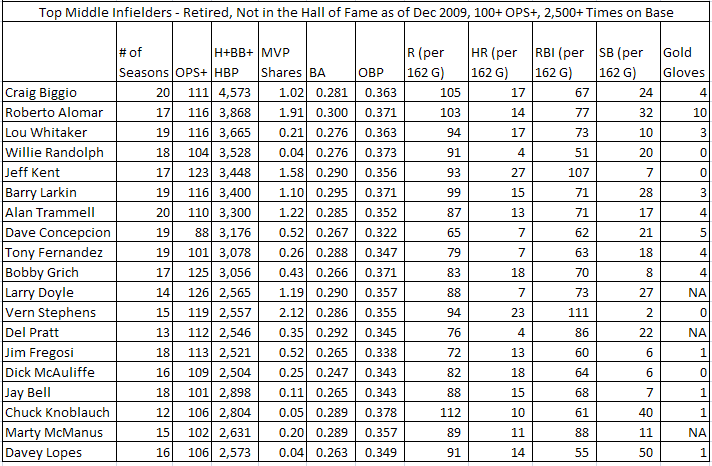 Craig Biggio (not eligible until 2012)
Craig Biggio – who isn't eligible for the ballot until 2012 – guaranteed his first ballot nomination when he passed the 3,000 hit barrier.  The fact that he stuck around an extra year or two to reach the mark will be long forgotten even by #1 fan Bill James and Astros owner Drayton McLane Jr. (renowned here for sponsoring the Brad Ausmus Welfare Program).  Much like Rickey Henderson, Biggio limped to 3,000 hits because he took free passes during many of his plate appearances (including the 2nd most HBPs in history).  The only players who started their career since 1962 who got on base more than Biggio were Barry Bonds and Rickey Henderson (Paul Molitor had 250 more hits but 45 less times on base).  He also hit 668 doubles which is the 5th most of all time – the most for a right-handed hitter.
Vote:  YES
Fun (and potentially fictional) anecdote:  When Craig Biggio and Mo Vaughn were teammates at Seton Hall University in New Jersey, they went by the nicknames Taffy & Pork Roll.  Oddly enough, Biggio was the one called Pork Roll.
Roberto Alomar (first time on ballot)
If you compare Roberto Alomar's stats compared to the middle infielders in the HOF, his stats are in the top 40% on just about any statistic.  Let's take the most recent 2B to get voted by the BBWAA into the HOF – Ryne Sandberg.   Despite Sandberg hitting 72 more HRs than Alomar (282 to 210), Alomar had the higher OPS+ (116 to 114).  Alomar crushes him in times on base (3,868 to 3,240), has more RBIs, more Runs, more SBs, more World  Series rings (sorry Cubs fans), and matches him on fielding prowess (10 GGs to Sandberg's 9).  While Alomar never won an MVP, he finished in the top 6 five times.  So why might voters not vote him in?  He doesn't have 3,000 hits but if Sandberg can get in with 2,300 hits, how can Alomar be kept out?  His career fell off a cliff after 33 but it wasn't his fault that he was traded to the Mets.  The only reason I can think of is the whole spitting incident with John Hirschbeck but if Ty Cobb is in there…
Vote:  YES
Fun (and potentially fictional) anecdote:   The Spanish-speaking Alomar was engaged to marry French-speaking tennis player Mary Pierce in a completely non-suspect heterosexual coupling that, alas, did not work out. There has been an infectious amount of chatter about his relationships since then.
Barry Larkin (first time on ballot)
Barry Larkin's resume is about as good as you'll find for a shortstop not named Honus Wagner: 116 OPS+, relative longevity for a middle infielder (19 seasons, 3400+ times on base), good glove (3 Gold Gloves), and excellent base-running (379 SBs at an 83% rate).  Two interesting comparisons:
Barry Larkin vs. Cal Ripken – While Ripken has more than double the HRs of Larkin (431 to 198), Larkin actually has a higher OPS+ (116 vs. 112) , BA (.295 vs. .276), OBP (.371 vs. .340), and almost the same SLG (.444 vs. .447).  They both even had a far less successful sibling in the pros.  Factor in Larkin's superior speed and you've got a pretty good case that Larkin was a better player than Ripken.  Ripken's big advantage?  Durability.  Larkin only played 150+ games in 4 of his 19 seasons.  So Larkin might have been better when healthy but Ripken was more valuable overall.
Barry Larkin vs. Roberto Alomar – Same OPS+ (116).  Same OBP (.371).  Near identical 162 game rates – Larkin 99/15/71/28, Alomar 103/14/77/32.   Multiple Gold Gloves.  It'll be fitting if they go in at the same time.
Vote:  YES
Fun (and potentially fictional) anecdote:  When Barry Larkin and Chris Sabo were teammates at the University of Michigan, they went by the nicknames Wolverine & Teen Wolf.  Oddly enough, neither were given a cameo in the subsequent movies despite Larkin's extensive workout routines and Sabo's extensive commercial work.
Alan Trammell (7th year on ballot – 17.4% in 2009) & Lou Whitaker (no longer on ballot after being dropped off in 2001 with 2.9% of the votes)
It's only fitting to analyze Trammell and Whitaker together as the double-play combo played together for 19 seasons.  Their statistics are quite comparable and the areas where Trammell has the edge is in batting average (.285 v .276), SBs (17 per 162 G vs. 10), and MVP Shares (1.22 vs. 0.21).  Trammell's BA advantage loses luster when you realize Whitaker's higher walk rate put him ahead on OBP (.363 vs. .352).  Whitaker also has an advantage in power (17 per 162 G vs 13) and thus it isn't surprising that Whitaker beats Trammell in OPS+ (116 vs. 110).  Whitaker was on base 365 more times than Trammell (3,665 vs. 3,300) driven as much by Whitaker's OBP advantage as Trammell's knee and ankle injuries that led to him failing to pass 500 plate appearances in his last 6 seasons.
Trammell's MVP Share advantage could be for a number of reasons but my take is it's because Trammell's best years were better than Whitaker's.  Trammell finished about 130 in OPS+ five times making top 20 in MVP each of those years – the peak being finishing 2nd to George Bell in 1987 despite Trammell having the higher OPS+ (155 vs. 146).  Whitaker only reached 130 in OPS+ twice and never had a season one could argue was a top 3 MVP season.  This could be the reason why Whitaker fell off the ballot while Trammell stayed on – short of hitting the big counting stats, MVP-like seasons are the best bet for getting nominated.
Both were excellent fielders winning multiple Gold Gloves though shortstop is regarded as the harder position.
Given all of the above, I think it's fair to say that Trammell vs. Whitaker is very close to a draw and it's near impossible to argue for one to make the Hall and not the other.  That said, do both deserve to make the Hall?
While neither may rank quite as high as Alomar and Larkin, Whitaker and Trammell both would finish in the top 60% of enshrined middle infielders in OPS+, times on base, OBP, and just about every 162 G rate for R/HR/RBI/SB.  More convincingly, here are the retired 2B and SS that have higher OPS+ and times on base than Whitaker and Trammell:
2B (5) – Eddie Collins, Charlie Gehringer, Rogers Hornsby, Joe Morgan, Frankie Frisch
SS (6) – Honus Wagner, Cal Ripken, Luke Appling, Joe Cronin, Robin Yount, Barry Larkin
It would seem that if only 5-6 players at your position were as valuable offensively (as measured by OPS+) for as long (as measured by Times on Base), you deserve to be a Hall of Famer.   But let's get some perspective using recent inductees who played different positions.  Let's use Jim Rice (OF), Eddie Murray (1B/DH), and Wade Boggs (3B) for the comparison.
Retired OF with greater OPS+ and Times on Base than Jim Rice (29) – Most surprising entry –  non-HOFer Ken Singleton.
Retired 1B with greater OPS+ and Times on Base than Eddie Murray (0)
Retired 3B with greater OPS+ and Times on Base than Wade Boggs (0)
Jim Rice's stat is a huge vote for Whitaker and Trammell.  Eddie Murray and Wade Boggs don't help the case at all.
Final verdict for me is that both players deserve to be in the Hall of Fame.  When you can name only 5-6 players at your position which were clearly more valuable offensively plus had more longevity (with only a couple ever being televised in color) AND you were excellent fielders, I think you deserve to be in the Hall of Fame.
Vote:  YES
Fun (and potentially fictional) anecdote:  Trammell and Whitaker solidified their 1980's cred by starring as themselves in a Magnum PI episode.  The only more awesome 1980's cameo by a baseball player – Reggie Jackson on MacGyver (see 33 minute mark).
Willie Randolph (no longer on ballot after being dropped off in 1998 with 1.1% of the votes)
Willie Randolph had a higher OBP (.373) and more times on base (3,528) than Jeff Kent (3,448 / .356) .  Ryne Sandberg too (3,181 / .344).  Shocking, no?
Another fun stat – Randolph had 1,243 walks and 675 strike outs.  Since 1950, there are only 6 players with a better BB/K ratio:  Ted Williams, Jim Gilliam, Richie Ashburn, Stan Musial, Gene Woodling, and Wade Boggs.  Just below Randolph?  Joe Morgan and Ozzie Smith.
While Randolph never won a Gold Glove, he had the misfortune of being in the same league as Frank White (Gold Glove 1977-1982, 1986-1987) and Lou Whitaker (1983-1985).  But using Total Fielding Runs Above Average (Rtot) as a comparison, Randolph's career total of 114.5 runs above average is better than Whitaker (76.8) and comparable to White (125.6).
It is Willie Randolph's OBP/Times on Base (and perhaps some fielding consideration) that earned him entry into Baseball Think Factory's Hall of Merit.
The case for Willie Randolph doesn't extend too much further than OBP/Times on Base and fielding.  He had little power which counteracted his strong OBP and left him with a 104 OPS+.  He had solid speed (20 SBs per 162 G) but nothing on the level of an Alomar or Larkin.  He had no seasons that look remotely like an MVP season – his 1980 season of 99/7/46/30/.294 when his .427 OBP was only bested by the .390 hitting George Brett (.454 OBP) was his closest.
Voting for Randolph comes down to whether you feel above average OBP and fielding over a long time is HOF-worthy.  I veer on the side of no.  I think that if a player has below-average power, they need to be that much greater in terms of counting stats or fielding.  Ozzie Smith was the best fielder of his time.  Tony Gwynn had over 3,000 hits and an OBP of .388.   Wade Boggs had over 3,000 hits and a ridiculous OBP (.415).  That said, Willie at least deserved to stay on the ballot for more than a year.
Vote:  NO
Fun (and potentially fictional) anecdote:  Willie Randolph grew up in the dangerous Brownsville section of Brooklyn with future NBA star Lloyd 'World B' Free.  While Randolph's last name prevented a similarly creative and philanthropic first name change, he dedicated his omnipresent moustache to the fight against world hunger.
Dave Concepcion (no longer on ballot after 15 years on the ballot from 1994-2008 – highest mark was 16.9%)
The argument seems weak for Concepcion.  His 88 OPS+ is only greater than four middle infielders in the Hall (Rabbit Maranville – 82, Luis Aparicio – 82, Bill Mazeroski – 84, Ozzie Smith – 87).  Maranville is one of those historical picks that look bad in retrospect.  The other three players are all in for their glove.  Concepcion won 5 Gold Gloves and was renowned for the glove but his Total Fielding Runs Above Average for his career is only 48.3.  Ozzie Smith is at 238.7.  Aparicio was at 148.6.  Mazeroski is at 148.1.  The other great-fielding SS of his time – Mark Belanger – was at 238.0.
Based on this, it appears Concepcion was a very good SS but his fielding reputation (perhaps aided by the artificial turf at his home park?), the halo of playing on the Big Red Machine, and playing in a weak SS era gave him more time on the ballot than seems warranted.
Vote:  NO
Fun anecdote:  Dave Concepcion is beloved in his home country of Venezuela and several notable middle infielders such as Ozzie Guillen and Omar Vizquel have worn his #13 in tribute.  This love did not extend to the city of Cincinnati however as WKRP in Cincinnati failed to crack the Venezuelan Nielsen TV ratings during the 1970's even with the prominent featuring of Charo-like Loni Anderson.
Jeff Kent (not eligible until 2013)
Given that he has significantly more HRs than any other 2nd baseman (377 with Rogers Hornsby second at 301), he's a Hall of Fame lock.  The RBIs help too as he has the 2nd most career RBIs for a 2nd baseman (behind Hornsby) and has the most 100 RBI seasons (8).  This power is the driving reason why his OPS+ (123) is in the 80th percentile among enshrined middle infielders.
(Note:  The above uses total stats.  If you go by just stats as a 2nd baseman, he'd still be #1 in HRs – 2nd to Ryne Sandberg – and 2nd in RBIs to Nap Lajoie)
His OBP .356 is about average for enshrined middle infielders and his fielding was about league average (his Rtot was -1.4).
Not much question on this one…
Vote:  YES
Fun (and potentially fictional) anecdote:  With his moustache and pension for not taking shit from anyone (ask Barry Bonds and Milton Bradley), it's not surprising to hear that Jeff Kent dominated the MLB Chuck Norris Award in the late 1990's/early 2000's.
Bobby Grich (no longer on ballot after being dropped off in 1992 with 2.6% of the votes)
With only a career average of .266 and 224 HRs, it's easy to see why Grich fell off the battle in 1992 before the Internet and Sabermetrics changed how many voters valued players.  Growing up in the latter part of the 'Grich Era', my sharpest memory of him was sharing a baseball card with Dwight Evans, Tony Armas, and Eddie Murray as the 1981 AL League Leaders in Home Runs.  Pretty impressive for a 2nd baseman I thought.  So did he deserve more HOF consideration?  Definitely.
His OPS+ of 125 was higher than Jeff Kent and, besides his above average power for a 2B, he had an impressive .371 OBP (a good eye balancing out his .266 AVG).  He was a strong fielder – netting 4 Gold Gloves  and a +70 in Total Fielding Runs Above Average.  He never made the top 5 in MVP voting but arguably should've won the 1981 MVP (led the league in OPS+).
Taking a look at his era (1970-1986), here are the number of seasons where a 2nd baseman (defined as 50% of games at 2B) had an OPS+ of 130 or more and had 450 plate appearances.  Note that the only other players who are near Grich are Hall of Famers.
Joe Morgan – 7
Bobby Grich – 5
Rod Carew – 3 (note: Carew accomplished this in 1969 and 4 more times during this era playing 1B)
Ryne Sandberg – 2 (note:  Sandberg accomplished this feat four more times from 1989-1992)
Davey Johnson – 1
Bill Madlock – 1
Willie Randolph – 1
Lou Whitaker – 1
Steve Sax – 1
The argument seems to be not whether Bobby Grich was a Hall of Fame 2nd Baseman (because 125 OPS+ and strong fielding is HOF-worthy) but if he played long enough.  He only had 14 full seasons and his 3,056 times on base is a little bit under the 40th percentile of enshrined middle infielders.
Using the same test of "How many players at their position have greater OPS+ and Times on Base?" as I used for Trammell and Whitaker, Grich matches Whitaker's number with 5 (Eddie Collins, Charlie Gehringer, Rogers Hornsby, Joe Morgan, Nap Lajoie).  Given that only one (Morgan) played post-WWII, I think Grich did enough to warrant HOF enshrinement.
Vote:  YES
Fun (and potentially fictional) anecdote:  Bobby Grich was heartbroken after the 1986 playoff loss to the Boston Red Sox and retired soon after.  The biggest tragedy wasn't that he never won a World Series – it was that, unbeknownst to Grich, he had been given the role of "Queen Killer" in the Naked Gun script and his retirement led the writers to give the role to Reggie Jackson instead.
The rest of the players I'd vote 'No' but here are some quick notes:
Tony Fernandez – Solid hitter and fielder but had so-so power, OBP, and times on base.
Larry Doyle – Deadball Era player who played mostly with the Giants.  Earned an MVP and a #3 finish.  He retired to coach at age 33 when it appears he still had more in the tank (105 OPS+ his final year).  You can make a case he was more valuable than other players voted into the Hall from his era (see Johnny Evers).
Vern Stephens – It's fitting he played some of his best years with the Red Sox as he was kind of the Nomar Garciaparra of his time.  One of the top hitters in the game from ages 21-30 with 5 top 7 MVP finishes and a ridiculous 3 year stretch where he 29+ HRs and 137+ RBIs.  After that, his career went off the cliff due to injuries – never reaching 400 plate appearances in a season again.  I wouldn't be surprised if he eventually gets voted in by the Veteran's Committee given how impressive he was at his peak.
Del Pratt – Solid player in the 1910s and 1920s.  According to The Baseball Page, he was a good fielder too.  Without the longevity stats, hard to give him the thumbs up.
Jim Fregosi – While better known now as the 'guy the Mets traded Nolan Ryan for' and as a manager, Fregosi had some pop for a shortstop of his era.  He had 8 straight years of OPS+ above 108 (ages 22-28) and then injuries wore him down.
Dick McAuliffe – Playing 2B and SS for the Tigers from 1960-1975, McAuliffe was a Moneyballer.  Good power (15+ HRs 6 times) and good eye (had 100+ BBs twice).  His OBP (.343) looks a lot better than his BA (.247).  Like a lot of the above players, he just didn't play long enough (or great enough) to warrant HOF enshrinement.
Jay Bell – Good but rarely great player for a number of years.  Had his career year at 33 when he exploded for 38 HRs.  I remember him being a good fielder but his stats indicate he was closer to average.
Chuck Knoblauch – Less you think that only 2B/SS of earlier eras fell off a cliff at 30, there's the case of Chuck Knoblauch.  He put together some fantastic years from 23-30 – mostly with Minnesota (with 2 decent years with NYY).  His OBP was above .380 for 6 seasons including two seasons at .424 and .448.  He was solid on the basepaths too, netting 30+ SBs in 7 of those years.  But it seemed like all his skills deteriorated after 30.  He had an infamous case of the 'yips' and eventually had to be moved from 2B (where he had been a solid fielder) to LF.  After a 'transition' year with the Yanks and a single season with KC, Knoblauch was out of the game at 33.  With perhaps 2-3 more peak seasons and no 'yips', he could've definitely warranted HOF consideration.
Marty McManus – Another solid middle infielder from the pre-WWII era (1920-1934).  Never had anything resembling an MVP-like season but steady.  Career likely hurt by playing under belligerent manager Biff Tannen.
Davey Lopes – Lopes' career was completely opposite from anyone else on the list.  Well, not completely opposite.  He did play baseball…but his first full MLB season was at 28(!) and he was putting up solid stats past the age of 40.  Lopes was well-known for his speed (averaging 50 SB per 162 G) and was very efficient at it (83% success rate).  He had a surprising amount of pop for his speed – topping 10 HRs on 7 occasions – but he surprisingly didn't hit as many doubles as you'd think given that combination (never hit more than 26 in a season – Biggio averaged more than double that from 1998-1999).  Given that Lopes was just an average fielder and had just okay OBP, he's not really an HOF consideration.  But I'd have liked him on one of my fantasy teams and it would've been interesting if he started younger and compiled more counting stats (note: based on minor league performance, he likely would've been a quality starter at 26 or 27).