Taking a week off from Razzball feels kind of like not eating. It's an essential part of your life, it's enjoyable, and it's something you can't live without. Bucking my usual Monday column last week, however, came with good reason. I was traveling around the midwest, watching numerous minor league baseball games in the process. If you like the sound of my voice and want to hear about these travels and the prospects I saw (Hunter Greene, Nick Senzel, Blake Rutherford, Seuly Matias, Nick Pratto, and more) then listen to Ralph and I talk about my travels for one whole hour on our latest Razzball Prospect Podcast (we'll be on Spotify soon!). If you're not sure if you like the sound of my voice, set your expectations relatively low and prepare to be blown away.
The consequence of taking some time off is the catch-up that needs to be done in order to restore an up-to-date understanding of present-day baseball. That's harder than you think. I've been following some players closely that I have to now backtrack to update my understanding of their trend line (first-world problems, I know). Time is unfortunately something we cannot buy more of.
Trevor Story has run into this issue as well. He can't buy the time of analysts to give him the breakdown and endorsement he is deserving of. Sitting 34th overall rest of season on our Player Rater, a question I would've laughed at preseason – Story or Blackmon – is now answered with the name "Charlie Blackmon" in a questioning tone as opposed to blurting it out in dismissal of the questioner's wits.
Story's fix stems from a very simple change in theory, but one that's hard to apply in practice.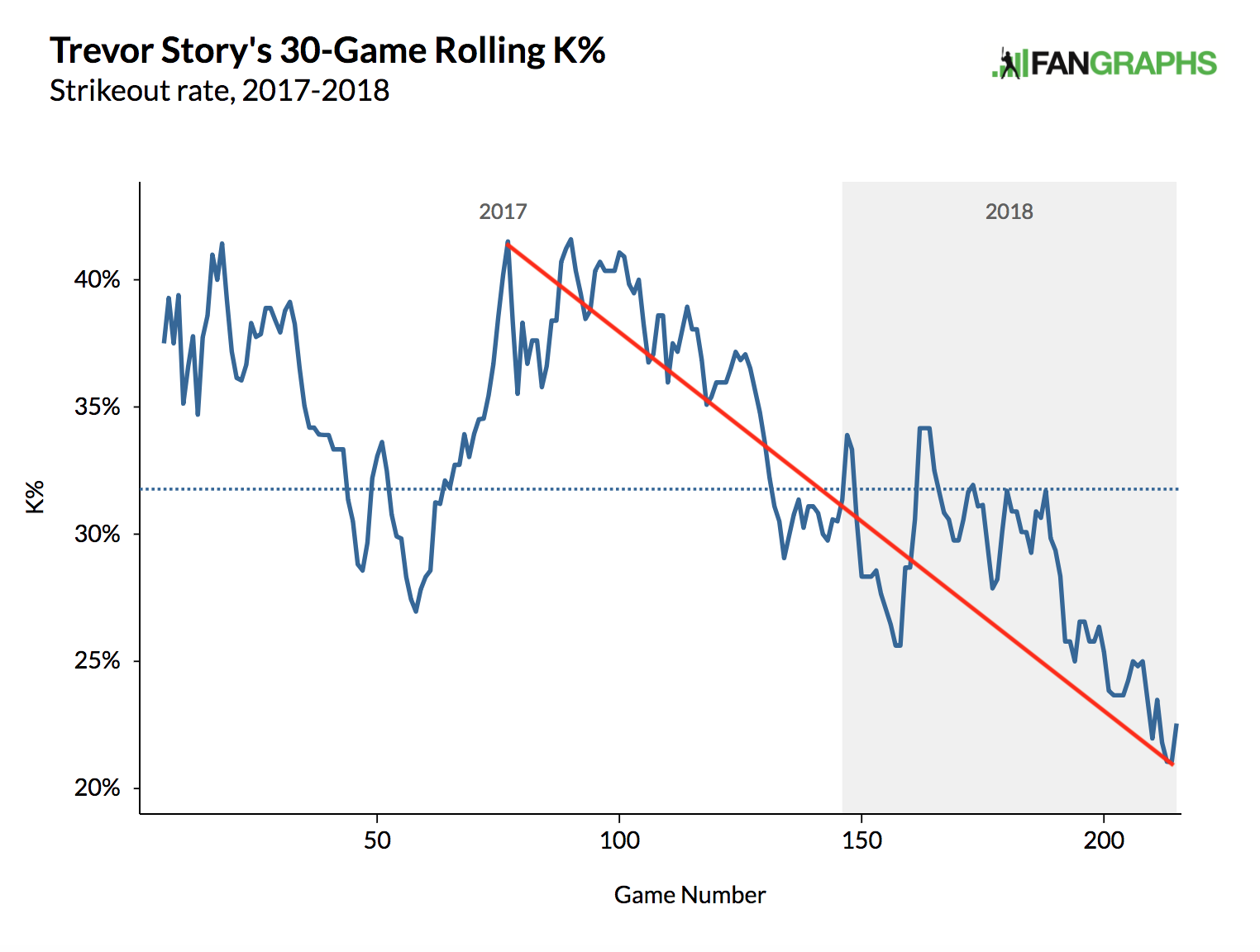 (Thanks, Fangraphs)
Story is striking out substantially less (~8%) than last season, but the trend started midway through last year, as evidenced in the rolling strikeout-rate chart above. This stems from a slight dip in how much he was chasing balls out of the zone and an uptick in his contact rate. The attack against Story from a pure pitch-mix perspective seems to have remained consistent as well. This leads us to infer that Story's pitch recognition may have simply gotten better.
I've always associated pitch recognition with the ability to recognize pitches off the plate and lay off them, but this also applies to breaking balls in the zone and the increased ability to do damage against them. Given Story's improvement from poor results versus sliders (per Fangraphs "Pitch Values" metric) last season to above-average results this season, gives merit to saying both points of this pitch recognition spectrum have occurred.
Sliders are an interesting pitch to look at for Story because of how much he sees them (~20%, nearly double that of either curveballs or changeups). With that said, his approach fastballs present the case of what might be going through Story's head at the plate.
Four-seam fastballs which Story has been missing this year are those up and in, slightly different from those he missed last season (middle-up in the zone). This might be looking far too granularly at one aspect of Story's game, but it could support the point of how much better Story has been versus pitches on the inner third, particularly those low in the zone.
His concentration on doing damage against pitches low and in may be exposing him in the upper third of the zone, hence the increase in whiffs in that particular spot. Many power hitters have this up-and-in hole in their swing, especially if their bat path is trained to elevate pitches, a method that generally succeeds against pitches low in the zone. (Think about how hard it would be to maintain an elevated bat path through the ball on a pitch up and in, that prevents extension of your arms and limits your ability to launch the ball.) With Story's 90th percentile fly-ball rate, we can assume he's inclined to lift the ball as much as possible.
Sometimes you'll hear paraphrasing that hitters need to sit on pitches they want and Story seems to be consciously doing this. He's targeting pitches down and in, laying off of those down and away, and accepting his hole up and in and making his overall strikeout rate tolerable.
I don't personally see much different with Story mechanically (others might and I wouldn't disagree), but what makes this strikeout profile tolerable comes from how explosive he is as a hitter.
One of his unique characteristics is how he uses his front foot and where his feet end up after swings in relation to one another. With an extremely strong lower half, Story builds his energy similar to a hitter like Rhys Hoskins, hovering and stalling his momentum by hanging this front foot before deciding to swing and fire his hips. For Story, it's a relatively rigid motion that creates exceptional torque and becomes the substance of his power.
What we didn't really expect was Story to become a more disciplined hitter. And with that, he made this explosiveness more of a pro than a con.
Pitchers are currently elevating fastballs versus Story, but they may not be elevating enough to target above the zone and in, where Story is most vulnerable. Whether pitchers consciously adjust to try and capitalize on seems to be one of the now few flaws in Story's swing remains to be seen. As long as Story's discipline sticks and he isn't swayed once again by pitches down and out, I would expect this trend of exceptional play to continue. I wouldn't put it past major league pitching to find a way to coax him into offering at the pitches he has become disciplined against, but that might be a longer term plan, leaving his present production more than admirable.
More to come next week as I reset my baseball knowledge for the push ahead into the heat of summer.
I always have stories, on Twitter – @LanceBrozdow