Long before I became a hack over here at Razzball, I was a frequent commenter known as "Jack Full of Hate". J-FOH is an acronym for those that haven't figured that out yet. I was known for my rants, smack and general disdain for anything and everything. Then one day that angry guy with a heart of gold was recruited by Sky out of the comments section and turned into a contributer for the best fantasy sports website on the net. After starting to write for the football side and passing his Silence of the Lambs test I got the green light to join the baseball side. You might ask yourself, what is a Silence of the Lambs test? It's the part of the interview where Sky threw me in a pit, tucked his junk, held his 80-pound dog and yelled at me it rubs the lotion on it's skin or else it gets the hose again as I screamed "I want to write for Razzball!" Then he got me drunk, took me to a football game, and then threw me back in the pit. I never understood the second trip into the pit because thats where it got really weird. He blared this song while he danced around wearing clown make-up as he flung chili and chucked pears at me for the next day and a half. Now what does Sky's eccentricity have to do with the RCL updates this week? It's a two part response, with the first being advised by my therapist to get this off my chest, and the second to demonstrate how he broke me. That hateful one has been reined in but alas a savior came to my aid when last week Grey told me I can go ahead and do a shame segment this week. I've been watching highlights of this play to get my anger up. F**k you Brian Sabean…F**k you Bruce Bochy and F**k you Baseball for ruining my game even more than it already has been. It's f**king baseball b*tches lets play it like it's meant to be. This is why I love fantasy so much because the reality of the real game makes me want to slit my wrists and start listening country pop. [Jay's Note: Not necessarily in that order…]
How does one rank shame? What term stands to us as the shame of all shame? I struggle with this question because what might be hurtful to me might be a compliment to you. For example, calling someone the Eagles of Fantasy might make them proud where for me them are fighting words. That also rings true for KISS. Because of this I will go with the universally recognized joke of all jokes here and call it the Matthew Berry Dingleberry Award winners. Now I know the season isn't over yet but these people threw the towel in a long time ago and should be getting a visit from this guy if I had my way. Hey Cram, are you busy for the next couple of weeks? So without further ado I bring you the bowels of the bottom.
The RCL Bottom-10
With Corey Hart,
Jose Fernandez
, and
Justin Smoak
still hanging in their lineup, Team Baker from RCL Orginal Recipe league has really dragged one of the longest standing RCL's down to the pit of shame. I wonder what frequent commenter SteveNZ feels about this? It probably opens with a FFS and then closes with a FFS. What do you say Steve? Baker also has
Clayton Kershaw
chillin' on his bench. If Clayton is in the line-up of this abandoned team then he doesn't end up on the bottom of the crap heap. No love for you! Now I must move on to the voice of Razzball, the Cuddly Canadian Nick Capozzi. Oh Nick, have some pride. You are doing better than so many in the RCL #1 but in the writers league you have chosen to go all  draft dodger style like a fleeing hippy to America to hide out from doing your service.
Hey dumbass, he did flee Canada for the U.S.
Oh…thanks for the heads up 3rd personality.
To be fair Nick has been working 16 hour days this year doing the TV on the Radio show and planning his tour across America. But should I be this kind? Nick you can take your smart phone with you when you poop and set your line-ups on the pot.
Brandon Morrow
? Raul Ibanez? Shane Victorino? WTF man, we aren't playing the Razzball leagues this year. Get it together and have a great tour. I still love you bro but will never let you live this one down. To close out the bottom three we have Wrong-Mistakes who looks like someone who has actually tried to play with their 42 moves. With a roster full of DL'd players too long to list and Joel Hanrahan stashed I can only say is you tried but failed miserably. I want to be positive on this one but I'm fighting back the urge because you quit on your team. I see quitting far different than abandoning because a quitter tried but failed where an abandoner just doesn't give a rat's ass. I'm slightly better with an abandoner. I understand that life gets in the way of fantasy and I don't fault anyone for that but if you're going to sign up and play publicly you need to know we will take shots at you and that your performance hurts your league and their quest for the crown. Boston Fawkin Mawks from league HA! has done nothing to help his league index, which sits at 103, and has held the others back from rising up the overall standings. Like a deadbeat dad, you hurt others when you don't show up. Just show the f**k up and play. Don't waste our time and make a joke out of your league or else Cram will be paying you visit.
The RCL Top 10
Why the top-10? Because they're the top-10 teams out of 1,000+? And that's pretty amazing? I'm Brian Fantana? Simply put, they're the best of the best of the best, and I think they deserve a little bit recognition. BUT NOT TOO MUCH. Just a taste.
The RCL #1
The RCL #1, which sounds like a RCL made for 2001: Space Odyssey (Grey notified me that RCL #1 isn't related to a space shuttle, but is meant to be said like The Iron Sheik. RCL #1! RCL #1! RCL #1!), is the Friends & Family league that Grey created so we could all be his fantasy baseball punching bags. Actually, maybe not so much punching bags as mustache combs. Seems more Grey-ish to Jay. I wasn't invited so I'm not sure if I would be Grey's punching bag. What I do know is I can say whatever I want because I'm not in there. With that being said I say "Why you dodging me Bro?" 
Regardless, this league stars Jay, Rudy, Tehol the Elder God, Prospector Scott, Paul, the Sing(ing)man, Nick the Podcast Host, and Sky… err, the Blue? We need to find you a better title buddy. But that's us, that's the family. Which, I can assure you, I'm already filing paperwork to gain emancipation. The friends are Dalton Del Don from Yahoo, Brad Johnson from FanGraphs, Ryan Carey of Mastersball, and Tim McLeod of RotoRob.
The Standings: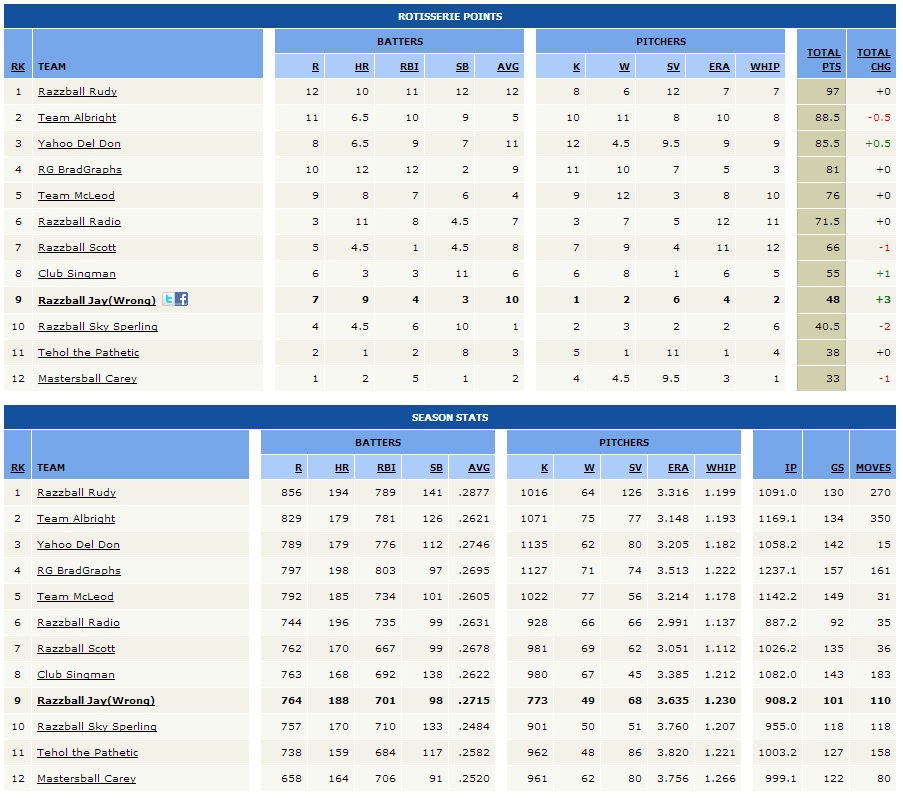 Rudy has really jumped out on Grey and I have to wonder if Grey can even make it back in the conversation. I guess being the Tom Selleck of Razzball has it's price. It's OK Grey, you have a great head of hair and a second place team. Wouldn't you rather have that than be bald and in first? Perspective my friend…
Sky is still edging out Tehol in the bottom as I watch this epic battle for worst Razzballer shake out. You two need to lay off all that Pacific Northwest Patchouli you have been freebasing.