Way out east there was this fella… fella I wanna tell ya about. Fella by the name of Lucas Duda. At least that was the handle his loving parents gave him, but he never had much use for it himself. Mr. Duda, he called himself "The Dude". Now, "Dude" – that's a name no one would self-apply where I come from – especially one with a career average of .247. But then there's a lot about the Dude that doesn't make a whole lot of sense – including his 12 homers this year. And a lot about where he lived, likewise. But then again, maybe that's why I found the place so darned interestin'. They call New York the "Capital of the World," a "Modern Gomorrah." I don't find it to be that, exactly. But I'll allow there are some nice folks there – excluding Yankee fans. 'Course I can't say I've seen London, and I ain't never been to France. And I ain't never seen no queen in her damned undies, 'cept Tehol. But I'll tell you what – after seeing New York, and this here jam I'm about to unfold, well, I guess I seen somethin' every bit as stupefyin' as you'd see in any of them other places. And in English, too. So I can die with a smile on my face, without feelin' like the good Lord gypped me. But sometimes there's a man, sometimes, there's a man. And I'm talkin' about Duda here. Sometimes, there's a man, well, he's the man for his time and place. He fits right in there. And that's the Dude. Aw. I lost my train of thought here. But… aw, hell. I've done introduced him enough. Now let's crack a nice sarsaparilla and jam it or cram it.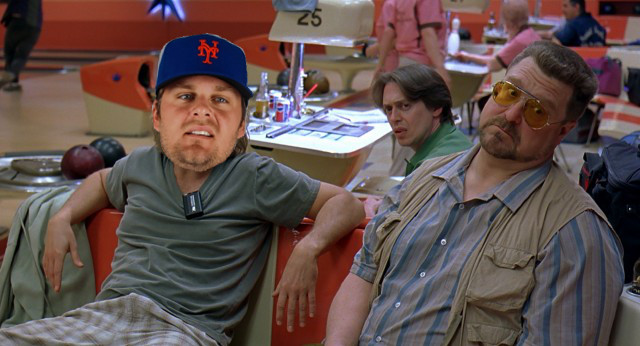 If you're looking for some bonus jams and crams, check out Razzball Radio.
Jam or Cram: Lucas Duda, 1B, New York Mets.
2014 Stats: 226 AB, 29 R, 12 HR, 39 RBI, 2 SB, .252 AV.
Availability: 89% Yahoo, 89% ESPN.
FAAB $$$ Value: $5. That's the same price as a good White Russian.
The Gist: Since Ike Davis left NYC with a band of pirates, Duda has been going all Hot Schmotato. Over his last 100 AB's, Duda has nine homers, 23 RBI, is batting .320 and slugging .725. Now the Dude can't hit lefties – just .217 in his career- but his K% is down, the ISO is up and he'll top his career total for homers by August.
Key Stats: Over the last month, Duda's OPS is 1.008. Miguel Cabrera's is .948. Cust kayin'.
The Dude Says:  Yeah, well. The Dude abides.
Jam it or Cram it: Over the last 30 days, Duda is the 11th ranked first baseman ahead of guys like Albert Pujols, Freddie Freeman and David Ortiz. Digging deeper into the numbers there's nothing that suggests he's going to suddenly drop off – his batting average on balls in play is .276, the walk rate is up and his weighted on-base percentage is within his career average of .340. If the Duda stays hot he could really tie your whole fake team together. JAM.
Jam or Cram: Brad Miller, 2B/SS, Seattle Mariners.
2014 Stats: 226 AB, 29 R, 7 HR, 21 RBI, 3 SB, .208 AV.
Availability: 63% Yahoo, 81% ESPN.
FAAB $$$ Value: $0.
The Gist: Coming into the season Miller was one of my sleeper picks and he promptly went right to sleep once the season started by hitting .150 over the first 2 months. However, he's awakened from his golden slumbers hitting .312 this month. Yes! He also has four home runs, 10 RBI and 14 runs over his last 24 games. Yes!! He's currently hitting .204. No!!!
Key Stats: B-Mill's BABIP in June is .350.
The Dude Says: It's like what Lenin said… you look for the person who will benefit, and, uh, uh…
Jam it or Cram it: I could see a deep league jam, but I think he's on a bit of a lucky streak. I need to see more than a few weeks of Hot Scmotatoing before I get jam crazy here. Miller will get the Astros and the White Sox this week and that should show us what condition Miller's condition is in. CRAM.
Jam or Cram: C.J. Cron, 1B, Los Angeles Angels.
2014 Stats: 123 AB, 16 R, 8 HR, 22 RBI, 0 SB, .294 AV.
Availability: 83% Yahoo, 92% ESPN.
FAAB $$$ Value: $6.
The Gist: I'm liking the C&C Hitting Factory there in Anaheim with Cron and Kole Calhoun. We jammed Calhoun recently, now let's toss Cron into the Jammer Crammer Machine© and see what it spits out. Cron is getting an increase in playing time with 79-year-old Raul Ibanez getting the boot. C.J. doesn't seem to mind, he's livin' it up in the Hotel California with 4 homers in his last 17 AB's.
Key Stats: Cron hit 27 homers just two years ago in the minors.
The Dude Says: I hate the f***in' Eagles, man.
Jam it or Cram it: Cron reminds me of Mark Trumbo with less power, less injuries, less K's and higher average. Cron's hitting close to .300 and while that prob won't hold (I mean he has just four walks in 120 at bats), he's worth owning if you need homers. Friday night he went double dong on the Royals then peed on their rug. JAM.
Jam or Cram: Jarrod Dyson, OF, Kansas City Royals.
2014 Stats: 127 AB, 17 R, 1 HR, 10 RBI, 12 SB, .301 AV.
Availability: 98% Yahoo, 99% ESPN.
FAAB $$$ Value: $0.
The Gist: With Aoki hitting the DL, Dyson's going to get a lot more playing time – especially against right-handers. The ownership is very low so we are talking a cheap pick up here. Over the last week, he's hitting .375 and has 2 steals – he also hit a homer and knocked in 3 runs. On the season Dyson is hitting over .300 and has 12 steals in 16 attempts.
Key Stats: Dyson has nearly 80 steals over his last 240 games – only 11 players have more.
The Dude Says: That creep can roll, man.
Jam it or Cram it: You're not going to get homers and you're not going to get RBI, but if Dyson can up that OBP just a bit – he's at about .350 right now – that'll mean he's on base and that's where the magic happens. SAGNOF! JAM.
**BONUS TRACKS**
Scooter Gennett, 2B, MIL: Scooter was our Jam of the Week last Sunday. Did you add him? No? Too bad because he went 7-for-18 with two homers and seven RBI. JAM.
Carlos Pena, 1B/DH, TEX: Has your season finally come to this? CRAM. But, he'd look great on my softball team. Carlos, call me.
Mike Zunino, C, SEA: Four homers in six games makes for Hot Schmotato time!  JAM.
Mookie Betts, OF, BOS: Mookie got the call Saturday after he hit .345 between Double-A and Triple-A this year. Now this dude writing here is a Red Sox fan and my expectations are as low as Jackie Bradley Jr.'s batting average.CRAM.
Matt Shoemaker, SP, LAA: Did you see the Royals put the boots to him Friday night? Know what Walter Sobchak would say? "This is what happens when you find a stranger in the Alps!" CRAM.
 Now pour me a White Russian and stalk me on Twitter @TheGuruGS or I'll cut off your chonson.  One day I will only communicate in "Big Lebowski" quotes. Also, check out my blog for more dirty turbaned nonsense.