Greetings, everyone. You might remember me from my days writing the Frankencatcher Reports here last year or the Handcuff Reports this past football season. The Frankencatcher Report concept is pretty simple, but if you need a refresher feel free to check out one of my posts from last year. In most fantasy leagues, at least half of the teams utilize some kind of revolving door at the catcher position because, after the very small top tier of kind-of-elite options, there sits a tire fire of lesser options, each burning, glowing, and extinguishing at different times throughout the year. More tire fire metaphors, you say? Sure, I thought that felt good, too. Maybe we can revisit that later.
For the 2017 season, the current plan is for me to write the Frankencatcher Report every other week. For the other every other weeks, I'll be writing about Fantasy Environments. What are fantasy environments, you say? Good question. Maybe we can figure that out together. Usually, when I think about fantasy environments, though, it ends up something like this: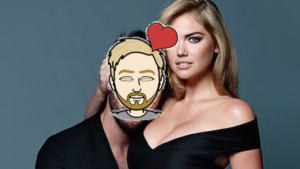 That's bitmoji-me getting engaged to Kate Upton. Not a bad fantasy environment to live in, right? And I know what you're thinking: "Mike, I think when Jay told you to write about fantasy environments he wanted you to write about fantasy baseball environments, not your own fantasies." And that is where you're wrong. In that picture, bitmoji-me is pasted over Justin Verlander, a BASEBALL PLAYER. GET OUT OF MY FANTASY ENVIRONMENT, YOU MONSTER.
Woah, where are we? I think I just blacked out there. Anyway, the 2017 Fantasy Environment articles here will be slightly different than my own personal fantasy environments, I guess. Prior to the start of the regular season, we'll try to focus on players who switched teams, may be adapting to new roles on their current teams, may be in line for more or less playing time (see: Joc Pederson), may be injured or recovering from injuries (or may be impacted by the injuries of others), may be in a position where their current role may not be their role in a week or a month or a few months (see: Nate Jones), and so on. Basically, before the season starts I'll try to take a look at players who are in different "environments" than they were last season. Different teams, different positions, different spots in the lineup, more/less positional eligibility, more/less playing time (looking at you, Dave Roberts. We all want Joc Pederson playing against lefties this season!), or things that are likely to change as the season gets started. We'll try to cover it all and figure out what it means.
Once the season gets started, every other week we'll take a look at the changing environments for relevant players. We'll try to focus on injuries and how they will impact different players and lineups, trades and what they might mean, call-ups/send-downs, trends we identify, and anything else we can think of. I would also love for this series to be a kind of conversation throughout the season between all of us. I'll take suggestions on Twitter or in the comments and then follow up on those topics the next time around.
Now, even though this is some kind of weird preview post, let's get into a few players.
Joc Pederson
As I alluded to above, Joc Pederson is a guy I am trying to watch closely this spring. He's a really young hitter who has shown power, speed, an incredible eye and approach at the plate, and he is a guy who absolutely tore through the minor leagues. One thing he has not done at the major league level is hit for a high average. In 2015 he hit a mere .210, and last year he improved to .246. He does, however, make up for it by walking a bunch. In 2015, he had an OBP of .346 and walked 92 times. Last year, OBP of .352 and walked 63 times. The good sign there is that he kept his OBP level while improving his batting average and walking fewer times. His potential for a low average scares me a bit in fantasy, but not enough to stay away from him, especially in OPS leagues. His potential for just about everything else makes me all weak in the knee bones, though. Grey has Pederson projected for 31 / 79 / 10 / .252. If that comes with 65 walks and a .350 or so OBP, sign me up.
Our friends over at Beyond The Box Score have seen the light, as Chris Anders dedicated what appears to be roughly 1.5 million words to why Pederson has earned a chance to play against lefties this season. The main highlight is perhaps the fact that Pederson began wearing a face guard when batting against lefties in order to stay in and on the ball longer, and, though it is a small sample size, it actually started to work. While I would never encourage you to leave this site and read another one, this Anders piece about young Joc is worth a read. #FreeJocPedersonUnfortunately for Joc and for Joc fanboys like moi (fun fact: if you accidently spell moi wrong and put an e at the end, oh boy does that mean something entirely different), the other thing that Joc does not do is play against lefties. This is because Dave Roberts hates me, presumably. I owned Pederson in a league last year with daily lineups, and this was infuriating. I had to plan out my lineups days in advance knowing that Pederson was most likely not going to play 2-3 times that week.
Hanley Ramirez
Hanley Ramirez is another guy I am interested in this season. I gambled on Hanley last year and cashed in when he had a bounceback year. Grey has him projected for 25 / 89 / 6 .278 this year, while other projections I have seen have called for more of a regression from last season, when he put up 30 / 11 / 9 / .286. I am more optimistic about Ramirez this season, or at least I lean more towards Grey's projections that call for him to perhaps slightly regress but still put up solid numbers.
There are 998 reasons why David Ortiz retiring was a bad thing for the Red Sox. There are two reasons it is a good thing, though. While that scale is slightly more negative than positive, let's focus on the positive here. One reason Ortiz's retirement benefits the Red Sox and players like Ramirez is it frees up the DH spot in the lineup for more of a rotation. Ortiz, while capable of playing a serviceable first base when called upon, was purely a DH, especially at the end of his career. The Red Sox did not have the luxury of rotating players into the DH spot to give them a breather without giving them an entire day off. Now, they do. Ramirez is expected to be the primary DH this season, but look for him to get some time at first base, especially against lefties.
Last season, Ramirez came into spring training and was learning a new position after a dreadful 2015 in the field (in the, gasp, outfield), at the plate, and, once again, in the training room. He settled in at first base and soon began mashing the baseball. This spring training he doesn't have those distractions and, in theory, can be more relaxed and focus on hitting. Whether or not that translates to increased production or getting out of the gate quickly remains to be seen.
The other positive is that, while Ortiz is one of the best hitters of all time, he was not the fastest guy on the basebaths. While the Red Sox will surely miss his bat in the lineup and his ability to drive in smaller and faster guys, they will be freed up a bit to run more and take extra bases. The projected top six of Boston's lineup (Dustin Pedroia, Andrew Benintendi, Mookie Betts, Ramirez, Xander Bogaerts, Jackie Bradley Jr.) all have average to above-average speed.
In theory, this could point to more RBI opportunities for Ramirez, especially as he steps into the spot in the lineup vacated by Ortiz. Or maybe without Ortiz the whole thing falls apart. We'll see!
Well, 1,400 characters are probably enough for a preview post. I guess we can call it a wrap here, especially after I lost everyone by spinning David Ortiz retiring as a good thing for, well, anyone who isn't a fan of another team in the American League East.
If you want to talk fantasy football or have players you want Mike to feature, hit him up on Twitter at @mikeMaher or post a comment below!