Stop me if you've heard this one before, but it's another week at the top of the Razzball Commenter Leagues Master Standings for Cram It.  Cram It had a slim 0.6 point lead last week over Vottoman Empire, but opened up a 1.5 point lead this week as Vottoman slipped down the standings a bit.  Last season, Team levy rode a perfect 120 and a LCI of 98 to an RCL Overall Championship, the first perfect score in RCL history.  During week 20, Team Levy had 114 points and I said at the time that a perfect score was not out of the realm of possibilities.  Well, I'm here to tell you again, it's not out of the realm for Cram It either.  With Trea Turner on the mend Cram It should be able to put some distance between himself and the next closest SB threat, while also possibly overtaking the next two Batting Average leaders.  The pitching side will be a bit more tricky.  There's one easy point in ERA there for the taking, but with 134 GS and 0.020 to gain in WHIP it's going to be tough.  Cram It needs to go from a 1.238 WHIP to around a 1.20.  Choose those streamers wisely!  Fortunately, the waiver pool should be well stocked for Crammy as he and three other managers appear to be the only ones making many moves.  Cram It, of course, has over 300 more moves than his nearest competition.  We'll all be watching and rooting you on Cram, good luck.  Here's what else went down in the RCLs in the week that was, week 20:
The Razzball Commenter Leagues for Fantasy Football are now open! Take on your favorite writers and other readers of the site for a chance at prizes!
Each week we'll peek in at our resident 'perts to see who is laying claim to best "expert" RCLer in the land.  We'll take notes, check the standings and generally stalk them.  The heading is also hyperlink, so feel free to follow along as we go.
It's another week atop the standings for Team Albright, making it three straight since Ralph popped up to steal the number one spot back in week 17.  That makes it 14 of the last 15 weeks that Grey has led the pack.  I'm surprised Grey hasn't fallen asleep at the wheel with all this action.  At least Ralph is closer than he appears in Grey's rearview mirror of late.  Cram It and Rudy are making a late charge, but still sit 15.5 and 17.5 points behind Ralph respectively.  I've lost Harper, Correa, Brantley and now Yu Darvish over the past 6 weeks and have quietly drifted into the purgatory known as 5th place.
Smokey was the week's biggest gainer, adding 6 point and jumping up two spots from 10th to 8th.  Your guess is as good as mine if he actually realizes it though.  Meanwhile, Team Malamoney was the biggest loser, dropping 6 points and falling from 8th to 9th.  Cram It and the aforementioned late charge added 4.5 points this week to sneak into 3rd place.
TOP 10
For those too lazy to check the MASTER STANDINGS, I present to you, the current top 10
After Cram It is Returning Champ who passes Vottoman Empire for 2nd overall.  Grey also jumped past Vottoman and takes 3rd place overall, tieing the high water mark for our fearless leader this season.
Rudy is Snooty falls one spot this week to 5th place.
Team Studer is up from 9th place last week to 6th place this time around.
Prospector Ralph holds steady at 7th overall.
The Swamp Donkeys slipped up this week, falling from 5th to 8th while Rudy is Booty makes a massive jump from 17th last week to 9th place this week.  Look at that bot go!
Rounding out the top 10 this week is Gomes' Gnomes who jump up from 15th to nab the final spot
WEEKLY LEADERS
The best of the best from the week that was.
R – 68 – Captain Morgan (DeadPool)
HR –28 – Talk Dirty Thome (Make RCL Grey Again), Emperor Beddict (Sons of Beddict) & Florida IBWIP (Prospector Ralph's Cavern)
RBIs – 71 – Talk Dirty Thome (Make RCL Grey Again)
SB – 17 – Muskogee Wharf Rats (It's Time For Dodger Baseball!!)
AVG – .355 – Fungo Freaks (Razzers Not Brazzers)
K – 98 – The People's Champ (Teddy Heater) (Razzball Writers League)
W – 10 – Team Sheridan (Cougs R Us)
SV –  13 – Freddy Beach Fanatics II (Take on the Jay)
ERA (Min. 40 IP) – 1.16 – florida Cardinals (Show Me The malamoney) (in 49.1 IP)
WHIP (Min. 40 IP) – 0.78 – J and G (Take On [email protected] 3) (in 51.1 IP)
Normally, I would abbreviate a three-way tie for a category but this week all three teams tied the weekly record for HRs with 28.  There is now a four-way tie for this year's weekly record.  Last season a team hit 29 in a week, let's make it happen to ease my copy/paste-itis.
WEEKLY RECORDS
With six weeks to go, here's a reminder of this season's weekly records we're all chasing:
R – 74 – Rube Waddell's Shiny Objects (Frequent Commenters League)
HR –28 – florida illini (High Desert Baseball), Talk Dirty Thome (Make RCL Grey Again), Emperor Beddict (Sons of Beddict) & Florida IBWIP (Prospector Ralph's Cavern)
RBIs – 79 – Milo the Cat (Night of the Living Zombinos)
SB – 21 – Seager Brothers On This Team (Make RCL Grey Again)
AVG – .374 – Team McClintock (The Pete Rose Integrity Society)
K – 153 – Calgary Cannons (My Nightly Fantasy)
W – 12 – Calgary Cannons (My Nightly Fantasy)
SV –  18 – Grey is Fey (Take on Jay) & Grey is Bae (Sons of Beddict)
ERA (Min. 40 IP) – 0.81 – J and G (Take On [email protected] 3) (in 44.2 IP)
WHIP (Min. 40 IP) – 0.66 – Team Frost (Cougs R Us) (in 57.1 IP)
TEAM OF THE WEEK
Our weekly shout out to the team that killed it the previous week.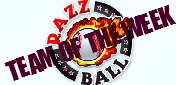 Team: Team Sheridan
League: Cougs R Us
Stats:   H/AB: 109/359, AVG: .304, R: 67, HR: 26, RBI: 67, SB: 10
IP: 83, ERA: 3.14, WHIP: 1.27, K: 75, W: 10, SV: 4
Summary:  That marks back to back weeks in which a member of Cougs R Us has been the Team of the Week.  Cougs R Us is proving why they are one of the top LCI leagues year in and year out.  Leading the RCLs in Wins wasn't enough for Team Sheridan this week, they had to go and put on a show offensively as well.  Team Sheridan was only 1 Run, 2 HRs and 4 RBIs from co-leading the RCLs in each category.  Big weeks from Manny Machado (Finally!) and Charlie Blackmon helped out.  On the pitching side though, Team Sheridan only held two starters all week, Aaron Nola and Luis Severino.  Besides those two arms, everything else was streamed.  That included a brilliant Saturday of Trevor Bauer and Jose Berrios to go along with a double dip of Rick Porcello.  Very nice, keep up the good work Team Sheridan and good luck climbing the Cougs R Us standings.
Want to be Matt's Twitter pal?  That's kinda creepy, but you can follow him here: @MattTruss