The trading deadline for the Razzball Commenter Leagues went out with a bang on Friday with 19 trades being completed, 9 on Friday alone.  I still don't understand why ESPN insists on the noon trade deadline time, but there it is.  I maintain the opinion that if the deadline was midnight Friday night there would be more last minute deals.  The trade deadline expiring while I'm settling into my lunch break at work just doesn't feel right.  Who's with me?  Week 8 saw 19 trades and week 14 saw 20.  In a 4.5 day week we got to 19, not a bad pace.  There were 232 total swaps made this season.  Cougs R Us finished the year with 16 deals made, the most of all RCLs.  Two other leagues finished in double digits, ECFBL (12) and DFSers Anonymous (10).  Is it coincidence that those are both leagues commished by your RCL Updater Extraordinaire?  I think not.  There were 16 leagues that didn't make a single trade this year.  That makes me sad.  Billy Hamilton was traded 8 times this season, as was Rougned Odor.  Wade Davis takes the cake though, being involved in 12 separate trades.  Gotta get those saves.  You can find all the saves for the year right HERE.  It's not the best formatting in the world, but if you're curious about these sort of things like I am, the data is still interesting to wade through.  Let me know in the comments if you find any other interesting nuggest.  Jump below for more about the trades this week and all the other happenings in the week that was, Week 19:
The Razzball Commenter Leagues for Fantasy Football are now open! Take on your favorite writers and other readers of the site for a chance at prizes!
Each week we'll peek in at our resident 'perts to see who is laying claim to best "expert" RCLer in the land.  We'll take notes, check the standings and generally stalk them.  The heading is also hyperlink, so feel free to follow along as we go.
'Perts League appears to be a two man race.  Ralph has climbed right up into the near triple digits with Grey and they are playing a mean game of see-saw.  It should be fun watching these two duke it out down the stretch.  Also of note, these two are neck and neck in the Master Standings this week.  That 107 league index for the 'Perts League is a nice boost and when both teams are flirting with 100 roto points, that will make good things happen.
Rudy made the biggest jump this week, riding Giancarlo's hot bat and Chris Sale's arm to a two position jump from 5th to 3rd.  If you followed Rudy's Point Shares at all in the preseason you likely drafted Giancarlo and Sale and are likely making similar moves up your league standings.  Don't forget to buy Rudy a 'fro pick to say "Thanks".
JB was the biggest loser this week, falling from 6th to 7th thanks to a four point drop.  JB was in 2nd place back in week 11 and has steadily dropped since then.
TOP 10
For those too lazy to check the MASTER STANDINGS, I present to you, the current top 10
Cram It is back atop his perch in the catbird seat.  He did lose Bryce Harper this week (I feel your pain in 'Perts League my friend) but the perfect season isn't out of the question.  Cram It will be looking for some WHIP help down the stretch but as long as that 102 league index can stay above 100, a 110-115 finish should be enough for Cram to double dip in RCL glory.  What an RCL beast!
Vottoman Empire reclaims the #2 spot after sitting in 4th for a couple of weeks and Returning Champ returns to 3rd after sitting in 5th last week.
The bot (Rudy is Snooty) slips one spot to 4th and the Swamp Donkeys fall from 1st all the way back to 5th.  That 99 LCI isn't doing the Donkeys any favors.
Grey maintains his 6th position, but he is joined by Prospector Ralph in 7th.  Ralph jumps up from 15th last week to make his debut in the top 10 overall.  Keep up the great work Ralph!
South Side Hitmen hold strong in 8th this week and former 7th place, Team Studer falls to 9th.
Rounding out the top 10 overall is 50 Shades of Jon Gray, who two weeks ago was in 27th overall.  Nice couple of weeks for the Grays.
TRADES
All the trades that have gone down in the past week.  Public ridicule is not only allowed, but encouraged.
DATE
LEAGUE
DETAILS
8/11/2017
Jobu Needs A Refill
8/11/2017
Take on the Jay 2
8/11/2017
DFSers Anonymous
8/11/2017
Frequent Commenters League
8/11/2017
Cougs R Us
8/11/2017
Johnson's Ornithology E.O.D.
8/11/2017
BATTAMANIA
8/11/2017
Johnson's Ornithology E.O.D.
8/11/2017
South Side Titans
8/10/2017
Cougs R Us
8/10/2017
The Giant and the Jew
8/10/2017
Take On

[email protected]

3
8/10/2017
ECFBL
8/9/2017
The Giant and the Jew
8/9/2017
The Giant and the Jew
8/9/2017
BATTAMANIA
8/8/2017
DFSers Anonymous
8/8/2017
BATTAMANIA
8/7/2017
BATTAMANIA
Billy Hamilton was moved 3 times this week as teams assess their situation and make plans accordingly.  I was one of those Billy Hamilton snaggers this week as I currently sit 4 points of first in FCL with an easy 4 points to gain in stolen bases alone.  If Billy Ham goes Ham, I have an outside shot at the league lead and 6 points gained while also passing the league leader in steals who happens to be the team currently in first.  Got all that?  Basically I think I have a shot at a 6 point gain in the category while also stealing a point from the team I'm chasing, netting 7 points essentially.  Best laid plans, but this is the reason I love roto so much.  I'm leading the league in HRs, so Jake Lamb was expendable, especially with Joey Gallo recently pulled from waivers.  I love analyzing my teams in this way, breaking down each category to see where points can be gained and could be lost and making deals to tighten things up.  No trade leagues just aren't that fun to me as you lose this part of the game.  Hopefully, you all did a little self analyzing of your own this trade deadline and made some moves to help you win your league.
WEEKLY LEADERS
The best of the best from the week that was.
R – 63 – Swamp Donkeys (Straight Cash Homie)
HR –26 – 3 Teams Tied
RBIs – 65 – Team Ticky (Take on Jay)
SB – 13 – 3 Teams Tied
AVG – .367 – Team Canada (Take On The Jay)
K – 128 – Captain Morgan (DeadPool)
W – 9 – 4 Teams Tied
SV –  17 – Rudy is Booty (We're All Winners)
ERA (Min. 40 IP) – 1.02 – MPH MPH (The Humidor) (in 53 IP)
WHIP (Min. 40 IP) – 0.73 – Team Duncan (Razzmonsters) (in 44 IP)
There were no new weekly records set this week.
TEAM OF THE WEEK
Our weekly shout out to the team that killed it the previous week.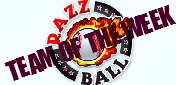 Team: Team Frost
League: Cougs R Us
Stats:   H/AB: 99/315, AVG: .314, R: 57, HR: 22, RBI: 56, SB: 7
IP: 73.1, ERA: 2.70, WHIP: 1.27, K: 85, W: 3, SV: 6
Summary:  Team Frost is chasing the Malibu Deadbeats in Cougs R Us in what is sure to be one of the better finishes in the RCLs this season.  Half a point separates these two in one of the three leagues with a 107 LCI ('Perts & ECFBL are the others).  In other words, it's a very competitive league and these two are separated by the thinnest of margins.  If Team Frost can keep putting up weeks like this though they will soon be Team FIRST.  Team Frost got big offensive weeks from Ryan Braun, Josh Donaldson, Brian Dozier, Cody Bellinger and Mike Moustakas.  That's 12 HRs and about a .400 average between them in case you were wondering.  On the pitching side, surprise, surprise, it was the Chris Sale show with 25 Ks in his 15 innings of work this week leading the way.  This should one fun finish, good luck Frost!
Want to be Matt's Twitter pal?  That's kinda creepy, but you can follow him here: @MattTruss