Five weeks are now in the books.  With twenty to go, quick math tells us we are ? of the way through our season.  To those ahead in your Razzball Commenter Leagues, that might be exciting, but to those at the bottom of the barrell, that could be unwelcome news.  Is it possible you've already accumulated ? of your final stats for the season? The Inning Pitch limit should be easy to plan for, you should be right around 280 IP right now.  If you find yourself a bit behind, stream an extra starter or two per week to pick up the pace. If you are way over-paced, maybe add some high strikeout middle relievers I talked about last week.  It can be much harder to make up ground in the Games Played race though. This is an area where having some lineup flexibility is key. With just three bench spots, you have to use them wisely. I like to think of the waiver wire pool as my floating bench, always there with a batty call when needed.  I routinely rotate out between 3 and 5 positions on my team for this purpose. Do I occasionally miss out on a break out player? Maybe. I was streaming J.A. Happ the first few weeks of the season before he was added and held. I've also added and dropped Jake Junis a hand full of times for streams, never once did I think about holding him.  I've added Jeimer Candelario more times than I can count and Matt Adams has been a recent hot add as well. The next time ol' Matty Adams has an off day or is out of the lineup, guess who's heading back to the wire? It's a fine line, but I tend to never fall in love with a batty call, there's always someone out there producing and keeping the flexibility to make these moves is key in the daily format with no GS limits.  There are free counting stats out there for the taking, you just need to find them.  Now, for the rest of the week that was, week 5 in the RCLs:
Each week we'll peek in at our resident 'perts to see who is laying claim to best "expert" RCLer in the land.  We'll take notes, check the standings and generally stalk them.  The heading is also hyperlink, so feel free to follow along as we go.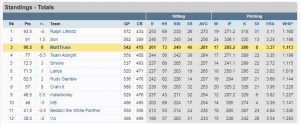 It was a big week for your RCL updater extraordinaire as things got really tight at the top of the 'Perts League.  After a 13.5 point outburst only three points now separate first (Ralph – 93.5) from third (Me – 90.5). We're making a Son (91) sandwich and everyone else is watching.  I also made an interesting trade with Rudy this week, needs for needs, more on that below. MY 13.5 point gain was the biggest of the week and was due, in part to leading or co-leading the league in runs, steals, batting average, wins and ERA.  Son was hot this week as well, picking up 11 points and leading the league in RBIs. The two of us have put significant pressure on Ralph, who dropped 4.5 points back to the pack.
Malamoney gained the most position places this week, gaining two places from 11th to 9th.  Losing the most points this week was Tehol, who dropped 13.5 points and fell two places from 9th to 11th.  Last week was good, this week was bad and the rest could be ugly for Tehol.
TOP 10
For those too lazy to check the MASTER STANDINGS, I present to you, the current top 10
Well, I lost the top spot this week…to myself!  I have been out to an OK start in a couple leagues this year.  I mean, when you're in 9 RCLs, you're bound to run into one or two good starts, right?  Well, I lost some points in the very competitive FCL and gained a few (10) in RCL #23, which is also competitive, just a little less so.  
Vottoman Empire, my arch nemesis in DFSers Anonymous moved from 9th overall to 3rd thanks to a big week that included co-leading the RCLs in homers.  The Squat Cobblers added 10 points in ECFBL to move into the top 10 this week. Why am I in leagues with everyone in the top 10 again?
Templeton Shoots The Bird moves into the top 10 this week, jumping up from 22nd last week.
Los Beisbolcats, Some Salvy For My Knee, M is for Mookie and DHARMA Initiative all hold onto top 10 positions with Los Beisbolcats holding onto the 6th spot and Salvy, Mookie & DHARMA each dropping a few spots.
Frequent Commenter, The Great Knoche makes a big jump this week from 33rd overall last week, into the top 10 at 9th overall this week.  Nice work Knoche!
TRADES
All the trades that have gone down in the past week.  Public ridicule is not only allowed, but encouraged.
Two deals this week with Blue Waffle Crabs (don't Google it), who autodrafted the top 30 pitchers on draft day moving some arms for a great bat.
Rudy and I each exchanged SAGNOF in out deal.  Rudy was dead last in steals and I autodrafted my team and ended up with no closers, so this was big for both of us.  I was 3rd to last in Saves and have started to fall behind in K/9 so I'm hoping for a double boost with Kimbrel. For what it's worth, the Fantasy Baseball Trade Analyzer has this deal $20.90 for Rudy and $20.50 for me, so pretty darn even.  I was also 14 steals ahead of the nearest manager at the time and just added Jose Peraza from waivers after Tehol dropped him. Yup.
WEEKLY LEADERS
The best of the best from the week that was.
R – 61 – 3 Teams Tied
HR –24 – Stop and Smell the Rosarios (RCL 2018 (#40)), Vottoman Empire (DFSers Anonymous) & Capital Offense (RCL 2018 (#10))
RBIs – 76 – Stop and Smell the Rosarios (RCL 2018 (#40))
SB – 16 – Lenny Potts (RCL 2018 (#42))
AVG – .351 – Quarreling Kneppers (RCL 2018 (#62))
K – 114 – Texas Aardwolves (RCL 2018 (#67))
W – 8 – Clobber Clan (RCL 2018 (#59)) & The Great Hambino (RCL 2018 (#56))
SV –  11 – Florida Cardinals (RCL 2018 (#18))
ERA (Min. 40 IP) – 1.31 – The Oddibies (RCL 2018 (#41)) (in 41.1 IP)
WHIP (Min. 40 IP) – 0.756 – Los_Tiburones (RCL 2018 (#2)) (in 42.1 IP)
It was a big week for breaking weekly records.  Three teams joined the 24 HR club, tying the previous record.  Come on someone, hit 25! Stop and Smell the Rosarios got on the board twice, also breaking the RBI record this week.  Lenny Potts set the new bar for steal with 16. The Quarreling Kneppers hit an impressive .351, a new record and Florida Cardinals nailed down 11 saves, also a new record.
TEAM OF THE WEEK
Our weekly shout out to the team that killed it the previous week.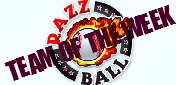 Team: Growling Bootlickers
League: RCL 2018 (#3)
Stats:   AVG: .290, R: 44, HR: 16, RBI: 51, SB: 8
IP: 78.1, ERA: 1.95, WHIP: 0.919, K: 103, W: 2, SV: 7
Summary: A nice week by the Bootlickers, who were led offensively by a pair of Twins, Eduardo Escobar and Eddie Rosario.  There were 7 HRs and 2 SBs between them. Teoscar Hernandez chipped in a dong and a couple steals while Jed Lowrie continues to carry fantasy teams…totally something I thought I'd be saying back in March!  On the pitching side, to get 103 Ks in 78 IP you need yourself some Chris Sale and Justin Verlander. A little Mike Clevinger and Chris Archer doesn't hurt either. How you end a week with those ratios and only 2 wins is beyond me.  #WinsSuck (Promo Code: SAGNOF). Nice work Bootlickers!
Want to be Matt's Twitter pal?  That's kinda creepy, but you can follow him here: @MattTruss