Knock Knock.  Who's there?  The robots.  Oh shizz, we're in trouble now!  It's been a little while since we've talked about the Razzball Commenter Leagues robots.  They all seemed to have a little summer swoon.  Back in week seven there were three bots in the top 10 and four in the top 12.  By week 14 all the bots had dropped out of the top 10.  Rudy is Snooty came storming back into the top 10 a couple weeks later and was the lone bot in the top 10 until recently.  Rudy is Booty has since reappeared and now Grey is Bae has jumped into the top 10 with Rudy is Booty lurking in 19th overall.  Back in week 7 I gave the robots a 25% chance at winning the overall crown.  With three bots in the top 20 and two in the top 10, I'm sticking by that statement.  The bots had a killer week, more on that below, and they will be pushing Cram It and Returning Champ in the final four weeks.  Don't let up boys, these bots don't sleep (and if they did, they'd dream of electric sheep).  More on the bots and the rest of the numbers from the week that was, week 22 below:
Each week we'll peek in at our resident 'perts to see who is laying claim to best "expert" RCLer in the land.  We'll take notes, check the standings and generally stalk them.  The heading is also hyperlink, so feel free to follow along as we go.
It's just Greybot and Ralphbot battling it out in the 'Perts League.  All of us mortals are just enjoying the show.  This week it's Grey back on top with Ralph losing three points and Grey gaining one.  Those 6 innings Ralph got from Kershaw weren't enough to lower that WHIP much, but that remains the category of interest for Ralph.  Meanwhile, Grey needs all the steals he can get down the stretch.  Two more steals will net Grey 1.5 points and cause Ralph to drop a point.  That's a 2.5 point swing for those keeping track at home.  That's a huge difference in this tight race.
Jay was the big winner this week, maybe getting some football crossover juju (Smith-Schuster) going.  Jay gained 8.5 points to move out of sole possession of last place and into a tie for last with Mike Maher.  Meanwhile, it was JB that took the biggest hit this week.  The bigger they are, the harder they fall and JB is like 8 foot 3 or something like that.  JB lost 5 points and fell from 6th to 7th place.
TOP 10
For those too lazy to check the MASTER STANDINGS, I present to you, the current top 10
Returning Champ and Cram It swapped places this week as Returning Champ tacked on 3 points, bringing his league total to 114.  Cram It lost 2 points this week falling from 113 to 111.  That was good for a 4 point swing for Returning Champs, who takes the lead with 4 weeks to go.
Rudy is Snooty moved up to third overall thanks to a killer week.  That 104 LCI in Take on [email protected] 3 is going to come in handy if Rudy is Snooty can gain a few more league points.  Returning Champ and Cram It's leagues feature a 101 and 102 LCI respectively.
Team Studer drops to 4th this week and Grey remains firmly planted in 5th overall.  Ralph is no longer right behind Grey though, that honor now goes to Gomes' Gnomes who moves from 7th to 6th.
Hollywood Knights move up 3 spots this week from 10th to 7th and Vottoman Empire returns to the top 10 after reclaiming the lead in DFSers Anonymous.  He and I are going to have a Grey/Ralph-esque battle for the league lead.
Grey is Bae jumps into 9th place this week after lurking in 14th last week and 20th the week before.  It's been a steady climb for the bot.  Humans, you have been warned.
Finally, 50 Shades of Jon Gray returns to the top 10 after a 2 week hiatus.
WEEKLY LEADERS
The best of the best from the week that was.
R – 73 – Cash Me Outside (Take on the Jay 2)
HR –21 – Make EdMujica Great Again (Straight Bestbuy Homie) & florida Cardinals (Show Me The malamoney)
RBIs – 70 – The Road Warrior (Von Hayes and Confused)
SB – 17 – Guys and Dahls (Super League) & Mookie Betts On This Team (Razzball Writers League)
AVG – .383 – Team Sullivan (Great Knocks 2)
K – 101 – TN Achilles (Take on the Jay)
W – 12 – AK FortySevens (Night of the Living Zombinos)
SV –  13 – Rudy is Snooty (Take on [email protected] 3) & Rudy is Booty (We're All Winners)
ERA (Min. 40 IP) – 0.66 – Team Burakoff (Prospector Ralph's Cavern) (in 40.2 IP)
WHIP (Min. 40 IP) – 0.66 – Puigs on the Wong (The Giant and the Jew) (in 41 IP)
I asked for someone to break ties, not create more!  No luck, this week we had Team Sullivan tie the weekly batting average record with a .383 line and we had Puigs on the Wong tie the WHIP record with a 0.66.  In the official record book I am still keeping team Frost as the record holder though, since they did it in 57.1 IP.  Still, it's a pretty nice accomplishment for Puigs on the Wong.
Team Burakoff crushed the weekly ERA record with their 0.66 this week.  J and G's previous record of 0.81 is no more.  Team Burakoff just snuck in under the 40 IP minimum as well.  Nicely done Burakoff, I wouldn't be at all surprised to see that record stand for the season.
TEAM OF THE WEEK
Our weekly shout out to the team that killed it the previous week.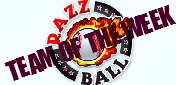 Team: Grey is Bae, Rudy is Snooty and Rudy is Booty
League: Sons of Beddict, Take On [email protected] 3 and We're All Winners
Stats:   
H/AB: 98/360, AVG: .272, R: 63, HR: 18, RBI: 59, SB: 4
IP: 97, ERA: 2.78, WHIP: 1.20, K: 70, W: 8, SV: 11
H/AB: 99/380, AVG: .261, R: 51, HR: 14, RBI: 51, SB: 4
IP: 96, ERA: 2.72, WHIP: 1.10, K: 93, W: 7, SV: 13
H/AB: 94/380, AVG: .247, R: 58, HR: 15, RBI: 47, SB: 5
IP: 62, ERA: 0.87, WHIP: 0.98, K: 59, W: 6, SV: 13
Summary:  In an unprecedented move, I'm naming three of the four RCL bots co-teams of the week this week.  I sorted the numbers and the bots came up 1,2,3 in the TOW standings, with about 40 of my fake points separating Grey is Bae (1) from Rudy is Booty (3).  It's interesting to note the different strategies that the bot's programmer has taken with each of these teams.  Grey is Bae started their draft with 5 offensive players (Goldy, CarGo, Odor, Posey and DJ LeMahieu) before going all RPs from that point forward.  Everything else has been streamed all year.  Meanwhile, Rudy is Snooty and Rudy is Booty both drafted Kershaw and Scherzer before turning to RPs and streaming their entire offense all season.  Even in-season strategy has been a bit different with Rudy is Snooty sitting at 162 GS compared to Rudy is Booty, who has been more choosy and has 122 GS.  If you want to feel bad about your team, look at what Rudy is Booty has compiled for pitching stats in just 122 GS; 86 Wins and minuscule ERA and WHIP are impressive feats.  They went sub one in ERA and WHIP this week thanks to streams of Charlie Morton, Colin McHugh, Blake Snell and a couple Max Scherzer starts.  With these different strategies being tossed around it's almost like the bots are testing theories and learning from the data.  Don't be surprised to see four bots deployed next season with a winning strategy to clobber the RCLs and promptly takeover the world.  You have been advised.
Want to be Matt's Twitter pal?  That's kinda creepy, but you can follow him here: @MattTruss