Happy trade deadline week RCLers.  This is the final week you have to trade for some steals, saves, power or help out those pitching ratios with a big time name.  It's at this point in the season that you can really see some overpaying going on. Giancarlo for Edwin Diaz? Possibly. Aaron Judge for Billy Hamilton?  It all depends on team needs and where the most points can be gained. Remember, there are no extra points for winning a category by 50. Take a look at the overall standings in your league and see where teams are bunched together.  If there's an opportunity to leap over multiple teams by taking a category by storm, make your move now. If you're in second place right now, make that move for first, play to win, go out and make it happen. The Razzball Commenter League trading deadline is Friday, August 10, at midnight (well, 11:59 PM EST technically).  I expect there will be a flurry of activity to break down for next week's update. For this week however, we have three trades to look at as well as a new overall leader. There were some big shake-ups in the top 10 and we have two weeks worth of data to sift through. Come read about all of this and more in the week that was, week 18 in the Razzball Commenter Leagues:
Each week we'll peek in at our resident 'perts to see who is laying claim to best "expert" RCLer in the land.  We'll take notes, check the standings and generally stalk them.  The heading is also hyperlink, so feel free to follow along as we go.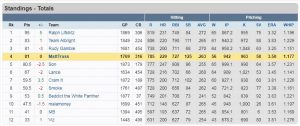 It would appear that me saying Grey was falling out of it last week lit a fire under our fearless leader.  MattTruss: Motivational Writer. Grey moved from fifth place to second thanks to gaining 11 points this past week.  That's a huge gain at this point in the season and just like that, Grey is right back in the mix. Grey led the 'Perts League in Runs, Wins, Saves, Strikeouts and WHIP this week.  Not a bad week. All Rudy, Son and I could do was watch as we all idled right around 80 league points. Ralph continued his slow climb back up towards triple digits. Since falling to a season low 92 points three weeks ago Ralph has gained a little each week and now sits at 95 points, 12 ahead of Mr. Albright.  I'm very curious if one of the four of us can make a run to catch Ralph before the season is out.
TOP 10
For those too lazy to check the MASTER STANDINGS, I present to you, the current top 10
There were some huge shake-ups this week in the top.  You'll remember we didn't really have a top 10 last week, but things seemed to be status quo.  Well, not this week. There appears to have been a shift in some of the League Competitive Indexes (LCIs) as some leagues falter thanks to waning interest in baseball (Be sure to check out all the Football goodness going on right now by the way!) and the cream of the crop raises to the top.  ECFBL and FCL jumped up to a 109 LCI this week, passing Cougs R Us and their 108. Several leagues dipped below 100 this week, hurting those that are leading those leagues.
1-800-BETTSOFF gained 4.5 league points this week to take over the top spot.  Keeping that 101 LCI will be big for BETTS.
The Road Warrior is taking advantage of a sub-par league with a 97 LCI, but 106.5 league points is nothing to sneeze at.
Next we have two ECFBLers back to back.  I heaped praise on Cougs R Us a few weeks back having two managers in the top 10 overall, and now we have a second set of leaguemates.  The 109 LCI in ECFBL is pushing these two up and interesting that the Cobblers is leading ECFBL but EvilEvies is leading in the Master Standings.
I'm not sure what got into RCL #44 these past few weeks, but they have bumped up to a 108 LCI and Lickety Splits is taking advantage, debuting in the top 10 at number six.
In fifth and seventh we have our Cougs R Us leaguemates putting on a show.  These high LCI leagues with close finishes are going to be fun to watch.
Team Mattheb9 had 95.5 league points two weeks ago, now sitting with 104.5 has them in eight overall.
Team KOechslin falls just one spot from two weeks ago to stick in the top 10 and Living the Dream rounds things out.
TRADES
All the trades that have gone down in the past week.  Public ridicule is not only allowed, but encouraged.
Not much doing for trades this week, but if I missed one in your league, do tell.
Hoskins for Merrifield is all about team needs, but I'm a sucker for power.
Good on NtD for getting out on Knebel while he still had some value.
I told you I was a sucker for power.  I'm falling behind in HRs in DFSers and have SBs to burn.  Go Carpenter go!
WEEKLY LEADERS
The best of the best from the week that was.
R – 110 – kumamoto gesticulators (RCL 2018 (#27)) & Team GaryAce (RCL 2018 (#6))
HR –44 – this ain't no disco (RCL 2018 (#66)) & PhilB (Razzball Writers League)
RBIs – 113 – Team Shoopy (RCL 2018 (#73))
SB – 23 – Busan Benchwarmers (RCL 2018 (#5))
AVG – .331 – Texas Aardwolves (RCL 2018 (#67))
K – 152 – Knucks (Frequent Commenters League)
W – 13 – 4 Teams Tied
SV –  17 – 4 Teams Tied
ERA (Min. 40 IP) – 1.50 – Extra Crispy (Original Recipe 2018) (in 84 IP)
WHIP (Min. 40 IP) – 0.857– Extra Crispy (Original Recipe 2018)
Weekly leaders this week are a combination of the past two weeks of data.  These won't count towards the weekly records for the year, but are still noteworthy.  
Interesting that 2 weeks of Wins and Saves are so close to the weekly records of 14 Wins and 16 Saves.  
Extra Crispy had a heck of a couple weeks worth of pitching!
TEAM OF THE WEEK
Our weekly shout out to the team that killed it the previous week.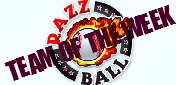 Team: Bag Stealn Wheelin Dealin Son Of A Guns
League: RCL 2018 (#45)
Stats:   AVG: .310, R: 105, HR: 37, RBI: 102, SB: 7
IP: 126.1, ERA: 3.13, WHIP: 1.148, K: 139, W: 11, SV: 12
Summary:  This name might look familiar, that's because this manager has 5 RCL teams, each with the same team name and a different one was TOW 2 updates ago.  That's pretty awesome. Of the SOGs 5 teams, 3 are currently leading their leagues and another is in 4th. We won't talk too much about the other, we all have a team like that.  I'll point out these appear to all be money leagues as well, so the SOGs should be looking pretty good come October. Perhaps a boba is in order!? Nicely done friend and keep up the good work!
Want to be Matt's Twitter pal?  That's kinda creepy, but you can follow him here: @MattTruss