Last year in the Razzball Commenter Leagues, ERAs were up across the board.  A 3.50 may have led your league. I'm not sure if the change in format has had an effect on the way managers are attacking their pitching or if this is a baseball result, but the ERAs seem better this season.  Last year we had the juiced balls, maybe this year they toned it down a bit, who knows, but let's compare the past few seasons of RCLs with this year. Last year the average ERA for the RCLs was 3.87. The year before that the average ERA was 3.71.  That's a pretty significant bump. This year, we're heading in the other direction with a 3.60 average ERA thus far. Now, we still have the hot, humid summer months left to go, but early trends show a decrease in offense. It tickles me a little that everyone is hot and heavy for launch angle and exit velocity only to see offense decrease.  I'll be curious to see if this trend continues and if it leads to hitters returning to the old notion of hitting line drives and manufacturing runs. Maybe this is just pitchers combatting launch angle with elevated fastballs and other strategies. It's interesting nonetheless, and facts you should know for RCL success. Let's check out more RCL facts from the week that was, week 11:
Each week we'll peek in at our resident 'perts to see who is laying claim to best "expert" RCLer in the land.  We'll take notes, check the standings and generally stalk them.  The heading is also hyperlink, so feel free to follow along as we go.
Ralph held serve in the 'Perts League for another week.  That's been the status quo since week 3. It's now a 15.5 point lead over the closest competition, Mr. Albright.  Grey managed to gain 2 points on Ralph this week, but clearly still has a long ways to go. Grey did manage to hit more dingers than any other RCL team this week, cranking 23.  That put Grey into a tie with Ralph with 145 HRs on the year.
The battle for second is a little more interesting with 15 points separating Grey from 7th place (Me).  Grey has pulled away a little this week with 10 points now between him and Son but it seems like all these spots are in flux week to week.
Rudy was the week's biggest point gainer, adding 6 points this week.  Lance and Tehol moved up the most spots in the standings this week, each moving up two places, Lance into a tie for 4th and Tehol into a tie for 10th.
The biggest loser this week was Malamoney who dropped 6 points.  However, it was yours truly who lost the most standings spots, dropping three places down to 7th.
TOP 10
For those too lazy to check the MASTER STANDINGS, I present to you, the current top 10
Some Salvy For My Knee retains the top spot in the RCLs for another week.  That 106 LCI is looming large.
Los Beisbolcats and I (Starfish & Coffee) each move up a spot as The Road Warrior fell from 2nd to 4th this week.
Stl Squat Cobblers and Templeton Shoots The Bird swap spots this week, ending in 5th and 6th respectively.
Retro Vertigo gained 10.5 points this week and becomes the second team from ECFBL in the top 10.  If ECFBL gets that LCI up to 106, Some Salvy could have some trouble at the top.
1-800-BETTSOFF and LauraHolt both drop a spot in the top 10 to make room for the aforementioned Retro Vertigo.
Rounding out the top 10 is The Great Knoche, who jumps up from 15th last week.  Nice work Knoche!
TRADES
All the trades that have gone down in the past week.  Public ridicule is not only allowed, but encouraged.
There was a lot of action this week with six total trades.
I think I'd take the bats (Donaldson & Alonso) in the trade for Greinke and Devenski, but could see that deal going either way.
Don't Wake Daddy (Nick the Dick) and Johnny Utahs had led ECFBL in Saves and Steals respectively for 3 weeks running, so this was a match made in heaven.
With the uncertainty in the Houston 9th, I prefer Soroka to Rondon.
Sale hasn't looked quite himself this year, but if he turns it around, this could be a great deal for Pete Brownings Bats, nabbing a free closer.
I had an abundance of OFs in the Writers league and I'm pretty behind on my IP.  Corbin proceeded to give me a 6 IP, 5 ER turd in his first start for my team, so that's nice.
Finally, Autodrafting Like A Boss continues to show us how to make the best of a FanTrax autodrafting situation, this time picking up Franky Lindor.  Excellent.
WEEKLY LEADERS
The best of the best from the week that was.
R – 56 – foul balls (RCL 2018 (#21)) & Stop and Smell the Rosarios (RCL 2018 (#40))
HR –23 – Team Albright ('Perty Perts)
RBIs – 62 – MCC (RCL 2018 (#39))
SB – 13 – Team tyedyedrebels (RCL 2018 (#8))
AVG – .338 – Team thelongspring (RCL 2018 (#7)) & The Wu Dynasty (RCL 2018 (#23))
K – 94 – Vin (DFSers Anonymous)
W – 8 – Moneyball (RCL 2018 (#59))
SV –  13 – Even The Losers Get Lucky Sometimes (RCL 2018 (#10)), BloodyMouthFingers (Crab Army) & Vin Z. Wins (RCL 2018 (#12))
ERA (Min. 40 IP) – 1.20 – Moneyball (Night of the Living Zombinos) (in 45 IP)
WHIP (Min. 40 IP) – 0.733 – Moneyball (Night of the Living Zombinos)
Grey made the list!  I know I get a little giddy when I make a weekly leaderboard, so kudos to Grey for the big power week.  Nice of Marcell Ozuna to finally show up for the season!
We had a tie in batting average this week which seems completely improbable, but, there it is.
We also had a three way tie for the saves lead, which leads to a now four way tie for the weekly saves record.  Even The Losers has actually hit the 13 saves mark twice now, pretty impressive. This loser has now gotten lucky twice!
I'm not sure if the two Moneyball teams are managed by the same player, but the pitching was pretty impressive this week.
TEAM OF THE WEEK
Our weekly shout out to the team that killed it the previous week.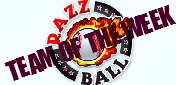 Team: Vin
League: DFSers Anonymous
Stats:   AVG: .248, R: 46, HR: 13, RBI: 34, SB: 6
IP: 93.1, ERA: 3.57, WHIP: 1.157, K: 94, W: 5, SV: 7
Summary:  Vin overwhelmed the numbers with pitching this week, but that's OK.  The offense wasn't completely anemic and hey, the formula is the formula, so TOW it is for Vin!  What's especially cool about this team is Vin took this squad over when an owner bailed on us back in early May.  At the time the team was in shambles and sitting in dead last. Thanks to Vin's fine management, the team is now up to a respectable 6th place and just made TOW.  Not too shabby. The team was way behind on IP, but has caught up now and may actually be a bit over pace. If Vin can grab some offense he'll be looking really good.  From trash to treasure, well done Vin!
Want to be Matt's Twitter pal?  That's kinda creepy, but you can follow him here: @MattTruss