We are not the only option for a premium season-long and/or DFS fantasy baseball subscription.
But no site comes close to offering the bang-for-the-buck of Razzball.
Why?
Because we have a maniacal focus. We believe the #1 reason to get a premium fantasy baseball subscription is so someone mathier than you can crunch all the numbers and give you quality MLB projections via easy-to-use fantasy baseball tools so you can make quick, informed decisions. Whether you play in daily 'first come first serve' leagues, weekly FAAB leagues, or DFS we have you covered. (And if you play season-long and DFS, you're double covered)
We know it's nice sometimes to read premium content/advice. While we offer all our content (and answer all team-specific comments in our posts) for free on this site, there are some great analysts out there behind paywalls. If you get value from that premium content/advice, subscribe to those site(s). Just subscribe as a complement vs as a substitute to your Razzball subscription.
You will not find a block of user testimonials on this page because our subscribers are too smart to share their competitive edge. You will have to trust us that our subscribers range from NFBC champions to other writers/podcasters to the guy who beat you last year in your league. (We have won three ToutWars titles since 2017 if that helps.)
Below is the rare user testimonial we can share as the two authors (Jeff Zimmerman and Tanner Bell) were paid to spill the beans on all their fantasy baseball draft/secrets for their 2020 version of The Process.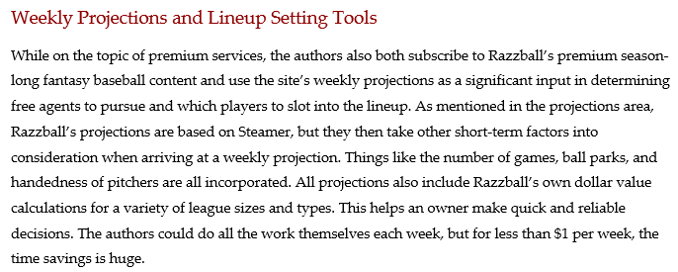 Here are some reasons why our tools are so good:
1) Quality – The foundation of daily projections are reliable Rest of Season Projections that properly weigh a player's major and minor league performance over the past several years. We have a long-standing partnership with Steamer Projections – one of the most respected MLB projection methodologies. These 'base' player projections are updated every single day during the season and include every single player on active MLB rosters. We then make daily adjustments to the data that are based on years of rigorous testing/regressions and update throughout the day as lineups post.
2) Transparency – We have extensive FAQ documents on our tools (see Streamonator, Hittertron, and DFSBot). For DFS, we provide all the underlying projected stats vs just a 'black box' point projection. We test our DFS Point projections – as well as various underlying stats like HRs, K's, etc. – on a daily basis and publish it on our Ombotsman page. Our projection partner (Steamer) allows their projections to be used in any/all third-party MLB projection tests. If you have any questions, our stat man (Rudy Gamble) will answer them in the comment section of the tools, via e-mail ([email protected]) or Twitter (@rudygamble).
3) Easy to Use Tools – Our fantasy baseball tools are driven by a powerful data table that allows you to filter multiple columns at once. Find the top pitchers in the next 7 days owned in less than 80% of leagues in seconds. You can always download into a CSV or Excel. For DFS, our Stackonator lets you analyze various teams stacks easily and we have a top-of-the-line lineup optimizer powered by DailyFantasyCafe.com.
4) Our Love of Roto – All daily fantasy baseball projections include a 5×5 mixed-league dollar value. We leverage our super-competitive 12-team MLB Razzball Commenter Leagues to provide a reliable estimate on the percent of leagues a player is owned. We provide weekly projections on the Friday before the following week so you have 3 full days to get ready for FAAB. For DFS players, you benefit in a number of ways that you will grow to appreciate such as a reliable estimate that a player will be in the starting lineup and the assurance that our huge season-long reader base will police us if we are missing a projections for a new call-up or DL activation.
The tools are accessible from all major internet devices (PC/Mac, Android + iOS phones/tablets) and are available to purchase by the month or for the full season.
(Note: All Roto Deluxe/DFS Premium season-long plans bought before Opening Day come w/ free access to Rudy's draft rooms for Snake Drafts, Auctions, and Best Balls. This will launch by mid-January at the latest Click here to see videos).
Ad-Free
You can only choose one level from this group.
Ad Free Membership (365 days - no Roto/DFS tools included))
$9.99 every 365 Days.
MLB Tools Subscriptions
You can only choose one level from this group.
MLB Roto Deluxe Daily (Season)
$24.99 now.
Membership expires on October 10, 2024.
MLB Roto Deluxe Daily (Season) w/ Ad Free
$32.98 now.
Membership expires on October 10, 2024.
MLB Roto Deluxe Daily/Weekly w/ Ad Free (Season)
$49.98 now.
Membership expires on October 10, 2024.
DFS Premium (Season) w/ Ad Free
$149.98 now.
Membership expires on November 5, 2024.
Gift Cards
You can only choose one level from this group.
Razzball Roto Deluxe Daily Gift Card
$32.98 now.
Membership expires on October 10, 2024.
Razzball Roto Deluxe Daily/Weekly Gift Card
$49.98 now.
The below grid lists all the tools available in the two packages. Please see the 'More Info' column for links that go into exhaustive detail on each of the tools. We also have some exciting enhancements in the works so stay tuned!
| Tool | What is it? | Roto Deluxe Daily | Roto Deluxe Daily/Weekly | DFS Premium | More Info |
| --- | --- | --- | --- | --- | --- |
| Streamonator | Daily and Weekly Starting Pitcher projections & dollar values | Y (3 days) | Y (7 days) | Y (7 days) | FAQ |
| Hittertron | Daily and Weekly Hitter projections & dollar values. Updated throughout day to reflect posted lineups. | Y (3 days) | Y (7 days) | Y (7 days) | FAQ |
| Relievonator | *NEW* Daily and Weekly Reliever projections & dollar values | Y (2 days) | Y (2 days) | Y (2 days) | TBD |
| Weekly Hitter Planner | Provides park and opposing pitcher factors for a team's upcoming next 7-10 games, shows RHP v LHP games, top streaming plays for the week, etc. | N | Y | Y | Post |
| Weekly Pitcher Planner | A rolling 10 day MLB Schedule + Probable Pitcher grid with projected roto $ values. 2 start pitchers for the next week. Top 10 streaming candidates for the week. | N | Y | Y | Post |
| Prospectonator | Projections and $ values for the top 1000 minor league hitters and pitchers based on their projected value if they were to start playing in MLB today. | Y | Y | Y | Post |
| DFSBot | Projected DFS points for hitters and pitchers, $/point calculations, and Upside $/point calculations (for GPPs) for DraftKings, FanDuel, FantasyDraft, Yahoo and FantasyFeud. Updated throughout today to reflect posted lineups. | N | N | Y | FAQ |
| Stackonator | Projected DFS points for top DraftKings and FanDuel stacking options. Includes 2/3/4/5/6/4×2/4×3 stack options for DraftKings and 2/3/4/4×2/4×3 stack options for FanDuel. | N | N | Y | FAQ |
| Teamonator | Projected runs per team per game for the next 7-10 days, per game. Projected Home/Road 'Money lines'. $/pt per team on DraftKings, FanDuel, and Yahoo. | N | N | Y | FAQ |
| DFS Lineup Optimizer (powered by Sabersim) | Advanced optimizer in DFS offering team stacks, player stacks, individual exposure, bulk uploads for DraftKings, FanDuel & Yahoo. | N | N | Y | FAQ |
Maintained by
Rudy Gamble (

[email protected]

)