It's week eight here in the Razzball Commenter Leagues and now is the time to really take a look at your teams and see where they stand in relation to the other teams in your league in each roto category.  Way behind in runs?  Maybe now is the time to swing a deal for Tommy Edman.  Maybe Willson Contreras is more in your price range.  I picked him up off waivers in one league recently.  Hitting second for the Cubbies is a prime spot and getting those counting stats from your catcher is clutch.  Maybe you're in need of wins, try and pry a Michael King away from whoever rosters him and get those sweet vulture wins.  Address the need now before it's too late.
To make you feel worse about your teams, VinWins went through all the current stat leaders and provided a little commentary about each team.  For your perusing pleasure:
Runs: Son (PERTS) leads with 425
Homeruns: NoUseForAName (FCL) 118 – Grimey's team hit 18 homers last week to take over the lead and added another 17 this week. Aaron Judge (21), Byron Buxton (12), Vlad Guerrero (12), Willy Adames (9), Trevor Story (9), and George Springer (10) have powered him up the standings. And don't forget Jarred Kelenic added 3 more to the total. Currently in 1st place with 84 points.
RBIs: razzkai (RCL 23) topped all teams with 422 RBI. Their first 3 picks, Jose Ramirez (53), Mookie Betts (39), and Trevor Story (40) lead the way.
Steals: JerrySnuggleton (RCL 22) leads with 71 stolen bases for the year. 23rd round pick Julio Rodriguez is setting the pace.  They are currently in 5th place in RCL 22 with 73 points
Batting Average: Reilly81 (RCL 35) has hit .280, paced by the Red Sox trio of J.D. Martinez (.353), Rafael Devers (.341), and Xander Bogaerts (.323).
Wins: C.A. James' (PERTS) 44 wins all come from drafted starters, as no moves have been made.  
Walker Buehler 6, Sandy Alcantara 6, Max Fried 5, Max Scherzer 5, Logan Webb 5, Framber Valdez 6, Zac Gallen 4, Luis Severino 4, Julio Urias 3
Yes, a team that has made no moves is beating you in Wins…Wins are silly.
Strikeouts: Deb, The Toast of Iceland (RCL 43)  has 622 Ks in 586.1 IP. 
Saves: AllRice (RCL 42) tops all RCLs with 59 Saves. They drafted 3 closers in the first 11 rounds –  Josh Hader  (4th),  Ryan Pressly  (8th), and Taylor Rogers (11th). David Bednar was added in Round 21. They picked up Clay Holmes April 16th, but dropped him on April 18th. AllRice also leads with a .974 WHIP and are 2nd in ERA at 2.40. They are currently 2nd with 87.5 points.
ERA: PtownAndDown (RCL 25) currently leads with a 2.37 in 428.1 IP.  Their pitcher breakdown can be seen RIGHT HERE.
Thanks, Vin!  Vin cranks out so many great numbers for the RCLs, make sure to sing his praises in the comments.  We're like Batman and Robin over here, but the good one, from the 60s.
Each week we'll peek in at our resident 'perts to see who is laying claim to best "expert" RCLer in the land.  We'll take notes, check the standings and generally stalk them.  The heading is also hyperlink, so feel free to follow along as we go.
You know when you have that itch in the middle of your back that you can't quite reach?  That's what it's like having Son in your league.  I've got 107 league points and I can't shake this guy as he gained five points this week (tied for most in the league) and sits right there at 106.  There were times on Sunday I was in second with 106.5 but this is how things finally settled out.  Tommy Edman can chill out any time now, thanks.  CA James was the other 'Perts leaguer to gain five points this week as CA led the league in IP and strikeouts and did so with a nice 3.11 ERA and a sub 1 WHIP.  Still, Son led the league with six wins.  Grey was the biggest gainer in the standings this week, moving up three places to fourth, a season-high for him.  Grey gained four points thanks to leading the league in Runs, HRs, and RBIs.
Going the other way was Malamoney, who lost 5.5 points this week and fell to ninth, and Cram It who lost two points but fell two places down to seventh.
Each week we'll also take a look at the top ten overall standings in our other Razzball sponsored league, the RazzSlam.  This is our NFBC Best Ball league with managers from all across the industry, from content providers to fans and readers just like you.
This week in the "everyone is chasing Clark Olson cup", it was a big week for team Razzball.  Zach Nelson aka Barrelman continued their hot streak and landed in second, Nate Marcum finished the week in seventh, and JKJ got back in the top ten overall to round us out.  Well done, Razzbois.
Friend of the show, Rob Sherwood had the most points this week with 729, moving him up 37 places to 33rd overall.  The biggest jump in standings belongs to Derek Simon who rode 708 points to a 65 spot jump, moving him to 74th overall.
Make sure you remember to set your FAAB bids ASAP!  The second (and FINAL) round runs tomorrow evening at 10 ET or so.
TOP 10
For those too lazy to check the MASTER STANDINGS, I present to you, the current top 10
The top two spots remain unchanged but Son has now cozied up to my two squads and is trying to come between us.
Tberkman had a nice week to jump from ninth to fourth and Scoboticus is right behind them moving from eighth to fifth.
Stechsjj fell from third to sixth this week, just ahead of FFB, who remains in seventh.
DonkeyCorns and Longballers each also tumbled this week falling from fourth and sixth to eighth and ninth, respectively.
Jersey Pine rounds us out, jumping up from 12th last week to claim a spot in the top ten.
TRADES
All the trades that have gone down in the past week.  Public ridicule is not only allowed, but encouraged.
Four deals this week, and wow, that is quite a haul for Scherzer!  Given his health, I'm taking that deal all day long, well done by Homefree!
WEEKLY LEADERS
The best of the best from the week that was.
R – 72 – jbmcgavock (RCL 2022 (#11))
HR –23 – jbmcgavock (RCL 2022 (#11)) & Bartilotta (Writers League)
RBIs – 70 – Vin Jumps In (RCL 2022 (#6))
SB – 15 – JerrySnuggleton (RCL 2022 (#22))
AVG – .328 – Turd Wendell (RCL 2022 (#10))
K – 96 – Satchel Rages (NOTLZ) & Rube Waddell's Shiny Objects (RCL 2022 (#35))
W – 8 – 4 Teams Tied
SV –  10 – Greetings from the Humungus (RCL 2022 (#9))
ERA (Min. 40 IP) – 1.03 – DFresh (NOTLZ) (in 61 IP)
WHIP (Min. 40 IP) – 0.679 – Legalize Steroids (RCL 2022 (#17)) (in 45.2 IP)
Jbmcgavock set a new weekly record with a whopping 72 Runs, beating the previous mark by five.
Vin saw he was close on Sunday morning and grabbed as many RBI bats as he could to try and lead the week…mission accomplished!  Vin also tied the weekly mark causing a three-way tie at 70 RBIs.
TEAM OF THE WEEK
Our weekly shout out to the team that killed it the previous week.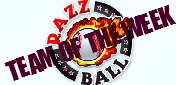 Team: DFresh
League: Night of the Living Zombinos
Stats:   AVG: .292, R: 58, HR: 19, RBI: 57, SB: 8
IP: 61, ERA: 1.03, WHIP: 0.918, K: 54, W: 6, SV: 2
Summary: What a week from DFresh!  This is what TOW is all about, just trouncing the competition across every category.  You want it, DFresh had it this week.  If we want to quibble, the K/9 is a bit low, but no one likes a quibbler.  The bigger question is how are there only 6 wins here?  Nestor Cortes, MacKenzie Gore, Joe Musgrove, Jordan Montgomery, and Sean Manaea paced the pitching staff.  Interesting strategy just collecting NYY and SD starters.  The offense was fueled by Coors this week as Brendan Rodgers and Matt Olson did the bulk of the damage.  The big week moved DFresh up from eighth to fourth in the uber-competitive NOTLZ.  Nice work, DFresh!
Want to be Matt's Twitter pal?  That's kinda creepy, but you can follow him here: @MattTruss