Five weeks are now in the books.  With twenty to go, quick math tells us we are ? of the way through our season.  To those ahead in your Razzball Commenter Leagues, that might be exciting, but to those at the bottom of the barrel, that could be unwelcome news.  Is it possible you've already accumulated ? of your final stats for the season?  As someone with a lot of Mets on their teams, this doesn't feel right.  This is the time of year when I like to take a peak at what players are killing your Razzball Commenter League teams and what players are boosting your team up the standings.  Our previous RCL Updater, VinWins has already done this work for me, because us Updaters stick together.  After the jump will be a fancy table showing every player drafted in the first round of the Razzball Commenter Leagues (yes, even J.T. Realmuto) and where they rank currently on the Razzball Player Rater.  Spoiler: Drafting Ronald Acuna Jr. has been pretty great.  Let's take a look at which first rounders are tanking your teams, a flurry of trade activity and all kinds of numbers for the week that was, week 5:
For the most part, the first round hasn't been too bad.  Mike Trout is scoffing at all of us for drafting him as the near-consensus fifth overall pick and drafting Yelich and Bellinger has been brutal.  Congrats if you're hanging on while drafting either of those two.  Acuna is just doing what he does, being the best player in baseball.  Something important this chart shows us though, is just how fast a player can return value.  Take a look at Tatis; ranked 483 at the end of April, he's now a top 20, just like that.  Bo Bichette is the biggest surprise to me on this list, I didn't expect him to rake like this already.  What surprises you here?  Maybe Mookie and Lindor getting comfy with those fat contracts?  Once again, big thanks to VinWins for creating the chart and having fun crunching numbers, even in his retirement.
Each week we'll peek in at our resident 'perts to see who is laying claim to best "expert" RCLer in the land.  We'll take notes, check the standings and generally stalk them.  The heading is also hyperlink, so feel free to follow along as we go.
Son held onto the top spot for another week despite losing 8.5 points and Coolwhip charging up the standings with a 14 point gain.  Coolwhip had a heck of week and made the biggest points gain of anyone in the league, bringing it within 3 points for the lead.  Could we see a new leader next week?  Coolwhip led the league in Runs, RBIs and strikeouts, we'll see if his team can stay hot.
Laura made the biggest leap in the standings this week, jumping up four places to fifth.  Laura led the league in HRs, SBs and Wins.  It's a huge cluster in the middle right now with only 10 points separating third from ninth.  We're all just fighting over the crumbs left by Son and Coolwhip.
On the negative side of things we had Grey and Blair.  Grey dropped the most in the standings this week, slipping three places to ninth, despite only losing a half a point on the week.  See: cluster.  Meanwhile, Blair was our biggest points loser with a 15.5 point drop.  I think Coolwhip stole all Blair's points, that's not very nice.
Each week we'll also take a look at the top ten overall standings in our other Razzball sponsored league, the RazzSlam.  This is our NFBC Best Ball league with managers from all across the industry, from content providers to fans and readers just like you.
There's a new leader in the clubhouse as Nicholas Mariano takes over first place in the RazzSlam.  Last week's leader, Sammy Reid fell to third as Joseph Bond continued their steady climb up the standings, landing in second.
Our week three leader, Brian Seymour sits in fourth this week and Yatta has moved into fifth overall.
Coolwhip is still doing his part, holding down sixth overall for #TeamRazzball.
Ryan Owen and Joseph Asher made their debuts in the top ten this week while Ellis Canady hangs around the top ten as they have for the past three weeks.  Yancy Eaton rounds things out for us in week five.
TOP 10
For those too lazy to check the MASTER STANDINGS, I present to you, the current top 10
Son is still holding onto that top spot, but two new challengers have entered the area.  Johnny Utahs continued their hot streak, moving from tenth last week to second overall as they take DFSers by storm.  Coolwhip's strong week in 'Perts now has two team from that league in the top three overall.  We don't call it 'Perts for nothing!  These two pushed Laura down to fourth overall this week, but any of these teams can take a run at a suddenly vulnerable Son.
Team mpaltrow jumps up two spots this week as Mo Mohicans makes a move into the top ten, up from 13th last week.
Disgustipated and Vottoman Empire each moved up one spot this week, while Son snuck his second team back into the top ten, after falling to 11th last week.
Rounding us out is EvilEvies, who takes a tumble from third overall last week, to hang on to tenth.
TRADES
All the trades that have gone down in the past week.  Public ridicule is not only allowed, but encouraged.
Holy moly, the RCLs got busy with some trades this week!  Everyone must be getting antsy.
Tyler Glasnow continues to get moved around, this time for Pete Alonso, I like that move.  Plenty of closers got shuffled around and even some…maybe closers?  I already hinted at this in the comments yesterday, but Grey robbed JKJ here.  Diekman is maybe not even the guy in a weird committee of closer-chaos and he just landed a big bat, that's robbery.  By contrast, I traded a top bat for a closer this week and landed myself Aroldis Chapman, at least Chapman is THE GUY.  It looks like someone moved Franmil's dad for Aroldis Chapman in another league too.  I'm not saying Moncada would land you Chapman, but I'd at least be starting in that range and see what bites.
WEEKLY LEADERS
The best of the best from the week that was.
R – 63 – Disgustipated (RCL 2021 (#27))
HR –20 – Team Bartilotta (RCL 2021 (#22)) & VottomanEmpire (DFSers Anonymous)
RBIs – 62 – Trussell Shuffle (RCL 2021 (#25))
SB – 12 – Tbd (RCL 2021 (#23))
AVG – .314 – Rube Waddell's Shiny Objects (Frequent Commenters League)
K – 107 – Diamond Ringers (RCL 2021 (#14))
W – 9 – Accordion (RCL 2021 (#22))
SV –  12 – Vin Halen (RCL 2021 (#5))
ERA (Min. 40 IP) – 0.90 – GasDoc (Writers League) (in 50 IP)
WHIP (Min. 40 IP) – 0.637 – Green Monster Mashers (RCL 2021 (#11)) (in 59.2 IP)
We set new weekly marks in runs, strikeouts, saves and ERA this week.  Gotta love the sub 1.00 ERA in 50 IP, nice work GasDoc!  Vin loves his closers and while I didn't set any high marks, it was still nice to make the list twice.  We now have a four-way tie for the wins record.  Next week, our goal is to get a team to 10 wins, deal?
TEAM OF THE WEEK
Our weekly shout out to the team that killed it the previous week.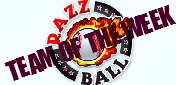 Team: Butterscotch
League: RCL 2021 (#22)
Stats:   AVG: .276, R: 50, HR: 15, RBI: 46, SB: 5
IP: 79, ERA: 2.28, WHIP: 0.873, K: 72, W: 8, SV: 2
Summary: Butterscotch was a real RCL redemption story this week.  Heading into week 5, they were in dead last in RCL #22, a mere 36.5 points to their name.  Then the bats of Miguel Rojas, Cedric Mullins, Adam Duvall and some fellas named Tatis came alive.  Pair that with the arms of Dallas Keuchel, Zack Wheeler, Dane Dunning and the illustrious Wade Miley and you have yourself a WEEK!  Butterscotch went sub 1.00 on the WHIP in 79 IP and nabbed eight wins.  That's almost as many wins as some of my teams have on the year.  All this earned Butterscotch 22 league points and moved them into seventh place.  Back from the dead and ready to compete.  Nice work Butterscotch, keep it up!
Want to be Matt's Twitter pal?  That's kinda creepy, but you can follow him here: @MattTruss