This week, I want to bring up a topic before it blows up my comment section like it seems to every season.  This is something veteran RCLers will recall (and likely will be utilizing) and you'll also be familiar with this concept if you play in Yahoo Pro Leagues or something similar.  The idea is that you can maximize your pitching counting stats by manipulating the day you go over your 1400 IP. In the ESPN days this was manipulating the day you went over the 180 GS limit by getting to 179 GA and then loading up 9 starters and hitting 188 GS.  The same thing applies here with the IP limit (and also in Yahoo leagues) in that on the day you go over the 1400 IP limit all of your pitching stats count for that day. So, let's say you work it so you get to 1398 IP, then you load up 9 starters the next day. If all 9 starters last 5 IP, you'd hit 1443 IP and thus gain an extra 43 IP of strikeouts and possibly earn an extra win or two along the way.  The risk is obvious. I have a hard enough time pulling one streamer out of the free agent pool that won't obliterate my ratios, never-mind nine! Unless you are holding a slim lead in the ratios that you don't want ruined, there's not much to lose in maxing out your stats though. So far we've had one manger take the shot. We'll take a look at how they made out and more from the week that was, week 24 below:
Our one brave manager so far is the Diamond Archers, of RCL #57, the same RCL as Fat Fuckin Babies.  The Archers maneuvered nine starters to a 50.0 IP, 49 K, 3 W, 2.88 ERA, 1.040 WHIP line.  That left the Archers with 1448.1 IP on the season. Was it worth it? I think so. They had to take the shot anyway, chasing one of the top teams in the RCLs is no easy feat.  Those ratios are golden for this type of day too. Typically we'll see a mid fours ERA when you toss out nine starters, in the threes is stupendous and under three is amazing. How they only came away with three wins is mystifying.  Oh yes, because wins are stupid. I'll be keeping an eye out for other teams that go all-in and will be curious what the best pitching line achieved is. If you go for it, let me know. I'll likely be attempting it in a few leagues in the final week.
Each week we'll peek in at our resident 'perts to see who is laying claim to best "expert" RCLer in the land.  We'll take notes, check the standings and generally stalk them.  The heading is also hyperlink, so feel free to follow along as we go.

Every time I gain some ground, Grey is there gaining just as much or more.  Grey's doing a fine job of hanging onto the top spot in the final few weeks.  His 2.5 points this week were the most in the league, edging me out by 0.5 points.  Grey led the league in Runs, Wins and ERA while I led in HRs, RBIs, Ks and WHIP. It's looking like a two man race here but Donkey Teeth has some innings to burn and could make some noise in strikeouts.  He's had some awful win luck in this league. Poor Donkey.
Malamoney and Kerry were the big losers this week, each dropping 4 points.  Hot Rod headed back to the basement this week though, getting passed by Tehol.  Ouch. Hot Rod, Cram It and Malamoney all dropped one spot in the standings.  
TOP 10
For those too lazy to check the MASTER STANDINGS, I present to you, the current top 10
Holy heck things are close at the top!  Backdoor Splitters lost some ground (3 points) in ECFBL but with that loss came a boost in League Competitive Index.  That LCI boost was enough to make up for the loss of points and keep the Splitter ahead by the slimmest of margins, just 0.1 points!  FFB is two points from a perfect run and if the ECFBL 108 LCI holds, it'll take a 119 or better to top the Splitters. It's going to be a fun final two weeks!
UpNorth holds onto third while Acuna Moncada flips places with Prague Defenestrators into fourth.
Kumamoto expungers remain in sixth but Backdoor Cutters now jumps into the top ten, up from 15th last week, giving Backdoor two teams in the top ten and three in the top twenty.  He's pretty good I'd say.
Orchids of Asia jumps back into the top ten in eighth place and Team mcafeeeee moves up one spot to ninth.
Rounding things out for us we have Squat Cobblers 2 falling two spots.
WEEKLY LEADERS
The best of the best from the week that was.
R – 75 – The Hippos (ECFBL)
HR –26 – 4 Teams Tied
RBIs – 72 – In a Ditch (RCL 2019 (#64))
SB – 15 – NY Sturgeon King (RCL 2019 (#12))
AVG – .331 – JBP (RCL 2019 (#13))
K – 118 – Team DFresh (RCL 2019 (#46))
W – 10 – Team wonderfulpantsuit (RCL 2019 (#53))
SV –  12 – 3 Teams Tied
ERA (Min. 40 IP) – 0.52 – Dong James Dong (RCL 2019 (#13)) (in 51.2 IP)
WHIP (Min. 40 IP) – 0.709 – ROTO OVERLORD (Frequent Commenters League) (in 67.2 IP)
No new records this week, but we came awful close in Runs, Steals, Wins and Saves.  We also had some awesome pitching performances which really stand out these days. I especially like it when teams on the ratio don't skimp on the IP.
TEAM OF THE WEEK
Our weekly shout out to the team that killed it the previous week.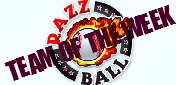 Team: Team DFresh
League: RCL 2019 (#46)
AVG: .261, R: 65, HR: 18, RBI: 52, SB: 3
IP: 93, ERA: 2.81, WHIP: 1.118, K: 118, W: 7, SV: 5
Summary: Speaking of not skimping on innings, Team DFresh makes their second appearance in the TOW column in as many weeks with two different squads!  Nice work!  DFresh has been working overtime on a couple teams to get them up to pace on IP and doing a marvelous job.  While I'm trying to get a couple teams up in IP and coming away with a 4+ ERA on the week, DFresh is rocking the high twos and you have to respect that K/9.  I'd like to see a little more offense out of a TOW but honestly, in the juiced ball era, these low ratio, high inning weeks really do stand out.  Trevor Bauer, Kyle Hendricks, Eduardo Rodriguez, Sean Manaea and Jacob deGrom were the driving forces behind a stellar week while Marcus Semien and Kyle Lewis pitched in on offense.  Keep it up DFresh!
Want to be Matt's Twitter pal?  That's kinda creepy, but you can follow him here: @MattTruss