Matthew Berry at ESPN is on a 'fantasy jihad' to make sure you don't pay for saves come draft day. No word on whether resisting this temptation will be paid off with 72 virgins.
While this is auction draft advice, I'm going to assume that Mr. Berry would recommend that snake drafters also eschew J.J. Putz for putzes like Joe Borowski and Todd Jones. Eric Karabell at ESPN has been consistent on this advice for several years now as well.
There is definitely merit to this position but does that mean drafting a top closer is meritless? Of course not.
Let's get on with the debunking…
Pundit View: "Saves come into the league." – i.e., you can pick up saves throughout the year via free agency as injuries and poor performance bring new closers into the mix.
Rudy Gamble View: Everyone in your league is on the lookout for closers on the FA wire – especially the owner of the soon-to-be-disposed closer. You can't bank on these saves.
Let's look at pitchers with 8+ saves from last year who were most likely not picked on 2007 draft day (similar to Matthew Berry's list except I added Al Reyes and left off Brett Myers who was drafted as a starter).
Kevin Gregg, 32 saves
Jeremy Accardo, 30
Al Reyes, 26
Manny Corpas, 19
Brad Hennessey, 19
Matt Capps, 18
Joakim Soria, 17
Alan Embree, 17
CJ Wilson, 12
Dan Wheeler, 11
Rafael Soriano, 9
Bob Howry, 8
Antonio Alfonseca, 8
This is a total of 226 saves available for grabs. Divide that by 10 teams in your league and you're talking about an average of about 23 saves per team. The average number of saves per team in a league is about 90 (think 30 MLB teams with 30 saves each).
Free agent closers are definitely a factor in determining final rankings in Saves and I highly recommend keeping an eye on closer situations throughout the league. If you've got a closer on the ropes, pick up his potential successor to be safe (commonly called handcuffing). But you can't bank on free agent closers to contribute more than 1/4 of your saves.
Thinking more broadly, there's an underlying assumption here that closers come into a league more than hitters – hence, it's a waste to draft closers ahead of offense.
Here' is a lineup of players that most likely weren't drafted in 10 team 5×5 MLB leagues on draft day 2007.
C Ronny Paulino
1B Carlos Pena
2B BJ Upton
SS Troy Tulowitzki
3B Ryan Braun
OF Chris Young
OF Shane Victorino
OF Corey Hart
OF Hunter Pence
OF Jack Cust
CI Ryan Garko
MI Kelly Johnson
UTIL Kevin Kouzmanoff
Bench Mark Reynolds
Bench Nate McLouth
Bench Matt Stairs
Some of these players are better than others. Most probably didn't have much competition when they were eventually picked up (again, assuming snake draft leagues where there is no bidding).
Moral of the story: every position and stat category 'comes into the league'. But closers/saves are the only position/stat that EVERYONE is keeping an eye on.
Pundit View: Top closers are a risky investment.
Rudy Gamble View: Top closers aren't that risky. They generally deliver within their drafted tier. The volatility in Wins and Saves means you shouldn't reach too far for one closer vs. another in the same tier.
Yes, I know. BJ Ryan in 2007.
But here's my top 10 closers going into 2007 and their eventual finish amongst closers in our 2007 Player Rater. and ESPN Player Rater:
1. Joe Nathan (3,3)
2. B.J. Ryan (n/a)
3. Francisco Rodriguez (4,5)
4. Mariano Rivera (13,12)
5. Billy Wagner (11,10)
6. Huston Street (18,21)
7. J.J. Putz (1,1)
8. Francisco Cordero (9,8)
9. Chad Cordero (27,15)
10. Trevor Hoffman (8,9)
So aside from BJ Ryan, there weren't really any disaster picks. Yes, Huston Street got injured again but he wasn't a complete disaster.
But this top 10 list only has 5 of the top 10 finishers. Here are the other 5 and their position on my draft board:
Takashi Saito (2,2) – ranked 11th
Jonathan Papelbon (5,4) – unranked only b/c he was set to start
Bobby Jenks (6,7) – ranked 12th
Jose Valverde (7,6) – ranked 20th
Jason Isringhausen (10,11) – ranked 17th
So assuming Papelbon would've been added if he was announced to close a little bit earlier, the only closers outside my top 15 rankings are Valverde or Izzy.
From a tier perspective, I'd say 3 of the 4 top tier relievers delivered (Nathan, K-Rod, Papelbon – yes, BJ Ryan – no). If you say the 2nd tier goes from Mariano to Jenks, 8 of 9 delivered (Street's 16 saves a disappointment). The 3rd tier of Lidge, Chris Ray, Fuentes, Gordon, Izzy, Gagne, Jones, and Valverde was a lot riskier as only 3 of this 8 could be considered a 'success'. The 4th tier gets ugly – for every Borowski, there is a Dempster or Torres or Benitez.
While there's an argument that it's a crapshoot where top closers will rank year-end, it seems clear that relying solely on 3rd or 4th tier closers makes it more likely you'll crap out.
Pundit View: Closers are less valuable because they only impact one category (saves).
Rudy Gamble View: Closers HAVE an impact across ERA, WHIP, and Strikeouts (even if less than Starters). The difference between a top closer and a low tier closer is larger than you think.
"Saves are saves", right? No. I'm not saying saves aren't sometimes worth sucking up garbage ERA/WHIP from the likes of Todd Jones or Joe Borowski. But it comes at a price…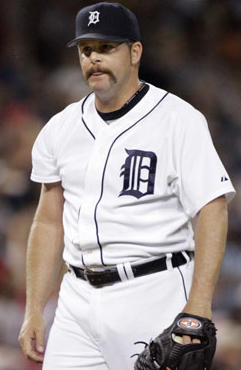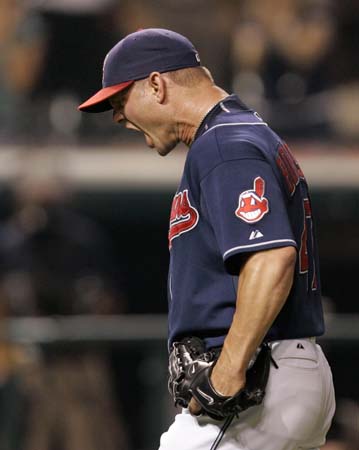 Based on our 2008 Point Shares, here are the differences between JJ Putz and Todd Jones for ERA, WHIP, and Strikeouts (ignoring Wins here since reliever win projections aren't very reliable):
ERA – Putz 0.6, Jones -1.1, Difference 1.7
WHIP – Putz 0.7, Jones -0.8, Difference 1.5
K – Putz -0.5, Jones -1.4, Difference 0.9
The total difference in ERA/WHIP/K b/w Putz and Jones is at 4.1 point shares. That's 4.1 points in the standings. To put that in perspective, it's the difference between Alfonso Soriano (3.48 point shares) and Nick Swisher (-0.49 point shares).
For those of you who prefer seeing stats vs. point shares, here are the results of swapping JJ Putz for Todd Jones on ERA/WHIP/K for a random team I chose from a MockDraftCentral.com mock draft:
(With Putz, With Jones)
ERA (3.83, 3.96)
WHIP (1.313, 1.339)
K (826, 782)
So here's my advice….
Top closers are worth paying for – at the right prices.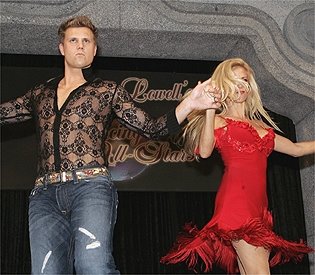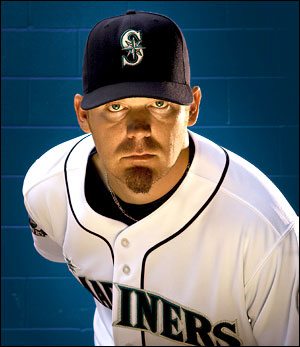 The top two going into this year are Papelbon (yeah, that's him dancing) and Putz. While their point shares rank them at #21 and #23, they are usually lasting to the 4th or 5th round in most drafts. If you can get either guy in the 4th round or later, it's good value.
I prefer waiting until these two go off the board and settling for Nathan or K-Rod. These two come in at #33 and #37 on Point Shares and waiting for the first two to come off the board ensures you don't jump too early on closers.
If a closer run happens soon after the top 2 come off the board, I'd recommend picking up anyone in the next tier (Rivera, Wagner, F. Cordero, Saito, Jenks) with your next pick. I know blogmate Grey prefers to start with one of these guys vs. a Nathan or K-Rod. I can't argue with it – this 2nd tier shows similar reliability. Just matters how much you value the peripherals like ERA/WHIP/Ks.
But I do feel that having at least one top two tier closer is essential to minimizing your chances of being caught at the bottom on Save points (FYI, I don't believe in punting any category unless you're in H2H. There is too much margin for error in player statistics to think you will make it up in other categories to make this a reliable gambit. Possible, yes. Bankable, no.)
I'd then be looking for a 2nd or 3rd tier closer and 3rd or 4th tier closer so that you've got 3 closers going into the season. If there are still closers on the board after, say, the 15th round or so, just start grabbing them. You can either hope they reward the risk or look to trade them – one rule of closers is that it's the only position where even the mediocre players have trade value (who'll get more on a trade – Chad Cordero or Orlando Cabrera?).
The only time I'd change from this strategy is MAYBE if you're playing in a novice league. But if that's the case, you might as well just stick to ESPN for fantasy baseball advice.