Any of you who play in Yahoo! leagues have been frustrated by the fact that players like Johnny Cueto and Alexei Ramirez took FOREVER to become available on the Yahoo! FA/waiver wire.
Below is an explanation from Brad Evans' mailbag on the situation. I've posted it below to spare you from reading the rest of his tripe.
For the record, Razzball disagrees with their policy. If it were up to us, every player on AA and AAA rosters would be available. Prior to rosters being set, it would be everyone invited to spring training. There is no reason why Johnny Cueto shouldn't have been available to be drafted if he was on the Reds active roster at the time.
It's pissing us off more in our Razzball league since there are a whole lot more crappy players being added to MLB rosters throughout the year than good ones.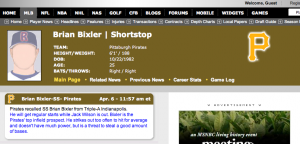 Pittsburgh just called up a math major from the University of Pitt who is going to fill the size 6 shoes of Jack Wilson for the next two weeks. You know when Rotoworld.com shows a faceless pic that you've got a great Razzball prospect!
But he probably won't show up in Yahoo! for another f***in' week. Thanks a lot Yahoo…thanks for nothing!
Anyway, here's the mailbag entry and explanation:
What is the procedure for people being added to the Yahoo! player pool? It seems like it is almost a random assignment based on the whims or someone or opinions on who is going to make the team. For example, Longoria/Rasmus/ Bruce are all in without having had an at-bat, but pitchers like Cueto are not. What gives?– Matt, Chicago

Noise: Many devoted Yahoo! players probably think the people in charge of player pool assignments look like this. But in reality, we're a hard-working team who has made a concerted effort to be more consistent with player additions this year. Longoria, Rasmus and Bruce were available because they made the initial overall rankings cut. Unfortunately, guys like Johnny Cueto and Alexei Ramirez, who were barely blips on the radar when the list was compiled in January, didn't make the original cut. Deciding not to force Cueto/Ramirez through the system manually, we delayed their availability until rosters were finalized on March 29.

Instead of throwing players into the free agent pool at random times this season, premiere prospects (e.g. Clayton Kershaw) won't be added until they are officially promoted to the bigs. We will advertise the availability of bigger names throughout the season in our columns and in the Y! Fantasy Blog once they enter the system.

Oh, and if you haven't already noticed, Ramirez clears waivers on Apr. 3 and Cueto Apr. 4. Personally, if I had a high wavier priority, I would hold onto it for Kershaw. Eventually, he'll baffle hitters with his wicked 12-to-6 curve probably sometime in June.