I was born and raised in Los Angeles, so the Doyers, not the Los Angeles Angels of Anaheim, are my team. My first memories were of Fernandomania. What a glorious time it was. Ever since then, it's been the pitchers that have captivated my attention. From Orel Hershiser to a young Pedro Martinez. NOOOOOOOOOOOO! For Delino DeShields! I digress. The Hideo Nomo no-no in Coors. Eric Gagne and his roids running out from the bullpen to "Welcome to the Jungle." Man, we would all get so freaking amped. For much of my adult life, though, it's been about Clayton Kershaw. From 2009 to 2017, Kershaw had one of the most dominant stretches ever for a starting pitcher. In 1827.1 innings, Kershaw struck out 2020 batters. In the history of the game, only Chris Sale's 2007 strikeouts in 1629.2 innings is better. Coincidentally, we are mired in a most unforgettable year of 2020. Is it time to move on from Kershaw for fantasy? Especially since he's being drafted as the 10th pitcher off the board and 37.53 overall player in NFBC drafts from 6/1 to 7/12?
We've known the fastball velocity has been declining for years now, but man….90.5 mph last season isn't good. Yet, the brilliance that is Kershaw still managed a 9.54 K/9, 2.07 BB/9 and 3.5 xFIP. Amazing. Most impressive was the 12.9% swinging strike rate.
How'd he do it?
A change in pitch mix and location. When Kershaw had more velocity on his fastball, his fastball, slider, and curveball were all potent pitches, with the slider and curveball his main putaway options. In 2018, though, when the average fastball velocity decreased to under 93 mph for the first time in his career, plummeting to 91.4 mph, the slider garnered a whiff percentage of a measly 25.9%. That number was often in the 40%+ range. Kershaw got scared of throwing his fastball due to the decrease in velocity. 2016 was the first time the fastball usage dipped below 50%. In 2017, that number was at 46.5%. In 2018, it culminated in a career-low 42.1% usage. Last season, though, Kershaw ramped up the fastball usage 1.8%, which helped the whiff percentage for both the fastball and slider.
Location of his pitches also changed. Kershaw is now throwing more pitches off-the-plate: down-and-in to righties and low-and-away to lefties. There are fewer pitches inside the strike zone, while off-the-plate frequency has increased. In addition, up-in-the-zone usage has decreased.
On the left shows the pitches and location from 2008 to 2018. On the right is from last season.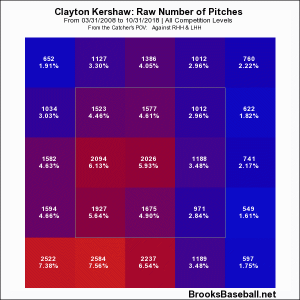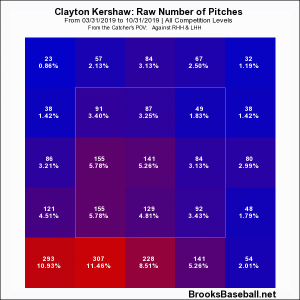 Last season was also a tale of two halves for Kershaw.
| | K/9 | BB/9 | HR/9 | BABIP | LOB% | FIP |
| --- | --- | --- | --- | --- | --- | --- |
| 1st Half | 8.27 | 1.45 | 1.18 | .278 | 78.3 | 3.6 |
| 2nd Half | 11.12 | 2.84 | 1.7 | .239 | 91.9% | 4.18 |
His career LOB% is 79.4% while the BABIP is .270. The inflated second half makes his 2019 numbers look much better.
Steamer has Kershaw projected for 75 innings, 8.67 K/9, 2.05 BB/9, and a 3.85 FIP. Those are good numbers but are they top 10 pitcher worthy? There's something for safety and floor, but the upside is lacking for someone being drafted as one of the elites.
VERDICT
As much as it pains me to do it…..