While we at Razzball are content toiling within the modest confines of fantasy baseball blogdom, we occasionally like to flex our journalistic muscles and take on a challenging interview.
Our interview subject is the one and only Rickey Henderson.
Rudy:  The Hall of Fame nominations are coming up and it's predicted you'll be a near unanimous pick.  What will it mean to you to make the Hall of Fame?
Rickey:  It's an honor but, really, Rickey just loved to play baseball.  If I was that anxious to make the Hall of Fame, I wouldn't have come back to play for the Red Sox in 2002. Or the Dodgers in 2003.  Or the Newark Bears in 2004.  Or the San Diego Surf Dawgs in 2005.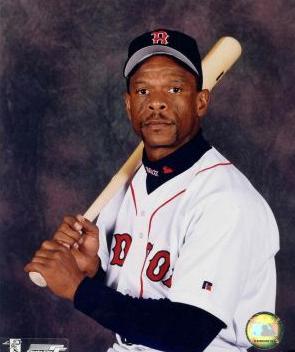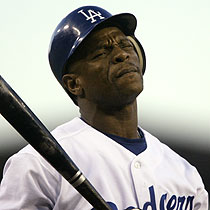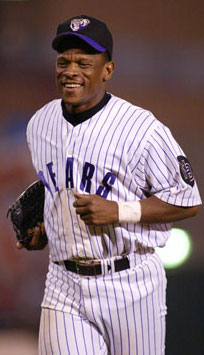 Rudy:  Bill James once said about you, "If you could split him in two, you'd have two Hall of Famers."  Quite the compliment.  What do you have to say about that?
Rickey: I don't know who these guys Bill and James are but that's just silly. How is Rickey supposed to play with only one arm and one leg?  How is Rickey supposed to play with half of a head?  How would I find a uniform and sunglasses to fit me?  Unless they were saying they'd split me at my waist.  My top half could still hit and I could run using my arms.  And my legs could still steal bases although I couldn't slide head first.  So I think the half-Rickeys could've been good players but I don't know about Hall-of-Famers.

Rudy:  If there was one player in the last 30 years that played a game similar to yours, it would have to be Tim Raines who is in his 2nd year on the ballot.  Do you think he deserves to go in?
Rickey:  Most definitely.  Rock was a great player.  Really great.  His numbers are really impressive – especially if you include those years he played in the Canadian Baseball League.  We'd talk on the phone a lot about stolen base strategy and hamstring exercises.  He also deserves credit for shaking that soda addiction he had earlier in his career.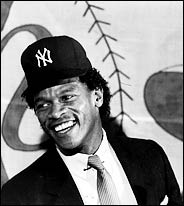 Rudy:  One of my favorite teams growing up was the 1985 Yankees which won 97 games and had yourself, Don Mattingly, and Dave Winfield in their prime but finished 2 games behind Toronto.  Your stats that year were phenomenal – 146/24/72/80/.314.  What kept that team from winning it all?
Rickey:  It wasn't the hitting that's for sure!  (laughs)  That was a great top of the lineup and we scored a lot of runs.  The pitching just wasn't that good besides the Alligator (Ron 'Gator' Guidry).  We had this one old knucklehead pitcher (Phil Niekro).  Rickey envied the other team's hitters whenever he pitched – he could've stolen a lot of bases on him.
Rudy:  The 1985 Yanks were managed by Billy Martin – who was also your first coach in Oakland.  You had a great relationship with him yet he infamously feuded with Reggie Jackson – another outfielder with a big personality.  Why did the two of you get along so well?

Rickey:  Rickey and Billy were like two puzzling pieces that fit.  Rickey appreciated baseball fundamentals.  Billy stressed baseball fundamentals. Rickey played aggressive.  Billy managed aggressive. Rickey was intoxicating when he played the game.  Billy was intoxicating when he managed the game.

Rudy:  You had four different stints with your hometown A's – the last one was in 1998 when Billy Beane was just starting out as GM.  You stole 66 SBs that year (at the age of 39).  Since then, only two Athletic players have stolen more than 15 bases.  This is no surprise to anyone who read Moneyball as Billy Beane is not a fan of the stolen base.  What is your view on Moneyball?
Rickey:  Rickey has mixed feelings on it.  I've been told that I played with Billy Beane one season on the Athletics.  He respects the importance of getting on base and that was a big part of my game.  But then he expects Rickey to not steal when he gets to first base?  That's like taking a horse to water and then not letting him drink.  Rickey likes to drink water.
Rudy:  You've gotten a lot of slack over the years for being a showboat – the snatch catch, the slo-mo home run trot, the sunglasses, the speaking in the third person…Anything you'd like to say to that?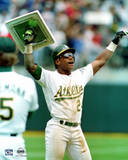 Rickey:  Rickey played hard every game but he also liked to entertain his audience.  And that audience includes Rickey.  If you can't please your #1 fan, how can you please anybody else?

Rudy:  So you're one of the best real baseball players in recent memory.  How are you as a fantasy baseball player?
Rickey:  If Rickey sets his mind to it, he can be the best at anything he wants.

Rudy:  Do you want to be in our fantasy baseball league next year?

Rickey:  You're not in Rickey's league.  Nobody's in Rickey's league.

Rudy: Then how can you be the best if you're not in anyone's league?

Rickey:  Rickey doesn't need to finish first to know he's the best.  Rickey doesn't stop until he finishes in first.  Then he steals second and third before scoring a run.

Rudy:  Fantasy baseball players are obsessed about stats.  Were you obsessed with stats as a real baseball player?

Rickey:  Rickey was never motivated by stats.  He was motivated by numbers.  Wins, runs, steals.  That's what mattered.

Rudy: Where do you see yourself in five years?
Rickey:  I think this Hall of Fame nomination will get people realizing how great a player Rickey was and he'll be re-signed.  I figure when I pass 50 that I'll slow down a bit and I'll become a player-coach.

Rudy:  I guess anything is possible, right?

Rickey:  Nothing's impossible for Rickey.   You don't have enough fingers and toes to count out Rickey.

Rudy:  Thanks Rickey for all the great memories and taking time out to answer some of our questions.
Rickey:  I'd like to thank Rickey as well.