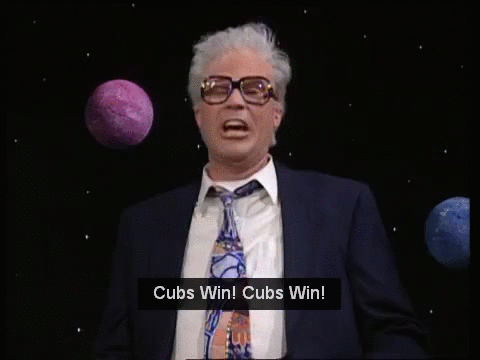 HEY! (I thought about just ending the intro right here. Ultimate mic drop moment. However, for the four people that enjoy reading this part – including my mother – I'll carry on. Note: My mother doesn't read about fantasy baseball.)
Whether it was just to get the attention of Norm McDonald or Colin Quinn, or subtly acted as a harbinger of the attention the Cubs would garner nearly two decades later, the hilarious announcement of 'HEY!' by Will Ferrell in character as Harry Caray could be a banner for the 2016 Cubbies. Hey! Pay attention! They're really freaking good (as you all are aware). And not going anywhere. Including this week.
I heard summers in Chicago were beautiful. Then I heard they were miserable. Whenever the wind isn't blowing off Lake Michigan Chicago turns into a stagnant city in desperate need of some fresh breath. Well, don't worry ChiTown, because for the final week in June and start of July your fresh breath is coming. The WINdy City will earn its name through the trio of Two-Start Pitchers that will take the mound. And yep, I'm even including the ugly step-child White Sox and their Ace so far this year (Gasp…but wait, Chris Sale isn't throwing twice this week!?! Uh huh, you're quite the observant one, aren't cha?) But even more than Jose Quintana, the Cubs Cy Young runners-up (no one is stopping Clayton Kershaw's path to winning the Iron Throne) headline the list of Two-Start options for Week 13. Get ready for more Harry Caray proclamations!
Please, blog, may I have some more?