There's a dance I perform every week or so. I'll be in the bathroom when a fly (I'm guessing they are related because all know the protocol) will say "What's Up?" and start the proceedings. It will spin around my head and buzz my dome like Maverick and Goose in Top Gun. I'll swipe my right arm up, to no avail of course. That's my way of acknowledging what's about to go down. The fly will then zoom around. Me, armed with a towel will blindly swing away. The fly responds by zig zagging like an F-15 fighter getting chased by a squadron of MIGs that just unleashed a volley of air-to-air missles. Once in a while, I'll get lucky and down the culprit, but more often than not, I'll hear: Bzzzzzzzzz. Bzzzzzzzzzz. That's fly trash talking. This is when I go "Woooo sah, wooooo sah," calibrate my sights, pay heed to William Wallace, then…..Snap, crackle, and pop. The Wicked Fly of the North is dead! Hooray! I need to be patient when I swing. Kevin Pillar, of the San Francisco Giants, on the other hand, has a completely different philosophy. It's working, though, as he's been the #22 player over the past month on the Razzball Player Rater. Over the past seven days, he's been the #18 player. Bear or Bull?
Pillar's philosophy when it comes to hitting is……swing high, swing low, swing everywhere the balls go. On the season, he's swinging at 57.7% of pitches in general, 73.7% of balls in the strike zone, and has a chase rate of 47.2%. For perspective, he has the second-highest chase rate, 39th-highest swing percentage in the strike zone, and fourth-highest swing rate in general. Can't get a hit if you don't swing, right?
Now, usually I'm leery of uber-aggressive hitters, as pitchers get more opportunites to exploit and expose them, but Pillar is an interesting case. The swinging strike rate is only 10.2% on the season and the strikeout rate is only 14%. In addition, the contact rates are elite, as he's 11th in the strikezone and 26th in general. When I looked at Statcast Zone Charts, I couldn't stop laughing….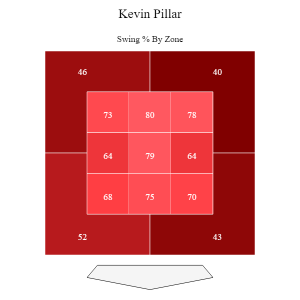 Rarely do you literally see red in every box. Ha! See, still laughing. Anyways, what's it all mean? Yes, he swings a lot. Correspondingly, the walk rate is a paltry 3%. The hard hit rate is 36.1% while the barrel rate is only 4.7%. There has to be lots of luck involved, right? Negative. Over the last month, the batting average has been .302 but the BABIP has only been .293. In fact, over his career, he's maintained a relatively low BABIP. I have to admit that I'm a little intrigued, especially since he has 12 home runs and 8 stolen bases on the year.
Let me check the splits, especially the home/road ones since Oracle Park is a pitcher's park. In 48 games at home this year, Pillar is batting .249 with a .197 ISO and .238 BABIP. On the road? .243 average, .153 ISO, and .270 BABIP in 38 games. He's better against left-handed pitching, as the ISO is .241 vs .152 and the strikeout rate is 8% lower. The BABIP is also lower against lefties (.224 vs .263). The numbers against righties aren't bad (15.8% strikeout rate and .243 average), but they aren't anything to write home about. Anyways, it's promising that he performs well in Oracle Park and he does well against lefties, with some positive regression that could take place, as the National West is littered with a ton of lefty starters.
I don't really know what designation to give Pillar. He swings at everything, but doesn't strike out often. Yet, there could be some luck coming his way in the BABIP department. After giving it some thought, Pillar is not a .300 hitter, so I don't see his heater continuing. With that said, I think we have a pretty good idea of who he is as a hitter: .260-ish average, low walk, low strikeout, with the potential for 15 homers and 15 stolen bases. The Swinging Pillar has enough of a track record to prove that his ways are effective and will provide value.
VERDICT