The Fantasy Baseball Hall of Fame (in conjunction with Razzball.com) is a new website dedicated to recognizing the accomplishments of Major League ballplayers during the "fantasy era" (1980-present). The greatest of these players will be elected to the Fantasy Baseball Hall of Fame.

1 – Barry Bonds
Where to start with the best baseball has seen this side of George Herman?   Maybe a list will suffice:
– Bonds has more 10 FBHOF Point seasons that any other.
– If 10 Points is the mark of "goodness", the mark of greatness is 13.  Bonds has more of these than any other as well.
– He has taken longevity to the extreme.  Bonds is the only player to be Fantasy Worthy in 20 or more seasons and never have a single year in his career where an eligible season was deemed not worthy.
– He has had fourteen finishes as a Top-15 ranked batter, a mark 40% better than any other.
– His 5 year peak average is off the charts:  .317, 112 R, 45 HR, 112 RBI, 32 SB
– During various times in his career, Bonds has batted .370, hit 73 HR, scored 129 times, had 137 RBI, and stole 52 bases – there is nothing else he could have accomplished on the field of fantasy baseball.
– And if you were in On-Base leagues, well, he singled handedly carried many a team.
Bonds mark of 90.0 FBHOF points is best all time among hitters.  He's first in any position in Career total, and his peak score of 77.6 is second only to Alex Rodriguez.  He'll have a special write up for in commemoration of being one of a handful to accumulate 85 or more FBHOF points.
2 – Rickey Henderson
Henderson is another all time great that had an ability to combine power and speed like few others.  In his case, few others in the history of all baseball, and not just within the fantasy era.
Henderson owns the record for most career stolen bases, and given how precious these can be in fantasy baseball, we'll start there.  He appeared in 90 or more games 21 times in his fantasy career, missing the mark in 1996 and 2002.  Of those 21 seasons, he stole 30 or more bases all but once.  He stole 40+ sixteen times, 60+ ten times, and 100+ three times, topping out at 130 in 1982.  Some whole fantasy teams don't steal 130 bases today.
While not a great average hitter (.279 fantasy career, though he did reach .300 on seven occasions) he did walk a great deal (2190 career), which led to a prolific amount of run scoring.  He reached the 100 runs scored mark thirteen times and averaged 126 during his 5-year peak.
What truly set him above others of his ilk was the fact he could hit for some power.  He hit between 20 and 30 home runs four times, in 1985, 1986, 1990, and 1993, and on several occasions finished in the Top 20.
His best fantasy season was the first year he was with the Yankees.  In 1985 he hit .314 with 24 HR, 72 RBI, 80 SB and the # 1 rank in batters.  This was also good enough for 3rd in the MVP ballot behind teammate Don Mattingly and George Brett.  Mattingly also finished as the second best batter in fantasy baseball.
3 – Ken Griffey Jr.
4 – Sammy Sosa
The careers of the next two outfielders overlap almost perfectly, and given the fact they have almost identical FBHOF scores we'll chart them in tandem.  First, a graph of their point totals by year.
Both started their careers in 1989 but with much different pedigrees.  Sosa signed for $3,500 as an amateur free agent in 1985 by the Texas Rangers.  He made the majors in 1989, but started slowly and did not become a major fantasy force until 1993 when he hit 33 HR and stole 36 bases.
At the same time, Griffey was the first pick of the draft in 1987, and had an impact immediately, and almost attaining the 10 FBHOF point mark in the second year of his career.  Griffey ultimately outpaced Sosa in each year through the 1994 season.  At the end of these first 6 years Griffey accumulated 63.8 FBHOF points to Sosa's 19.2.  With exception of Griffey's injury riddled 1995 seasons, this trend would continue through 1997, with the gap widening to 93.1 vs. 46.3
1998 and 1999 were banner years for both players with Sosa's '98 campaign going down as one of the best seasons ever (and better than any of Griffey's):  .308 AVG, 134 R, 66 HR, 158 RBI, 18 SB.  Griffey declined steadily from this point forward, routinely succumbing to injuries, though he did have a decent 8 FBHOF point season in 2005.
Sosa lasted a few more years, putting up 5 consecutive seasons of 10 or more FBHOF points.  His other great season was 2001 when he batted .328 with 146 R, 64 HR, 160 RBI, but no stolen bases.  Still, Sosa hung on at the tail end of his career until he hit rock bottom in 2005.
Let's compare their years in point order instead of chronological: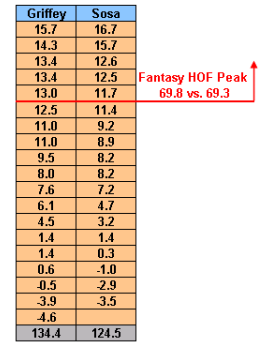 Sosa's best two years are better than Griffey's best two, but Griffey picks up the slack topping Sosa by a fairly wide margin in the remaining 3 year peak period gives him the edge.  Further, though this does not specifically count in the induction criteria, Griffey's best 6th through 9th seasons are better than the corresponding seasons for Sosa.  And if we simply add up the best 9 seasons for each, Griffey leads comfortably 113.8 to 107.0.
One last comment before moving on to the next player.  While both of these greats played in virtually the same exact years, Griffey's stardom came a bit earlier than Sosa's.  The offensive levels from 1991-1999 were lower than the same nine year period from 1993 -2002.  Sosa's great years came during a time when many a player were having great years – proof of which can be seen in a 2 line table:
Top 10 Finishes Among Batters
Griffey – 6
Sosa – 4

5 – Dale Murphy
The two time Most Value Player was one of the premier outfielders of 1980's.  His 16.6 FBHOF points in 1983 is 11th best of the fantasy era and his 5-year peak score is 10th best.
Murphy was a power hitter with the ability to steal a fair amount bases.  His 5 year peak average stat line was superb:  .294 Avg, 114 R, 38 HR, 109 RBI, 20 SB.  This was good enough for five Top-6 finishes among batters, two of which were the best of the outfielders in 1982 and 1983.
His career total of 109.7 FBHOF points is just 31st of all time since his peak was relatively short.  Thirty-four players have accumulated a score of 65 or better, the bogey used for induction (though special circumstances can aid one's case as well).  However, only five retired players have less career points.
6 – Albert Belle
Belle was his generation's version of a disgruntled Dale Murphy.  During his prime, few could hit a ball any harder.  His peak average of .318 AVG, 108 R, 44 HR, 131 RBI, and 11 SB is 9th best among batters.  But his career lasted just eleven seasons before an arthritic hip forced an early end to his career.
He was fantasy baseball's best batter in 1995 and had seven total top-25 finishes.
7 – Andre Dawson
"The Hawk" is the first outfielder we've come across to require additional seasons beyond the peak 5 years in order to meet FBHOF requirements.  His peak score of 64.7 is very good, but just a hair shy of the magical 65.  Dawson did have 10 additional fantasy worthy seasons though, bringing his score up to a more than respectable 71.2.
His best run was in the early 80's when on average he finished seasons ranked, on average, 7th.  This does not mean there were 6 better batters – over the four year stretch of 1980-1983 only Cecil Cooper was ranked higher.  The strike shortened 1981 season receives the most FBHOF points – in just 103 games he batted .302 with 71 R, 24 HR, 64 RBI, and 26 SB.  This was second best behind an extraordinary season from fellow FB Hall of Famer, Mike Schmidt.
The season most remembered was in 1987 after he hit 49 HR and drove in 137 runners.  1987 was an abnormal year for power hitters though, and this was good enough for 'just' 5th best.
Just Missed the Cut
The complete list of the Top 25 outfielders is as follows: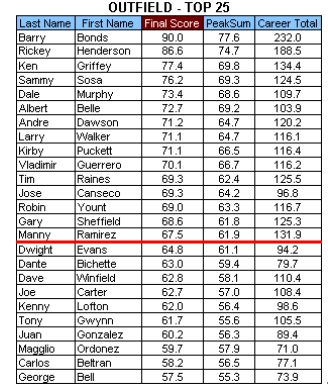 Quite a list for sure, but two names below the red line require additional commentary.
Dwight Evans was great, but had only two seasons where he was a top 5 outfielder.  He falls just short of the 65 FBHOF point mark and with a field as crowded as this, he doesn't warrant induction.   Additionally, there appears to be a clear line separating Evans and those ranked above him.
Tony Gwynn certainly deserves his spot in the Baseball Hall of Fame, but he didn't do quite enough at the plate to impact Fantasy Baseball like he did for the Padres.  FB Hall of Famers can sometimes get by being great in four of five categories, but only a relative few can do so in three.  In his peak 5-year period, Gwynn averaged just 9 HR and 73 RBI. For sake of comparison, Tim Raines averaged 11 HR and 55 RBI, but he also bested Gwynn by averaging 71 stolen bases during his peak, almost twice as many.