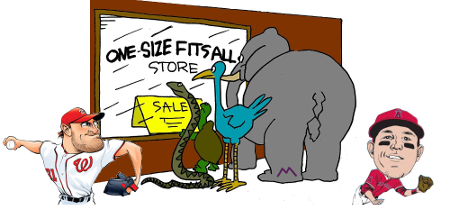 One size fits all is bullshit. I'm 5 foot 7, one hundred forty pounds. You mean to tell me the same shirt that's supposed to fit a dude 6 foot 4, two-sixty is going to fit me comfortably. What in the world does any of this have to do with fantasy baseball? That's simple. There is no "one size fits all" set of rankings. Think about a league that penalizes you one point when a hitter strikeouts versus a league that does not. This would greatly affect the value of players such as Joey Gallo and Aaron Judge. How does that single set of rankings you're using from [insert favorite website] account for this difference? Unfortunately it does not. Every, well nearly every, league is different in the points league universe. The number of different combinations of points per stat category is staggering. But at the end of the day there's only one that matters to you.
This spreadsheet is an attempt to provide you with the most accurate rankings based on your league specific settings. More about that in a moment. Please note these are not projections. They are estimations.
Please, blog, may I have some more?