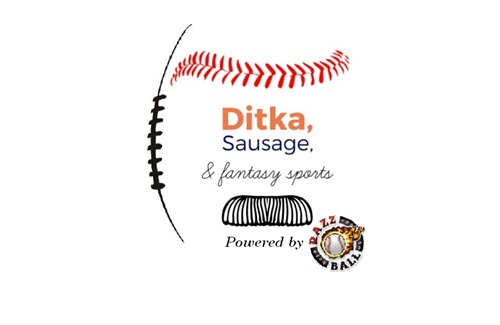 The master of bots himself, Rudy Gamble, joins B_Don and Donkey Teeth on this episode of the Ditka Pod. Discover what forms of sorcery Rudy finds most useful in his utter domination of Tout Wars each year. Speaking of sorcery, you can subscribe to all of Rudy's tools and dominate your fantasy leagues right here.
Mr. Gamble also pontificates on fantasy strategy for the coming season. These strategic conversations touch on the art of stashing relief pitchers, modern day SAGNOF as it relates to both saves & steals, drafting a fantasy ace, RCL approaches, and much more. Rudy then shares a few of his favorite targets have been this draft season before the crew discusses the results of his LABR and Tout drafts. Bring your own sausage to this special guest episode of the world's foremost fantasy sausage fest.
Please, blog, may I have some more?

Auction drafting reminds me of playing poker. Having a plan of attack, choosing the right hand to play, and then subsequently winning the hand while finding out that you could've made a lot more money if you had played it correctly. If you're patient enough, play the rights hands and stick to the calculations, it'll work out to your benefit more often than not, but are you that patient?
Can you let a player go under value because he's not part of your plan? Can you avoid getting sucked into the auction and over paying for your guy? Can you avoid killing your budget faster than a college kid on spring break?
Hindsight is 20/20 and that is rarely more apparent than over the course of an auction. I don't believe I've ever left an auction without regret. However, even if you don't stick to your plan, there are ways to maneuver the auction to make your team build complete.
My plan coming into the auction was similar to my draft strategy for most of my leagues. I wanted to concentrate my bat spending on top of the order, high average, speed guys. Accomplished this with my combination of Ronald Acuna Jr. and Trea Turner. I balanced that speed with power in Edwin Encarnacion, Miguel Andujar, Justin Upton, and Max Muncy.
For my pitching, I took a more aggressive stance than normal and only wanted one ace and two established closers. I got Max Scherzer and then grabbed Edwin Diaz, Sean Doolittle, and Pedro Strop late.
Please, blog, may I have some more?