Is it just me or is half the league on the DL right now?  Everyone seems like they have a strained this or a sore that.  Can the Razzball Commenter Leagues go to five DL spots next year?  I never thought I'd miss Rougned Odor so much. Ozzie Albies is helping to ease the pain though, thanks Ozzie.  Now, if Ronnie Baseball could go ahead and join Ozzie with the big club, that'd be swell. I know I'm not the only one itching to see Ronald Acuna called up ASAP.  His ADP was 79.58 and that was with early drafts having him go off the board around pick 100. The closer we got to Opening Day, the higher he was drafted, spiking at pick 47.  Team cdwiz26 was the big winner, able to nab Acuna at pick 117. Is it too soon to worry if you're falling behind in stolen bases or some other category? Probably not yet, especially if you have a guy like Acuna waiting to make an impact.
It's the silly season for our leagues at this point, where we can have huge swings in the standings based on 2-3 good days of stats.  Thanks to Rudy and the Robots (also the name of my Depeche Mode cover band) we have a starting point for the Master Standings. Big thanks to Rudy for working with FanTrax to get this rolling even earlier than we did last year with ESPN.  Who's the number one team after the first couple weeks of the season? You'll have to click below to see that. Let's take a look at the standings as well as some trades in the week that was, week two in the RCLs:
Each week we'll peek in at our resident 'perts to see who is laying claim to best "expert" RCLer in the land.  We'll take notes, check the standings and generally stalk them.  The heading is also hyperlink, so feel free to follow along as we go.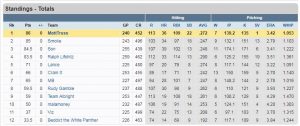 I'm still hanging on by the skin of my teeth for another week despite dropping 7.5 points.  Things really tightened up at the top this week though, with the top four only separated by 2.5 roto points.  Ralph and Son each whacked 17 HRs this week and Ralph collected 55 RBIs to go along with them while also batting .311 and collecting ELEVEN saves.  Yes, eleven. All of that stat juice was good enough for a 10.5 point gain. Dreamboat Lance takes the weekly gainz cake though with 16 points, good enough to move him up five places into fifth.  Rudy took the biggest hit of the week, losing 18 points and drop five places to eighth. Tehol remains in worst place.
TOP 10
For those too lazy to check the MASTER STANDINGS, I present to you, the current top 10
In our first official top 10 it's Moneyball from one of our long time legacy leagues, Night of the Living Zombinos.  This is one of our $100 leagues, so the League Competitive Index (LCI) is always very high there.  ECFBL and the FCL have been duking it out for top LCI honors for a few years running now and this year looks no different.  FCL takes the early lead with a 108, the highest of any league so far.  That's enough to push Kid Ungar (Frequent Commenter Legend, Oaktown Steve) into the top 10 and Rube Waddell's Shiny Objects (Me) just shy at 11th.  Team Annihilation was last week's number one team, but that was before factoring in LCI.  You'll notice Team Annihilation still has 111 league points, which is the most of any RCL team right now, but that 97 LCI is dragging them down compared to the 107 of NOTLZ.  It's certainly still early, but it's still fun to be included in the top 10 list.  A lot of my teams have jumped out to good starts, hopefully not peaking too early.  Two of my squads have managed to get into the top 10 (Starfish & Coffee & my Writers League team) with one more lurking just outside.  I guess this is to be expected when you have 30 RCL teams!  Now the trick is keeping up this pace.  Shout out to another frequent commenter, The Great Knoche for sneaking into the top 10 early on as well.  Nice work!
TRADES
All the trades that have gone down in the past week.  Public ridicule is not only allowed, but encouraged.
Well, I managed to pry away a closer, that gives me a whopping one save on the season.  Maybe Ralph will trade me one of his next, or maybe he's planning on winning saves by 100+.  I'm happy at least having something in this league though, finding closers via the waiver wire with Grey in the league is no fun.
I don't usually like two for four trades, but I kinda like Johnny Utah's haul here.  I'm not a big Cruz fan, I've predicted him to bust every year for the past six seasons, one of these years I'll be right dammit…maybe.  I'm completely infatuated with Ozzie Albies, as I mentioned in my intro and Khris Davis is basically a younger Cruz. Price and Beltre are pretty decent throw-ins.  As long as you can do without the speed, (SAGNOF!) I like this deal for the Utahs, what say you?
Weekly Leaders and Team of the Week will hopefully return for next week.  Now that we're collecting data I'm going to look for a way to compare stats week to week and come up with weekly leaders and a TOW.  It might not be perfect, and it won't account for teams that change their team names 50 times a season, but for the most part it will give us a glimpse of who the best teams were each week.  I'm excited to have those sections back for another season.
Want to be Matt's Twitter pal?  That's kinda creepy, but you can follow him here: @MattTruss