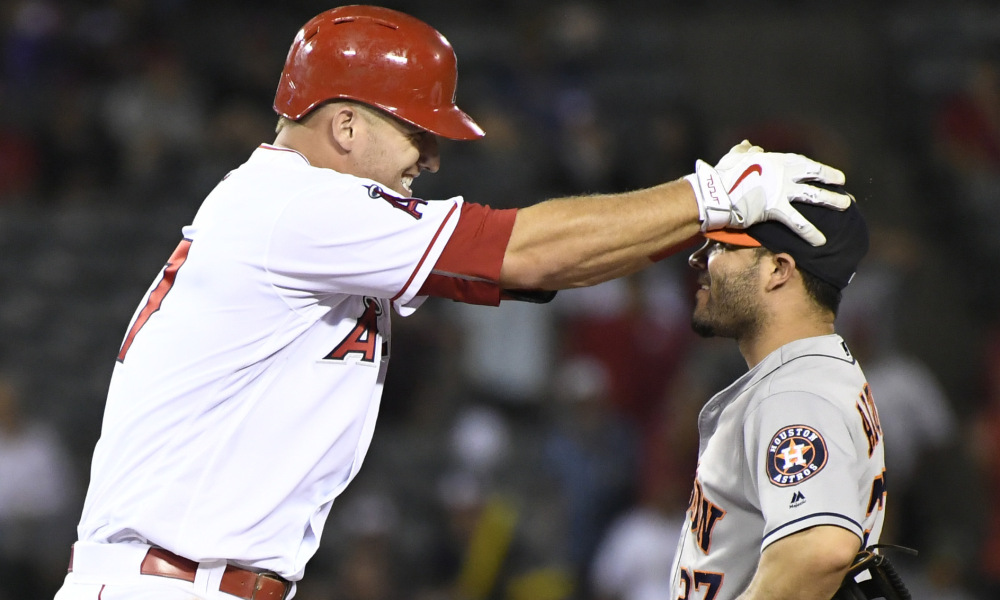 It appears there is a revolution that is gaining momentum within the fantasy baseball community that is advocating selecting Jose Altuve with the first pick over Mike Trout. I'm here to say hold your horses. Or perhaps more specifically, hold your Jorses. If you can't figure out what I'm trying to do with that word "jorses" I'll explain it for you. The "j" should sound like an "h" as is done when speaking Spanish. If you remove the "r" you are left with "joses", which refers to Jose Altuve. I'm guessing since I had to explain it, it probably wasn't the most clever play of words. Deal with it.
Let's take a look at the points before we rush to any official judgement…
Even though both Trout and Altuve's first full seasons were in 2012, I am only going to consider as far back as 2014. There are a few reasons for this tactic, but the primary reason is that Trout considerably outperformed Altuve in both 2012 and 2013 and including those stats would easily skew things in Trout's favor. In those two seasons Trout scored more than 400 more points than Altuve. So let's give Jose a pass on 2012 and 13 and start the comparison with 2014.
In 2014 Jose Altuve emerged, beginning his current four-season streak of getting at least 200 hits. Since this is a points league post, however, I am only going to focus on the points. As I've said many times before, points are points. I don't really care how you earn your points. Their money's just as green. Altuve finished 2014 with 480 points, while Trout ended with 500. While Trout had the slight edge in points, when you look at points per plate appearances (PPPA), the edge barely shifts back to Altuve (0.727) over Trout (0.709). I think we can call 2014 a push.
Next up is 2015. Just like 2014 Mike Trout ended the season with 500 points. This time, however, Altuve only scored 454. When we consider PPPA, the advantage is still clearly with Trout (0.733) over Altuve (0.658). Put one in the Trout column for 2015.
Following in order we come to 2016. I'm pretty good at adding one, huh? This year saw Altuve out point Trout 572 to 551, but in the PPPA department Trout's (0.809) was just a tiny bit higher than Altuve (0.797). Man, that's close. Let's call this one a push too.
Finally we can look at last year's results. We all know that Trout missed a fair share of time last season due to injury. Therefore it's no surprise that Altuve (522) racked up more points that him (464). As we did with the previous comparisons let's look at PPPA. Altuve finished 2017 with a 0.788 and Trout finished with 0.915. That is awesome. However, if I could have owned only one of them last year it would have been Altuve, because at the end of the day, more points wins. But the numbers indicate that Altuve only scored more points because Trout was hurt. In the four seasons prior to last year Trout averaged 696 plate appearances. Had he mustered that many in 2017, he would have been on pace for 637 points!
Now let's talk about whether we think Trout is now an injury risk. I see no signs of such. Personally I think his thumb issues are a thing of the past and he is no more likely to get injured than Altuve. For shifts and giggles let's look at Trout's before and after injury splits. Before having surgery on his thumb he had 16 home runs, 36 RBIs, 36 walks, 55 hits, 42 strikeouts and 10 stolen bases over 206 plate appearances. All of that adds up to 196 points and a ridiculous 0.951 PPPA. After returning he had 17 home runs, 36 RBIs, 58 walks, 68 hits, 48 strikeouts and 12 stolen bases over 301 plate appearances. That comes to 243 points (0.807 PPPA). While you might be inclined to point out that in less plate appearances prior to the injury he racked up very similar counting stats, I'd like to point out two things. The first is that his pre-injury pace was very unmaintainable, even for Mike Trout. And his post-injury performance was very par for the course for Mike Trout. With that said, I rest my case regarding injury concern.
Some might feel that as a second baseman Altuve deserves a bump in the ratings. I agree. Outfield is a much deeper position. Last season there were only two 2B to total more than 500 points. Those players were Altuve (522) and Jose Ramirez (527). Wait a second, am I saying that Ramirez out pointed Altuve. Sure am. As for outfielders there were four players to top 500 points. Those players were Charlie Blackmon (580), Giancarlo Stanton (573), Mookie Betts (523) and Aaron Judge (521). We have to keep in mind that in most leagues you have to start at least three (perhaps four) outfielders. You only have to start one second baseman. With that in mind, I don't think Altuve's position scarcity has all that much (if any) influence.
I think I've said (written) enough to get my point across. If not, allow me to spell it out for you. I-f y-o-u h-a-v-e t-h-e f-i-r-s-t p-i-c-k y-o-u s-h-o-u-l-d b-e p-i-c-k-i-n-g M-i-k-e T-r-o-u-t. I said I was going to spell it out.
Final verdict: Mike Trout in a nearly unanimous decision.