Wednesday again (even if it does feel like Monday for the third day in a row following a short week!), so it's time for another Panning For Gold – Finding The Prospect Hidden Gems – our weekly look at some of those lesser-known prospects that are beginning to generate the type of buzz that starts their climb up organizational ranking lists, leading to more discussion about them in more well-known circles. Think of these guys as players you may not necessarily have at the top of your lists in shallow keeper leagues, but names you'll definitely want to keep an eye on as you begin to participate in deeper leagues – the types of player you can wind up scooping up before your mates in your quest to become another fantasy baseball "guru"…respected and adored whenever draft time rolls around (not to mention mumbled about under your opponents' breath) for years to come.
This week we're going to shine the light on Jairo Beras, an OF for the Texas Rangers.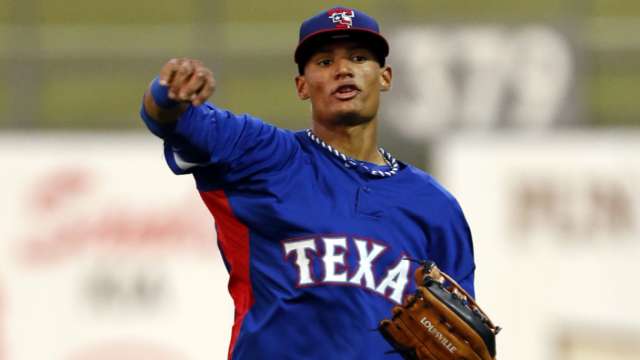 There was quite a bit of controversy when the Rangers' signed Dominican Republic native Beras for $4.5 million prior to the new CBA rules that went into effect in July of 2012. Most teams were operating under the assumption that Jairo was 16, meaning he'd fall under the new guidelines that only allowed teams to dole out around a total $2.9 million to international prospect signees. When other teams waited to offer him a contract during the typical international signing period (that usually starts around July 2nd), the Rangers outworked everyone else and found out that he was actually eligible to sign prior to the regular signing period. After an exhaustive investigation, MLB determined that the Rangers were correct and the signing was legitimate but suspended Jairo until July 1, 2013, saying that while the Rangers had done nothing wrong he had misrepresented his age and was therefore subject to discipline.
Beras was a highly scouted and sought after toolsy kid that teams understood would take significant time to develop – possessing all five tools, he was still lanky and growing and would take time to adjust to his body as he matured (on top of the struggles to adapt that most young international prospects face when coming over). After serving his suspension he struggled mightily last season, posting a .215/.314/.438/.752 slash line with 2 2Bs, 2 3Bs, and 2 HRs in 64 ABs in the Arizona Rookie League as a 17 year old. His season was cut even shorter than it would've been when he suffered a broken hamate bone and the organization chose to shut him down. While those numbers won't impress fans who aren't prospect-hounds, the more astute followers realize that Jairo was 2.5 years younger than the average age for players in the Arizona League last summer.
The Rangers have continued to be aggressive with Beras' development, promoting him to A-level Hickory to begin this season. He had been middling along unnoticed by most throughout the early months of 2014, showing flashes of his ability at times but not sustaining the high level of play scouts feel he's capable of as he continues developing. When you look at his numbers on the surface, they still don't jump out at you – .245/.303/.339/.642 slash line with 10 2Bs and 4 HRs in 233 ABs – until you realize he's 3.4 years younger than the average player in the SALLY League. When he hit his first HR for Hickory against Lakewood (in his 177th AB of the year) on June 16th his average climbed to .201, so it appears he's finally getting comfortable and beginning to come into his own. In his last 10 games, Beras has slashed .447/.488/.737/1.225 with 2 2Bs, 3 HRs, 10 RBIs in 38 ABs.
The concern most scouts have about Beras (ranked as the Rangers' #16 prospect coming into the season on John Sickels' list) is similar to most prospects that possess the explosive power he's flashed in the past – the ability to make adjustments and control the strike zone as he begins to face more advanced pitching. If he's capable of making adjustments as he progresses, the last three weeks signal the upside many scouts saw when watching him prior to the point that he signed – a true five tool talent with perennial All-Star appearances on the way.
Remember, you can always hit me up on Twitter @clvclv_razzball, as well as in the comments section here.