Our mad experiment of a fantasy baseball game has come to life! Thanks to all the bloggers (and one non-blogger) that participated in the draft. Click here for the league members as well as blogmate Grey's review of the draft. Here are links to other league members' posts:
RotoProfessor
Fantasy Baseball Generals
Greener on the Other Side
Drafting the worst team vs. the best team possible proved to be a much tougher undertaking than standard FLB but it also proved more rewarding and entertaining.
A quick recap of rules before I go into my roster and draft strategy. It's a 10 team mixed league universe with the standard roster of C/1B/2B/SS/3B/5 OF/UTIL/9P with 5 bench slots. Weekly roster changes.
Hitting:
AB (High = 10 points), R (Low), HR (Low), RBI (Low), K (High), AVG (Low)
Any team ABs < 5200 receive prorated stats @ 550 ABs of .320 AVG/120 R/35 HR/120 RBI/50 K
Pitching:
IP (High = 10 points), L (High), HR allowed (High), ERA (High), WHIP (High), K (Low)
Maximum – 180 starts
My draft strategy was to focus on low HR/RBI players with 500+ AB potential in the first couple rounds with preference toward typically strong positions of 1B, 3B, and OF. This surplus of AB with low power could hopefully be cashed in by using 300 AB platoon types in tougher to fill positions like CI and 4th/5th OF as well as support a high K player or two with good power stats. I also wanted to draft several multi-position players so I had flexibility when my craptastic players got the benchings they deserved. For pitchers, I focused on low K rate starters who have some job security (say, 2nd to 4th starter).
Time will tell if this strategy works out but I was very successful at executing it. See below for the draft results. I snagged three light-hitting OFs in the first four rounds (Taveras, Bourn, Owens) that combined for 4 HRs in 2007! Taveras and Bourn look like they should go for 900+ ABs and Owens should be able to kick in at least 300. I was also able to get 2 SS Razzball legends in Adam Everett and Cristian Guzman who are set to be everyday anchors. Was able to get versatile Brendan Ryan (2B/SS/3B), Esteban German (2B/3B/OF), and Pablo Ozuna (3B/OF) at good value. Snagged two K machines in Jack Cust (41% of 2007 AB!) and Mike Cameron (160 last year). Cust is going to feel like a big swinging dick in my fantasy OF – probably the same way Jack Clark felt on the 1985 Cardinals.
I didn't take a pitcher until the 9th round but feel like I've got a number of guys who'll be good for 20+ awful starts including Kyle Kendrick, John Denks, and two of the terrible Mariner trio (Batista and Washburn – Silva went early).
Here are the draft results & rosters. (Click on the image for better resolution)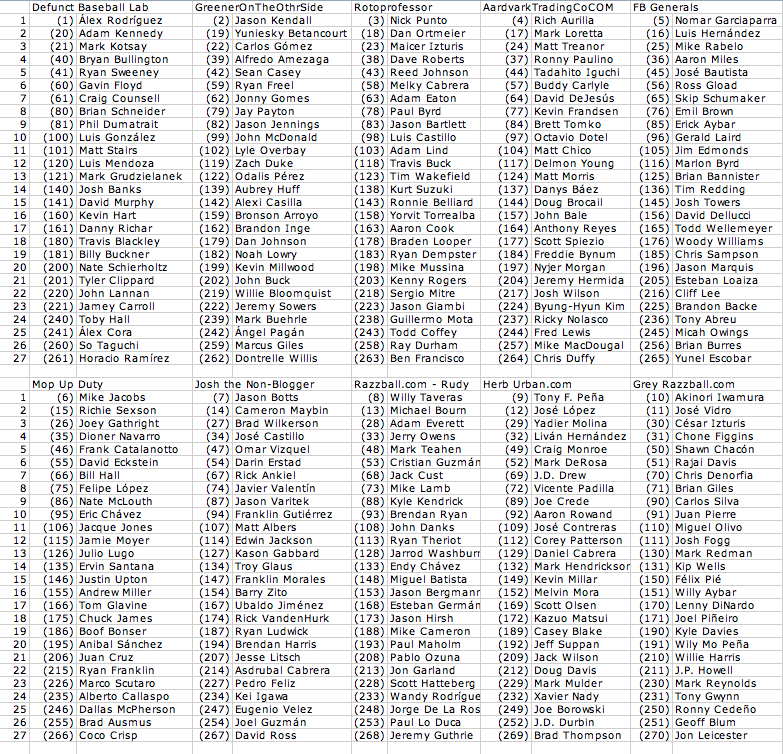 So what do you think? Which team do you like the least, ur, most?