This is the first in a series of posts reviewing players on the 2011 Baseball Hall of Fame Ballot.  Here is some background on how I analyze players for the HOF:
Much like the Earth and many a good joke, the views on Hall of Fame worthiness have two poles.  The first pole is the traditional view which focuses on seasonal and career 'baseball card' stats like AVG/Hits/HR/RBI or Wins/ERA, factors in dominance based on MVP/Cy Young voting + reputation during one's career, and the post-season success for that individual and their team(s).    The second pole is the sabermetric view which relies on more advanced statistics with the aim of crediting the best players based on objective criteria.
I am much, much closer to the sabermetric pole than the traditionalist pole.  My view on baseball (and life) is to question and adapt my views when presented with compelling information.  I've been convinced that OBP & Times on Base are superior to AVG and Hits and that the traditional view of baseball has underestimated the value of walks.  I can't view HRs or even slugging percentage as an absolute reflection of power and look for advanced stats to adjust for era and park factors.  Runs and RBIs are clearly important Рyou need to score runs to win games Рbut it's hard to balance these stats against lineup strength, era, park factors, etc.  The same goes for pitching:  I think ERA/WHIP needs to be adjusted per era/park factors/team defense, Wins are a questionable measure given their reliance on team strength, etc.
As advanced statistics have improved, I put less faith in MVPs/Cy Youngs/All-Star voting.  The writers (and fans for All-Star) voting for those awards over the years didn't either have access to the advanced learnings that sabermetrics has provided and/or don't believe it.  For instance, let's look at the 1996 MVP voting.  Juan Gonzalez had a fantastic hitting year (.314/47/144 with a .368 OBP, below average running/defense and favorable park that led him to not even make the AL Top 10 in OPS+) but exactly how could that be considered more valuable than Ken Griffey Jr. (.303/49/140 with a .392 OBP, solid baserunning, and the most valuable defensive player in the league based on Defensive WAR) or Alex Rodriguez (.358/36/123 with a .414 OBP, positive baserunning and above-average SS defense)?  In fact, of the 21 players to get at least one AL MVP vote in 1996, Juan Gonzalez had the worst Wins Above Replacement (WAR).  In addition, there are also some years where a player wins the MVP/Cy Young by default because there really isn't a player who warrants it and vice versa (see 1996 where Ken Griffey and Alex Rodriguez Рas well as Chuck Knoblauch Рwere worthy MVP candidates).  Does that make their year any less MVP-worthy?
So here are the criteria/stats I'm using for my HOF analysis:
1) Career Excellence –¬†I am measuring this by career WAR (Wins Above Replacement). ¬†This statistic – which was developed by Sean Smith and is available for free on¬†Baseball-Reference.com or Sean's own BaseballProjection.com – calculates the value of a hitter's offense/defense/running or a pitcher's pitching vs. those of a replacement player (minor leaguer or waiver wire claim). ¬†Many factors such as position, era, park, defense (for pitchers) are accounted for. ¬†(Note: ¬†there are slight differences in WAR calculations between Baseball-Reference and BaseballProjection.com – I use those from B-R unless otherwise noted.)
2) Peak Excellence РI think most traditional and sabermetric fans and voters agree that Рeverything equal Рa player who had a dominant peak is more preferable to one who was just very good for a long period of time.  Rather than focus on awards, I've taken the B-R (and I assume Sean Smith) suggested breaks of 5.0+ WAR for an All-Star season and 8.0+ WAR for an MVP season.    For reference, between 1901 and 2010, there were 282 hitting seasons and 132 pitching seasons that surpassed 8.0.  That roughly 2.7 hitters and 1.2 pitchers per year which seems fair when you consider there are about 2x the hitters than pitchers who play enough to reach this total.
(Bit of trivia:  The year with the most 8.0+ WAR hitters is 2004 with 6:  Barry Bonds (12.4), Adrian 'El Senator' Beltre (10.1), Albert Pujols (9.4), Scott Rolen (9.2), Jim Edmonds (8.4), and Ichiro (8.1).  The NL MVP vote went exactly in WAR order for the 5 NL'ers.  Vladamir Guerrero (7.4) beat Ichiro for AL MVP who finished 7th.   The year with the most pitchers 8.0+ was 1971 with 6:  Wilbur Wood (10.7), Fergie Jenkins (9.2), Tom Seaver (9.2), Vida Blue (8.8), Mickey Lolich (8.6), and Dave Roberts (8.5).  Vida Blue and Mickey Lolich finished above Wilbur Wood for AL Cy Young while Fergie Jenkins edged out Tom Seaver for NL.)
I've combined the above into one stat using the following formula:  Career WAR + 10 * MVP seasons (8.0+ WAR) + 5 * All-Star seasons (5.0-7.9 WAR).  I'll call this 'Peak-Adjusted WAR' for the series of posts.  This is admittedly arbitrary but seems to do a fair job at rewarding those with high peaks vs. long careers.  Case in point:  Carlton Fisk has one more career WAR than Gary Carter (67.3 to 66.3) aided by playing close to 2 more seasons worth of games.  But Gary Carter had 8 seasons of All-Star value (most ever for a catcher amongst retired players as of 2005) while Carlton Fisk only had 4.  This adjustment puts Carter ahead of Fisk 106.3-87.3 (2nd and 3rd behind Johnny Bench).  Sandy Koufax has far less career WAR to Don Sutton (54.5 to 70.8) but his 3 MVP seasons (1963, 1965, 1966) and two All-Star seasons give him 40 extra points where Don Sutton's 4 All-Star seasons give him 20.  Thus, Koufax scores higher 94.5 to 90.8.  (Click here for access to the spreadsheet on Google Docs).
In looking at the scores across all players, I'd say for me that a peak-adjusted WAR of 100 is a no-brainer selection, anything from 80-100 is in the consideration set (with more bias towards positions with less players who've reached that plateau, and anything under 80 isn't a consideration except for relief pitchers or special cases (e.g., an untimely death, Negro-league players, a player lost peak time to serve in the war, etc.)
3) Hall of Fame Position Representativeness РWhile WAR takes position into account for single seasons, it cannot adjust for the fact that certain positions (notably Catcher and Middle Infield) are tougher to have long careers than other positions (notably corner OF/1B/DH).  My general POV is that if a player was in the top 10 at his position in the past 60 years (1945-2005), he warrants Hall of Fame consideration even if their stats look lower than average.
This brings me to the top player on my imaginary 2011 ballot – Jeff Bagwell.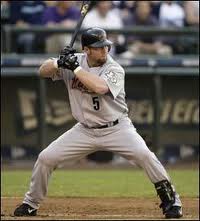 WAR Totals:  139.9 Peak-Adjusted WAR Р79.9 career WAR + 3 MVP seasons (+30) and 6 All-Star seasons (+30)
Stats:  15 seasons, 2,314 hits, 1,517 Runs, 449 HR, 1,529 RBI, 202 SBs, .297 AVG / .408 OBP / .540 SLG / 149 OPS+
162 Game Stats:  114 R /34 HR/115 RBI/15 SB
Don't let the 449 career HRs fool you.  Based on either career WAR or my Peak-Adjusted WAR, Jeff Bagwell was the best 1st baseman post-WWII (excluding Albert Pujols) and the 4th best ever behind Lou Gehrig, Albert Pujols, and Jimmie Foxx.  Now just about everyone reading this lived through the Bagwell era (as it was known by no one outside of Houston and the Bagwell extended family).  It didn't FEEL like he was the best 1B in the past 60 years, did it?
Here are several reasons why it might not have felt that way:
1) Bagwell played his first 9 seasons (23-31) in the hitter un-friendly Astrodome. He still put up great baseball card stats (AVG/HR/RBI) but the Astrodome maybe cost him a HR championship or two.  His OPS+ (OBP + SLG, adjusted by era and park) was top 10 in the NL for 8 of his 9 Astrodome years.  His career OPS+ is the 10th best among retired post-WWII players.  Ahead of him are (Ted Williams, Barry Bonds, Mickey Mantle, Mark McGwire, Stan Musial, Dick Allen, Frank Thomas, Willie Mays, and Frank Robinson).
2) He played in an era with a lot of great hitting 1Bs. Frank Thomas, Jim Thome, Mark McGwire, Rafael Palmeiro, Carlos Delgado, Fred McGriff, and Jason Giambi to name a few.
3) While his AVG was very good (career. 297), it was his ability to walk that led to his excellent .408 career OBP (14th best among post-WWII players).  As mentioned above, walking/OBP has traditionally been undervalued (and the nominations of Jim Rice and Andre Dawson confirm they are still undervalued).
4) Baserunning isn't generally expected nor valued for 1st basemen. Bagwell is clearly the best baserunner amongst modern-day 1Bs (even Cecil Fielder!). His career baserunning (using B-R's Rbaser) of 29 runs above average is more than double that of the next modern 1B (Albert Pujols Р14).  To give some perspective, Rafael Palmeiro is at -10 runs below replacement, Todd Helton at -11 runs, Mark McGwire at -19 runs, Frank Thomas at -26 runs, Jim Thome at -27 runs, and Carlos Delgado the worst at -30 runs.  The conversion is 10 runs per win so Bagwell's running led an estimated 3-6 additional teams wins in his career vs. other similar slugging first basemen of his era.
5) Fielding isn't traditionally valued very high for 1st basemen. While Bagwell falls short of the pantheon of fielding 1Bs (top modern-day 1Bs based on B-R's Rfield (very close to TZ) Рare Keith Hernandez, Albert Pujols, and John Olerud), he's at about the 20th percentile of qualified 1Bs and that is including an AWFUL 2005 season where Bagwell's arthritic shoulder led to him being tied for the worst defensive 1B season ever.  Take away the shoulder injury and he'd be closer to the 10th percentile.  Several of the slugging 1Bs of the era were below-average fielders including Jim Thome (-22 runs below average), Mark McGwire (-30 runs below average), Fred McGriff (-34 runs) Carlos Delgado (-43 runs), Frank Thomas (-64 runs), and Jason Giambi (-73 runs).
6) Houston is a great city to have an excellent and anonymous career. Ask Jimmy Wynn and Jose Cruz Sr.
So even though Bagwell had 3 MVP-quality seasons (1994, 1996, 1997) – which is one more than Jim Thome (1), Todd Helton (1), Frank Thomas (0), Rafael Palmeiro (0), Mark McGwire (0), and Carlos Delgado (0) combined – he doesn't register quite the same as some of his peers.
Add all this up and Bagwell is a no-brainer selection that probably will not get in 1st ballot but will by his 2nd or 3rd ballot.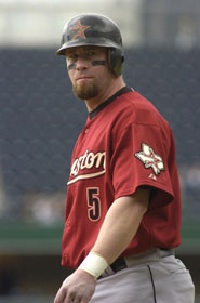 Fun (and potentially fictional) fact:
The infamous Red Sox-Astro trade of Jeff Bagwell for reliever Larry Anderson was influenced by Boston's management's desire for players with hard A's in their name.  Studies at the time showed that opposing players would be distracted by the fans chanting these names.  Larry Anderson has twice the hard A's as Jeff Bagwell.  If Bagwell's name was Jack, he would've never been traded by the Sox.  This odd policy paid dividends when they drafted Nomar Garciaparra sight unseen.