Hi all. First real year playing fantasy football after playing baseball for a couple years, and I have some questions for ya. I am in a 10 team league with some basic scoring settings, but there is one thing that concerns me, mandatory autodraft. I understand people are busy and stuff, but c'mon? I guess that's the drawback of doing a money league with your family. So how should I handle this situation?
First and foremost, I will tweak the ESPN pre-season rankings to a list that I feel is more correct.
ESPN also has some tools that can help out with my situation, check it out.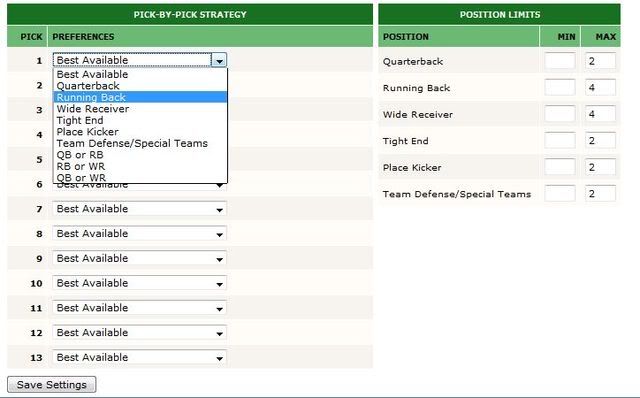 This is the source of my questions, I can choose from the drop down list what position I want to be drafting in each round. Now I've read enough of your articles, Doc, to know that I will set to defense and kicker last, and RB first, but the in betweens is where I am a little nervous. If you want to link me to one of your strategy articles, or just offer up some words, I'd appreciate it.
Cheers, and looking forward to the season.