Posts: 169
Joined: Mon Feb 21, 2011 12:56 pm
Location: Indiana
Bryce Harper. Bryce Aron Max Harper is his full name. Makes his first and middle name initials B.A.M. He has caveman-ish facial features, not to mention he has his hair cut like a savage. As you may already know, Bam-bam is a cartoon character from the Flintstones. A rambunctious kid who wields a wooden club/bat around, breaking all kinds of stuff. I thought they resembled eachother. Google image search "bam bam flintstones" and see for yourself. BAM BAM HARPER!

12-Team Keeper, H2H, Custom Points
 
Hitting: R 8.4 / H 9.6 / 1B 3 / 2B 4 / 3B 5 / HR 22.3 / RBI 7.5 / SB 17.5 / BB 5 / AB -1.6
Pitching: IP 20.5 / K 4.5 / W 54.1 / SV 47.3 / H -5 / ER -15 / BB -5

C - Norris
1B - Goldy (k)
2B - Phillips
3B - Arenado (k)
SS - Lindor
IF - Rizzo (k)
OF - Harper (k)
OF - K. Davis
OF - Eaton
OF -
UTIL - Ortiz
UTIL - Pham
  
SP - F-Her
SP - Carrasco
RP - Chapman
RP - Jansen
P - Gray
P - salazaar
P - Rodon
P - street
 
BN - shields
BN -
BN -
BN -


---
Eh, not crazy about it...
Grey Albright
http://razzball.com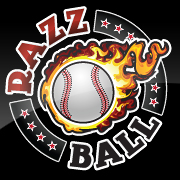 If you want me to look at your team, post the team. Don't post a link to another site where the team is.
Have you given me all the info I need to judge your team? The number of teams in the league is a good start for the big overall questions.
Is your league H2H? Roto?
I don't know who's on your waivers. Don't just ask me who you should pick up. Give me names to choose from.
If you only have one team, post your team in your signature with the league parameters.
I don't know every single matchup for next week, so if you want me to choose a player for the following week and you think the matchups are important, tell me who they're facing.
There's more than one player with the same last name? Then spell out who you're talking about.
Thanks!
---
---
Return to "Baseball - Razzball Glossary Suggestions"
Who is online
Users browsing this forum: No registered users and 1 guest