---
I like the followup, "I Got My Diploma and Now I'm an Overqualified Waitress."
Grey Albright
http://razzball.com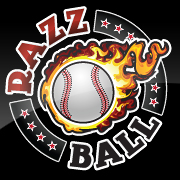 If you want me to look at your team, post the team. Don't post a link to another site where the team is.
Have you given me all the info I need to judge your team? The number of teams in the league is a good start for the big overall questions.
Is your league H2H? Roto?
I don't know who's on your waivers. Don't just ask me who you should pick up. Give me names to choose from.
If you only have one team, post your team in your signature with the league parameters.
I don't know every single matchup for next week, so if you want me to choose a player for the following week and you think the matchups are important, tell me who they're facing.
There's more than one player with the same last name? Then spell out who you're talking about.
Thanks!
---
Razzball Sponsor

Posts: 42
Joined: Tue Nov 11, 2008 9:05 pm
Man she puts the viva viagra to shame.
Eric W

"I need to think something lasts forever, and it might as well be that state of being that is a game; it might as well be that, in a green field, in the sun. " Bartlett Giamatti
---
Sponsor

Posts: 386
Joined: Mon Jun 09, 2008 11:06 am
I just want to thank you freak, for putting that song in my head all day at work. It has it's own little shrine alongside that 5 dollar foot long song.
Yadier Fielder Utley Reyes Beltre Pena Felipe Sizemore Cruz Ludwick AdamJones
Hamels Bills Shields Wandy Weaver K-Rod Franklin Aardsma Izzy
DL-Webb

10 team Roto
---
---
Sponsor

Posts: 386
Joined: Mon Jun 09, 2008 11:06 am
Would that be your Cubs Suck hat, oh wait, that's my hat.

*tips cap*
Yadier Fielder Utley Reyes Beltre Pena Felipe Sizemore Cruz Ludwick AdamJones
Hamels Bills Shields Wandy Weaver K-Rod Franklin Aardsma Izzy
DL-Webb

10 team Roto
---
---
Return to "What else is there?"
Who is online
Users browsing this forum: No registered users and 2 guests