The final results are in and I tested negative!  Oh, wait, this is for the fantasy baseball leagues.  Um, yeah, ignore that first sentence.  This year in an unprecedented move of unprecedented size and bubbles.  We're giving away a hot tub to the Fantasy Razzball winner.  I believe it's a time machine too! (It is not a time machine and any ability to travel through time probably has something to do with your flux capacitor.)  If you didn't win this year, don't worry, there's always 2011!  (Then 2012 is up in the air, according to the Mayans.)  Anyway, here's the fantasy baseball league updates:
Overall Razzball Commenters League Winner
Drumroll, please… Nobody Beats the Wiz!  More like, Whiz!  (See what I did there?  Yeah, I'm not sure either.)    Nice showing, Wiz.  The prizes headed NBtW's way is a trophy from Clay Trophies from our very own commenter, Tony.  An old school, shiny varsity jacket from commenters, Adam and The Real Tom For Real.  And, finally, a phone call of congratulations from a real live celebrity, who may or may not be drunk.  Depends if Wiz chooses Mr. Belding.  Wiz, please put your email in the comments so I can lavish you with prizes.
Overall Fantasy Razzball Winner
The people at Dreammaker Spas were nice enough to donate a hot tub priced at $3,199.  Crazy, you say.  I say, sour grapes because you didn't win.  Maybe our winner will host the 1st Annual Razzball convention and we can 'jacuzze' a little, though it may become painfully obvious how few girl readers we actually have.  Did someone forget to order buns for all of these sausages? That's me talking at our hypothetical hootenanny.  Neverthehoo!  Our winner is… I Am the Liquor!  Now go take a soak.  You earned it!  (Put your email in the comments so I can hook you up, and if you live in an apartment, get your landlord on the phone because you're about to put a hot tub in your living room.)
Our leagues came out like this, "Blah blah blah 2nd place blah blah blah 3rd place blah blah blah 3rd place blah blah blah."  I was in more leagues than I'm recapping, but some were leagues Rudy manned the wheel.  Some we co-managed.  And others are private leagues.  (And, honestly, I got to around 1000 words and started to feel like I was writing the Wikipedia entry for World War II so I pulled up.)  These three leagues I take most of the responsibility for:
20 Team, mixed league, 5×5; host: Not Entirely Sure, 2nd place.
Recap – I blew away the league in pitching.  20 points in Wins, Saves, Ks, ERA and a 19.5 in WHIP.  To say I made all the right moves in pitching is an understatement.  I had Heath Bell, Billy Wagner, Leo Nunez (while he was good), Jonathan Sanchez and Cliff Lee, who I traded right away after he was traded to Texas.  My obvious maladroit (if that's being used correctly) was my hitting.  Prince Fielder took the junk from his trunk and gave it to me in RBIs.  Ryan Braun had his worst year yet.  Why did I have Johnny Damon on a team?   And Lance Berkman?  Oh, crimey.  Those were the negatives.  The positives:  Kelly Johnson, Casey McGehee and did I mention my pitching?   I also traded Alcides and Beckham for Stephen Drew on July 13th.  I won that trade.  You can look up Drew's 2nd half stats if you don't believe me.  I would've won the league with 8 more homers, i.e., one decent two-week stretch by Prince Fielder and Braun.  I will now go and get my shine box.
14 Team, mixed league, 5×5; host:Â  Brandon Funston, 3rd place
Recap – Had an ERA of 2.93 (1st place) and WHIP of 1.18 (3rd place) and a shizzload of Ks (3rd place).  Unfortunately, we only got 8 points from Wins.  As is a recurring theme in my leagues, I drafted F-Her and Jonathan Sanchez and they powered my pitching, except Wins.  Here's my draft:

Punted catcher and 3rd base, middle and corner infidel and the last four rounds, in retrospect.  (I dropped Bumgarner before he was called up.)  Catching duties ended up going to Napoli; middle infield turned out okay with Desmond, corner infield ended up going to Dunn and the hitting worked out fine.  A 13 in homers, 12 in steals with a 9 in runs as my lowest hitting category.  What really killed me was the Wins and, surprisingly, Saves, where I got a 5.  I'm not bragging when I say I never struggle in saves.  Just couldn't put the S in SAGNOF for this league.  I lost K-Rod to his 'Someone Else's Daddy' issues, lost Fuentes to an Angels trade and Jenks to a trade I made, Sam I am.  I grabbed Hisanori, Hensley, Madson, Wuertz, League and Gutierrez.  Didn't matter, I needed 19 more saves to get an extra 5 points and it never happened.  Too bad, so sad.
13 teams, mixed league, 5×5, host: Scott Pianowski, 3rd Place
Recap – Let's jump right into the draft for this one: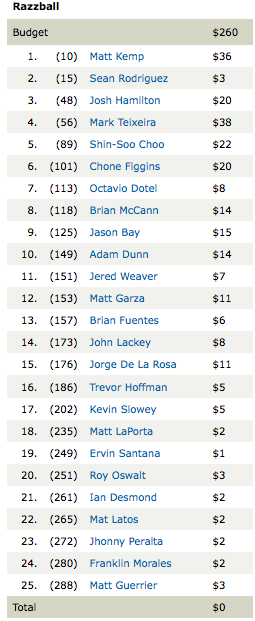 This team's flaw coming out of the draft appeared to be pitching. In-season, the flaw turned into a little bit of a lot of categories, except HRs and RBIs.  Didn't finish below 7th anywhere, didn't win any categories besides the aforementioned ones.  (BTW, all of these Guerrier late round picks were because at the time he was fighting with Rauch for closing duties.  Yeah, he lost.)  Figgy sucked dog balls; I hate him.  Best part of Jason Bay's season was the concussion.  Slowey lived up to my expectations for John Lackey and I dropped Lackey after about 3 starts.  Obvious value picks were Hamilton, Latos, Dunn, Choo, McCann, Weaver, Ervin and Oswalt.  Biggest pickup you're not seeing here is Kelly Johnson who had 26 homers and 13 steals on my team.  Jaime Garcia helped too for a few months.  And put that in one hand and coming in third in the other hand and you have two empty hands with carpal tunnel.