I recently took part in a 2012 fantasy baseball mock draft which probably helps explain the title of this post.  Clever, huh?  I was on the phone for the better part of the draft.  I don't tell you this to excuse my picks.  I think the team is fine.  I was going on memory though, so there's no reason to ask why I took Gallardo with Greinke still on the board even though in my top 20 starters for 2012 fantasy baseball post I do have Greinke above him.  Greinke would've been the right pick there, but they're tomato-tomahto so it's no big whoop.  During a real draft I wouldn't be shooting the shizz on a phone call though, especially not with Matthew Berry.  Geez, I get it, I should draft Tyler Colvin.  Chillax already!  Anyway, here's my 2012 fantasy baseball mock draft and some thoughts on certain picks: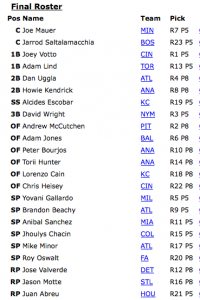 JOE MAUER, GREY?  REALLY?  WOW, WHO ARE YOU?
Next thing you know I'm gonna draft Morneau and rename my team, "I Like Twins To Screw Me, In The Non-Sexy Way."  I could've took Alex Avila here instead, but I already drafted Dan Uggla, The Dread Pirate, David Wright and Adam Jones at this point and I felt like an average-only guy was a good way to go for one of my catcher spots.  Kill two birds there.  Corrects average issues and I don't have to worry about drafting a catcher until the end of the draft now.  Remember, I'm all about punting catcher in one catcher leagues, but in two catcher leagues you don't want to punt both spots.  This would be the first time I've ever drafted Mauer in a mock or otherwise.  For those keeping track of my emotional state, it didn't feel great.  I felt dirty.
WHAT DO HOWIE KENDRICK AND ANIBAL SANCHEZ HAVE IN COMMON?
They'll probably be on every one of my teams this year.  I didn't follow my top 40 starters for 2012 fantasy baseball exactly taking Beachy before Anibal.  Here's the thing:  After I took Beachy some 'perts groaned in the IM, wishing they had mock drafted him.  I knew that.  I knew no one would care when I took Anibal.  See, people aren't as smart as me, but you also have to be aware of public sentiment.  If you want Beachy, which I do, you have to be willing to go above where others might take him, then double back to the guys you really like yet feel others might not be as crazy on.  There wasn't a peep in the IM when I drafted Anibal.  No one cares about that cross-gendered named pitcher.  Except us.  Shh.  Don't tell anyone.
MY TEAM STINKS, BUT NOT REALLY
The projections at Mock Draft Central say my team is ranked 9th out of 12.  It says I'm a 2 in Wins.  Okay, no one can predict wins so everyone should just get a 7.5 in Wins and move on.  It's saying I'm a 2 in Ks.  Not sure how that's possible when all of my starters with the exception of Oswalt could have 180+ Ks.  Mike Minor is my fifth starter.  Mike Minor of a plus-8 K/9.  It's saying my WHIP is poor, which I agree with to an extent.  That's why I grabbed Oswalt, to help balance that out.  The projections say my saves are low, but that can be corrected if Juan Abreu, my bet for Astro saves, gets 25 saves.  Even if he doesn't, I can acquire saves off waivers or mock trade someone.  Besides Uggla and Mauer, the entire offense is balanced, and even Uggla and Mauer in theory will balance each other out.  Whatever the case may be, this team isn't a 9th place team out of 12 teams.  Okay, that's my mock, now mock me.