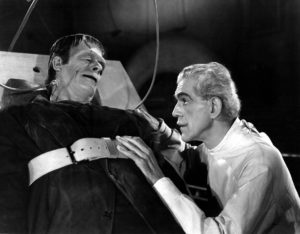 You're the monster preparing for your fantasy draft, and I'm Dr. Frankenstein telling you it's all going to be OKAY.
If you are one of our beloved loyal Razzball readers, you know by now that this site tends to discourage you from taking catchers early in fantasy drafts. The argument is simple: the difference between a top 5 catcher and a 5-15 range catcher is negligible. At other positions, the difference is much more significant. Plus, there are always surprises who end up either getting drafted later or picked up on waivers who put up top 10 catcher numbers.
Some years ago, a younger Grey with what we can only assume was a less prominent mustache wrote about his draft strategy for punting catchers. I'll wait here while you give it a look. Go ahead. It's the same website, so I won't get in trouble. I might even get some kind of bonus for encouraging clicks or something.
Razzball Commenter Leagues are open! Play against our contributors and your fellow readers for prizes. Join here!
Please, blog, may I have some more?