Unless you're not into that, of course. And if you are, that's cool, I'm not into it myself. Not that there's anything wrong with that…anyhoo, Phillies can be ponies, right? But of course, we know that even with that reference, it still doesn't work seeing as, well, look at the dang gif, y'all. You know he ain't talking about equestrians. For those who still haven't got it, it's a sexual innuendo, or 'inyourendo' if you're 15 mentally which I am so we're good! Now that I've dated myself very badly, lets get down to dropping that synth-burp bass and talking up Wei-Yin Chen. Feels like we've been here plenty this year and the theme has been common and easy to follow. Here's a quick flowchart: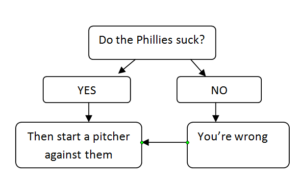 You're welcome for offering up the Staples button for ya because yes, that was easy. The Phillies have found a new low of late as they've even slipped beneath the Braves in wRC+ against southpaws, sitting at a lowly 64. They say it's lonely at the top, but what's it like sitting down there on the porcelain throne? Whew…Chen isn't the safest get for the night based on his own stats on the year and his HR tendencies, but with the opponent at hand, I could see 6 to 7 Ks and it's just a question of how many bombs he gives up whether that's worth much. I'll play him in cash and tourneys alike on such a smedium evening slate. But enough about bad 90s R&B, let's move on. Here's my Peyton Manning grooving hot taeks for this Wednesday DK slate…
New to DraftKings? Scared of feeling like a small fish in a big pond? Well reserve your spot in the 25 Team Razzball Exclusive League set to run next Monday, July 25th, to wet your DK whistle. Just remember to sign up through us before you do. Wanna know what the best part is about signing up with us? The free subscription for the rest of the season to our DFSBot, that's what! For details on the how to, please visit our Razzball Subscriptions page.
Please, blog, may I have some more?