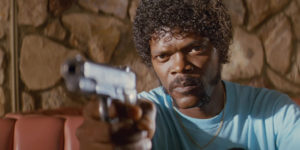 Is there anything cooler than Samuel L. Jackson cursing? I mean seriously, I think even my Grandma would remark 'he's so sweet' after watching this MF'ing montage (ummm, and I shouldn't have to say this but that thing NSFW…you muthaf@#$a). I'm of course quoting Pulp Fiction, where Jules Winnfield kindly asks Pumpkin, aka Ringo to help Honey Bunny, aka Yolanda to, ahem, 'regain her composure'. And again, please read the damn title…you should know that it's also NSFW. I mean, is there any SFW Tarantino film? Rhetorical! Let's move on to the real reason you're here, shall we? Yes, let's. The cheap go for today is Chad Kuhl. Now I say this with some slight caveatism (<– totally a word). Would I prefer to see this matchup in Pittsburgh? Yeah. Would I prefer that Ryan Braun not be in the lineup today? Sure. But am I gonna pass on the fact that the Brew Crew leads the MLB in K%? Hells to the no, children. And just to clarify that '1st in K%' statement, let's break things down further. Home K%? Brewers are King. Full season K%? Tops there, too. Last seven days? Yup and in fact, they've upped the ante and are sitting at a huge 28.4% level, well above their season number at 25.4%. There are lots of safer choices for your cash games so I wouldn't consider Chad there, but I'm all about him in tourneys today. So don't panic and tell that Honey Bunny within yourself to be Kuhl as you roster Chad today. And with that, we're off. Here's my great vengeance and furious anger taeks for this Wednesday DK slate…
New to DraftKings? Scared of feeling like a small fish in a big pond? Well reserve your spot in the 25 Team Razzball Exclusive League set to run Monday September 26th to wet your DK whistle. Just remember to sign up through us before you do. Wanna know what the best part is about signing up with us? The free subscription for the rest of the season to our DFSBot, that's what! For details on the how to, please visit our Razzball Subscriptions page.
Please, blog, may I have some more?