a href="http://razzball.com/wp-content/uploads/2016/09/Sparky-Polastri.gif">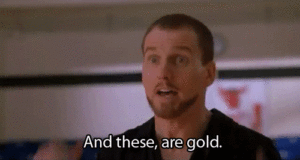 Look, on the one hand, I'm ashamed that I'm quoting Not Another Teen Movie. On the other, I'm surprised this wasn't a Keenan Ivory Wayans joint. On the third, more interesting hand that's simply a cut out of the hamburger helper off my beefaroni box, it allows me to reference back to one of the best teen comedy movies of all time: Bring It On. Or better put, this movie has four minutes worth of Sparky Polastri, and that's never enough and yet more than enough all at the same time. With all this said, my call today is Steven Brault or as I like to call him, 'the guy who gets to pitch against the Phillies'. If you've read anything I've written – or wrotten, if you wanna keep with title theme – you'll know that I love picking on Phillies. It's September and this should be clear to you but just in case it's not, here's a simple flowchart for you to think about. If you're not convinced by my conciseness, let's consider some other facts. The Phils have the worst wRC+, the fifth worst K%, and the second worst BB% in the majors this year. The fact they've been on a K tear of late – second worst K% over the last 30 and worst over the last 14 and 7 – makes this call even nicer. But the real kicker here? Brault is a mere $4,500 so he's in punt territory with 20 point upside. Seriously, this intro is AmPm: too much good stuff. But guess what, I have some even potentially greater takes down the road. So follow me past the italics, would you? Here's my 'y'all ready for this' hot taeks for this Wednesday, DK slate…follow me or perish, sweater monkeys!
New to DraftKings? Scared of feeling like a small fish in a big pond? Well reserve your spot in the 25 Team Razzball Exclusive League set to run Monday September 19th to wet your DK whistle. Just remember to sign up through us before you do. Wanna know what the best part is about signing up with us? The free subscription for the rest of the season to our DFSBot, that's what! For details on the how to, please visit our Razzball Subscriptions page.
Please, blog, may I have some more?