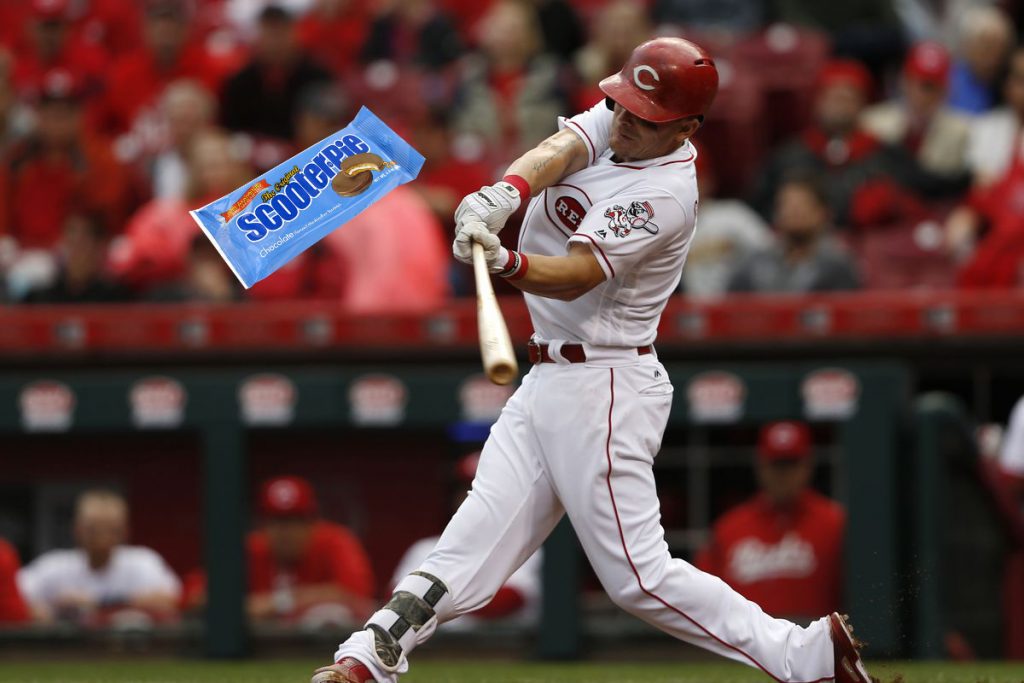 Holy cow! Somebody call Phil Rizzuto because scooter pies are on this week's menu. I've never even seen one of these, let alone eaten one, but from what I gather they are very similar to moon pies. Can anyone confirm said statement? Personally I was more of a Devil Dog, Ring Ding and Yodels kind of guy. I was a staunch supporter of Drake's Cakes back in the day. I used to love collecting the baseball cards on the back of the boxes when they ran that promotion. I still have a bunch of them buried in some box in my baseball. I'll have to dig them suckers up one of these days.
Scooter Gennett had a day he will never forget in week 10 when he hit four home runs in a single game. As a kid growing up the only guy who had done that was Bob Horner. Sure, several had done so before him, but he was the first during my career as a baseball fan. There have been five others to accomplish the feat between Horner and Gennett. How many can you name without cheating? Scooter finished the week with 40 points. But he was not alone. So did Aaron Judge and Gary Sanchez. How about a couple of Yankees to go with your Scooter Pie. The reason I gave the spotlight to Gennett is because I am almost certain he will never come close to it again. However, considering 31 of his 40 points came in one game, it shows you just how irrelevant the rest of his week was. All of the trigger happy owners that rushed out to the waiver wire to grab a player who has never been fantasy relevant have almost certainly overreacted, throwing away a waiver claim. Nonetheless, good for you Scooter. Enjoy your pie!
Now who will be eating scooter pies in the week 10 winner's circle? That would be BK BROILER who topped the week with 71 points by selecting Gary Sanchez, Josh Reddick and Aledmys Diaz. With three batters scoring 40 points you'd figure the winner would have had to pick at least one of them. Finishing in second place is Smallwine with 62 points. Smallwine picked Jake Lamb, George Springer and Justin Upton. This was Smallwine's third top two finish in the last four weeks, and that includes a first place in week eight.
Here are the top 5 from Week 10:
BK BROILER (71): Gary Sanchez (40), Josh Reddick (20) and Aledmys Diaz (11)
Smallwine (62): Jake Lamb (28), George Springer (12) and Justin Upton (22)
Tony C (60): Aaron Judge (40), Corey Dickerson (18) and Carlos Correa (2)
The Great Knoche (59): Jake Lamb (28), Steven Souza Jr. (13) and Corey Dickerson (18)
B. Rabbit (59): Domingo Santana (19), Jake Lamb (28) and Matt Adams (12)
Week 10 Perfect Pick: (120 points) Scooter Gennett, Aaron Judge and Gary Sanchez
Current Standings
| | |
| --- | --- |
| Contestant | Score |
| Thor da Man | 612 |
| Manley Ramirez | 561 |
| Smallwine | 543 |
| Euroalien | 535 |
| You Know Nothing, J.T. Snow | 534 |
| Jeff P | 495 |
| Fungazi | 494 |
| The Great Knoche | 492 |
| LenFuego | 486 |
| Icalltails | 482 |
| Mike_Vee_ | 481 |
| Trevor | 476 |
| Foul balls | 473 |
| Robert Leiker | 469 |
| malamoney | 448 |
| Mickey | 444 |
| B. Rabbit | 433 |
| Don't Under Do it | 418 |
| King Homer | 417 |
| Jason Heilskov | 413 |
The full standings are included in the spreadsheet attached at the bottom of this post.
Weekly Winners YTD
Chris Montgomery (70)
Trevor (80)
Euroalien (90)
Denhusk (138)
Cannot spell wrong without Ron (81)
DonSlaughtOnslaught (57)
Peter guigli (77)
Smallwine (71)
Fungazi (90)
BK BROILER (71)
Week 11
Week 11 has 36 participants. Those 36 have selected 52 unique batters. Rather surprisingly DJ LeMahieu was the most selected batter. After LeMahieu is Miguel Sano. LeMahieu currently has 8 points and Sano has 10. Neither are quite lighting the lamp as they say in hockey.
The current leader for week 11 is Steinbrenner Youth with 41 points. His (or her) picks are Miguel Sano (10), Kyle Seager (10) and Gary Sanchez (21). In second place, with 37 points, is Jason Heilskov. His picks are Miguel Sano, Brian Dozier and Xander Bogaerts.
For those trying to figure out what this whole contest is all about, please re-read this post containing the rules. For those too lazy to do so, here are the basic rules. Each week you pick three batters (no pitchers). A week (scoring period) runs from Monday through Sunday. You must have your picks submitted by 1:00 PM EDT on Monday mornings. You submit your picks by leaving a comment in the comments section of that's week's contest post. Comment timestamps will be used to break any ties. Once you pick a player, you cannot pick that player again in any subsequent week. A card laid is a card played. This means that once you announce your picks in the comments section, you cannot change them. It doesn't matter the reason.
The last thing to mention are the unmentionables. Actually they are called Unpickables. You cannot pick an unpickable. Well you can, but you will get zero points.
The Unpickables – DON'T PICK THESE PLAYERS!!!
Mike Trout
Mookie Betts
Jose Altuve
Nolan Arenado
Paul Goldschmidt
Anthony Rizzo
Bryce Harper
Charlie Blackmon
Kris Bryant
Josh Donaldson
Manny Machado
Joey Votto
Miguel Cabrera

Each week is a new contest, but your weekly points will count towards your total points in the season long standings. The season will run fifteen weeks. At the end of the season there will be a five week playoff competition. In order to qualify for the playoffs you need to either win a weekly contest or finish in the top three overall season standings. That's it. If you win more than one week and/or finish in the top three, you still only get one entry into the playoffs. However the person that finishes the regular season with the most points (first place), will be allowed to pick players from the Unpickables list during the playoffs (one per week). The winner of the playoffs will receive a brand new Razzball tee shirt. And that's me plagiarizing me from last week again. Thank you cut and paste.
The scoring system that will be used for this contest is as follows:
1B(+1), 2B(+2), 3B(+3), HR(+4), RBI(+1), R(+1), SO(-1), BB(+1), SB(+1), CS(-1)
In case you don't remember who you've already picked, you can refer to the attached spreadsheet which shows you everyone's picks.
The contest closes on Monday at 1pm EST!!!
Important Note: Please use the same name you've used in previous weeks with all future submissions. Otherwise your points will not be combined and you will lose ground in the overall standings. If you are unsure of how you previously entered it, find your name in the standings tab of the spreadsheet and cut and paste it. You have been warned :)
Newcomers welcome. Just because you missed any of the previous weeks does not mean you can't join this week. Remember all you have to do is win one week (any week) and you're in the playoffs!