Should I drop Liriano for him, or someone else? Or pass?

Thanks

C Wieters
1B Uggla
2B Espinosa
3B Frazier
SS Tulowitzky
MI Espinosa
CI Goldschmidt
OF D.Jennings
OF A.Jackson
OF Beltran
OF Crawford
OF Victorino
UTIL Gardner
BN Reddick
BN Raburn
DL

P Kershaw
P Bumgarner
P Moore
P Samardzija
P Cingrani
P Tillman
P Hammel
P H.Street
P Straily
BN

12 Team Mixed / H2H Points / 5 Keepers

---
If its for the team in your sig I'd pass.
I would expect Liriano to have more value than Gregg. Remember he hasn't faced TB, NYY, or BOS yet.
TEAM #1
14 team Dynasty league - '09/10/11 champ
C - Y.Molina, Salty
1B - Encarnacion
2B - Wong
3B - Miggy
SS - Bogaerts
MI - Dozier
CI - Longoria
OF - McCutchen, Heyward, Gordon, Jennings, A.Jackson
UTIL - M.Saunders
BN - Ike Davis, A.Hill, D.Herera, Correa
SP - Verlander, Greinke, Minor, Porcello, J.Shields, T.Ross, Smyly
RP - Street, Janssen, C.Allen, H.Rondon, Parnell
R-1B-2B-HR-RBI-SB-BB-K-AVG-OPS
W-L-QS-SV-K-ERA-WHIP-K/BB
---------------------------------
TEAM #2
12 team 5x5 roto dynasty:
C-C.Santana
1B-C.Davis
2B-Zobrist
3B-Sandoval
SS-J.Reyes
OF-Ellsbury, Harper, A.Craig
UTIL-VMart, Tulo
BN-Bogaerts, Yelich, F.Lindor, Dozier, Profar, Ozuna, R.Castillo
SP-Wainwright, Zimmerman, Salazar, J. deGrom
RP-Rosenthal, Smyly, K-Rod, H.Rondon, J. McGee, A.Sanchez
BN-A.Bradley
---
With Pap, Aardsma, and Rauch I think you're alright where you are. Take the chance on Liriano.
"The whole problem with the world is that fools and fanatics are always
so certain of themselves, but wiser people so full of doubts."

"The worst thing that can happen to a gambler is to win."

"When you bet on a dog only three things can happen; two of them are good."

Follow all my tweeting nonsense

@TheRealestDan
---
Should I drop Lindstrom for Gregg?
My Team and Settings Here:
Code: Select all

12 Team H2H - Long Term Keeper League
BA, R, AVG, SB, BB, HR, RBI, TB
ERA, WHIP, K, QS, IP, K, SV, L --- Min. 40 IP

Keeper Rules
*8 players can be kept, plus 2 rookies
*each player kept will be at the expense of a THREE round draft penalty
*Owners can also choose to keep TWO rookies from the previous season to count as their LAST TWO round draft picks---the next season, those players can be kept as 23rd rd, 24th rd
*There is no draft penalty for players drafted in the first THREE rounds and players after that would fall into the next available draft position (or round) that you have available.
*Free agents are given value of 10th round if kept
*Players can be kept for indefinite number of years
------------------------
Pos - Name - Keeper RD 2013
C - Yasmani Grandal (26)
1B- Prince Fielder (1)
2B - Howie Kendrick (5)
3B - Aramis Ramirez (6)
SS - Hanley Ramirez (2)
OF - Shane Victorino (5)
OF - Krispie Young (11)
UTIL - Zack Cozart (25)
UTIL - Bryce Harper (23)
BN - Logan Morrison (20)
BN - Brandon Belt (15)
BN - Desmond Jennings (19)
BN - Chase Utley (4)
BN - Wil Myers (24)

SP - Jon Lester (3)
SP - T. Cahill (10)
SP - J. Samardzija (10)
SP - M. Latos (9)
RP - C. Kimbrel (22)
RP - Glen Perkins (10)
BN - Paul Maholm (10)
BN - C. Marmol (13)
BN - Shelby Miller (24)
BN - B. Morrow (5)
BN - Hisashi Iwakuma (10)
BN - J. Chacin (10)

---
Neither? Gregg if you have to.
Grey Albright
http://razzball.com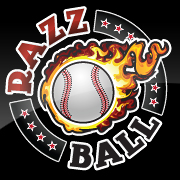 If you want me to look at your team, post the team. Don't post a link to another site where the team is.
Have you given me all the info I need to judge your team? The number of teams in the league is a good start for the big overall questions.
Is your league H2H? Roto?
I don't know who's on your waivers. Don't just ask me who you should pick up. Give me names to choose from.
If you only have one team, post your team in your signature with the league parameters.
I don't know every single matchup for next week, so if you want me to choose a player for the following week and you think the matchups are important, tell me who they're facing.
---
---
Who is online
Users browsing this forum: No registered users and 1 guest