Do you feel like being judged for your creativity? Do you like when everyone stares at you for being you? Well, if you say no, that's too bad because we are going to judge you anyway. This year we have decided to award some lucky RCL player with a Razzball T-Shirt for having the best fantasy baseball team name. Yup, that's right we want to say thank you all for another great year in the RCLs and what better way than to have you judge each other.  Will we be giving extra points if you used our fantasy baseball team name generator?  No, no we won't.
At Razzball, we pride ourselves on our puns, snarks, farts, sharts, yurts and our really really awesome minds. Collectively, we have a community of real sharp committed guys and four girls who, frankly, are as good as some of our writers.  Actually, most of the writers are all ex-commenters. Below is the shirt you are playing for, unless you want a different one from our store.  You can pick whichever one you want.  I'd want SAGNOF!, but you and I might differ in taste.  That's okay.  That's also why I won't be judging the team name either.  Put the team name you think is the best in your league in the comments below, then next week I'll put a similar post to this up with a poll, and we can all vote.  It's the American way!  (Then we can go to Florida and decide whoever we want to win.)  By the way, yes, we have a store. With Christmas around the corner (hey, the Xmas season starts earlier every year), what better way to say I love you without saying it than by buying someone a Razzball T-Shirt. Your friends, relatives and even your grandma will be blown away at the thought and creativity you put into their gift as they roll around in a new SAGNOF shirt. (Writers Note: Do we need a Grey T-Shirt? YES WE DO!)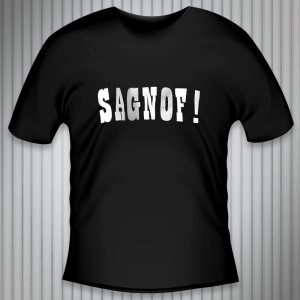 Here are the Rules (in case my rambling above was illegible; I was once a commenter too!):
1 – The name must come from the RCL leagues and must be current as of the date of this post. I don't want people changing their names just for the contest. We know all your team names currently and will catch you. Wanna bet? All of the team names are currently in our standings, so you can't switch your team name.
2 – Razzball writers, current and former, are not eligible to win and can only pout about not getting a T-Shirt. Some of my names this year are Jack and the Fat Man, Pain in the Asche, A Puig in the Poke, and Spanking Marv Albert. Those awesome names won't be eligible to win. So please don't nominate me, I'm flattered and all but I just can't do it.
3 – We would like you to nominate team names in this post. I will gather the top ten or so and create a post for you all to vote. Please post them in here so I can track them. If you put them in another post then it won't count.
4 – You can nominate people from your leagues or you can go through the master standings and nominate from there. Whatever works for you. Have you ever looked through that list? We got a lot of friggin teams.
5 – The winner will be announced when we're done with the vote. If for some reason the winner can't be reached, then we will give the prize to the second place finisher. If you see it's a leaguemate then help us out by sending them an e-mail. Help us help you.
Please send all your complaints to Sky while passing on adoration to me.