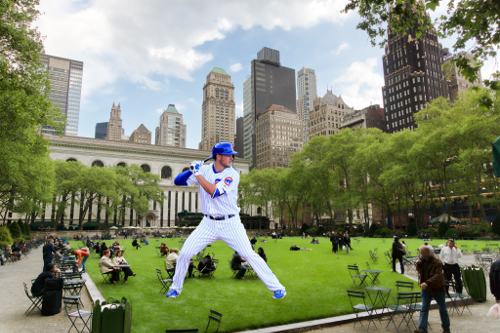 Those of you that live in the New York City area or have visited the world's greatest metropolis have likely walked past Bryant Park. Perhaps you even stopped to take a leak or even sat down on a nice sunny day to do some fantasy baseball research and adjust your lineup. Located between between Fifth and Sixth Avenues and between 40th and 42nd Streets in Midtown Manhattan, Bryant Park is actually built on top of an underground building containing the archives for the New York Public Library. I know… who gives a shift. Besides, I'm more of a Washington Square Park kinda guy anyway.
For those of you that thought Bryant Park was the name of the Chicago Cubs spring training stadium, guess again. That would be Sloan Park in Mesa, Arizona, which happens to be the largest spring training stadium (by capacity) with room for 15,000 people. [Jay's Note: Had amazing sight lines, rugged, yet modern feel. 8/10, would go again.] I think that translates into 25,000 little people, but my math could be wrong. Despite his herculean efforts this spring, not only did they not rename the stadium after him, but Kris Bryant was denied the opportunity of being on the Opening Day roster. Instead, Theo Epstein gave us all some bullshart excuse that he needs more time in the minors. Listen Theo, say what you want, but there isn't a baseball fan north of the border that doesn't believe this isn't a service time maneuver. I'm not a Boras fan, but I love how he called him out on this. Even Cubs manager Joe Maddon has said that he'd love to have him in the lineup. I guess I'll see you in a few weeks Kris.
Please, blog, may I have some more?