We've now officially reached the second-half of the baseball season, even though we officially reached that mark more than two weeks ago, according to the math. But since I get along with numbers about as well as I get along with asparagus, we apparently have two official second-half beginning points. I mean, we could have 80, but why? So yeah, the All Star break is now behind us, and we can now begin to get an idea if our teams have what it takes to either win a championship or, you know, not win a championship. And I know the general feeling around this time if your team is in the bottom-half of the standings is to throw in the towel. But you should try to fight that urge. Remember, there is still enough time to make a difference. How do I know that? Because it took all this time for you to get to arrive at this crucial juncture. And by that logic, there is an equal amount of time (sans two weeks) where anything can happen. Murphy's Law yo. Your team could go on a tear while teams ahead of you collapse… things like this happen all the time, 50% of the time, some of the times.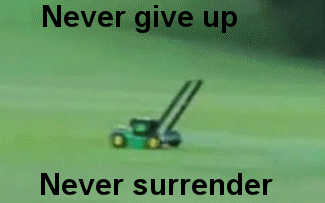 Be that lawnmower people. Be the hope. Be the dream. Never give up, never surrender. Or, you know, just start your fantasy football research by heading on over to Football.Razzball.com. That works too.
Please, blog, may I have some more?