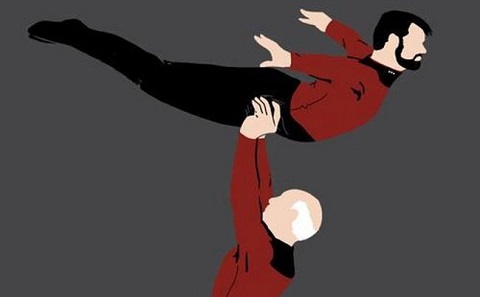 So, we're running on fumes over here at RCL Update Central. We've talked about the RazzBALLiest and Razz, um, ball-ee-least?? selections. At least I think that's what it was about. Who knows with such things. Then, naturally, we moved to what Clint Eastwood thought of your drafts. Thankfully there were no leagues named 'Empty Chair'. And now that the season has officially started (at least down under), (that's what she said btw…), I'm here to cap things off with something I would call comfort food for the mind. And that's a Star Trek themed post. But that's not all you get in this post. SAY WHAT? We have J-FOH in a supporting role to bring some Star Wars into this. Because a post like this could always use more sci-fi pew pew. And of course he would be the one to have undying love for a franchise that's about to blugdeon us to death for at least ten more years. All so George Lucas' chin can eat more cats.
Regardless, I'm not quite sure how this is going to work, and I'm not quite sure what's going to happen, but if the picture above and the empty Markers Mark bottle to my left is any indication, it's that I need fried food immediately. Also, you should probably set your phasers onto the highest stun setting. Because when we look at my randomly selected RCL drafts, you will get stunned. See what I did there? No, I'm seriously asking if you can see what I typed… everything is so freaking blurry…
Please, blog, may I have some more?