This is part two in what is a very special mini-series exploring the St. Louis Cardinals' "Gas House Gang". You can read part one here. The story continues…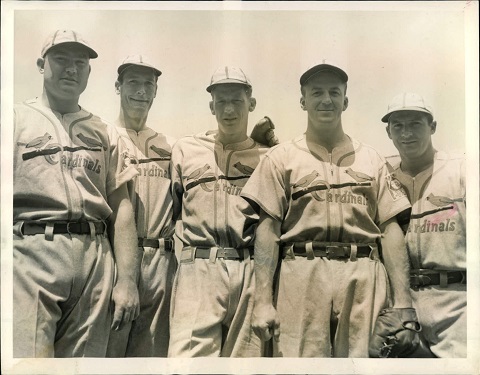 Left to right: Johnny Mize, Curt Davis, Lon Warneke, Terry Moore, and Joe Medwick.
Most of the starters were sick of the Deans. The favorite refrain, repeated endlessly over the course of the season, "Them Giants don't have a pig's chance in winter of beatin' me and Paul." Perhaps the pitcher who took the most offense at the braggadocio was Jean Otto "Tex" Carleton. Carleton, like Frisch, was a college grad. He had a naturally truculent disposition and was looking for trouble most of the time. He was deeply resentful of the Deans, predicting that they wouldn't last in the Bigs.
Please, blog, may I have some more?